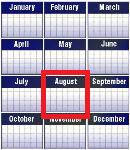 Well I have some good news & some bad news – the good news is that this is the last full month of summer. The bad news is that it is still summer time & if July was any indication, this might not be pretty. On the home front, vacations are winding down & it is time to start getting the kids ready to go back to school (Back to School Organizational Tips). On the national front, we are looking at a hurricane season that is about ready to ramp up, if history is any indication (5 Steps to being prepared at Home — Disaster Preparations for Small Business).
Maintenance Checklist
Doors & Windows

Check the operation of all your doors and windows  you know the kids have been tough on them (That includes the Garage Doors)
Check the weather-stripping around them & replace as necessary
Check the frames for evidence of rot – this is a good month for those repairs with either an Epoxy based system, or replacement
Check for loose or cracked caulking & replace it – don't cover over it
Cracked windows, or missing glazing should be repaired or replaced
Screens – take them off and give them a good spray down and repair / rescreen as necessary

While you are checking out your windows & doors, now would be a good time to look at your foundation & brick walls – if you notice cracks or missing grout ***except at the very bottom of the wall – that is to allow water out*** get it repaired
Are your rooms super hot & the AC can't seem to catch up – either schedule an

Energy Audit

, check to see if your attic has enough insulation, & check out more of our popular DIY articles on this subject
If you have not checked your gutters in a while, now would be a good time.
Trash Can's – now would be a great time to wash them out & disinfect them
Gardening Checklist
First, may you enjoy a nice bountiful harvest – just make sure you keep up with it, so you don't invite insects into your garden & the plants keep producing
Start planning for a winter cover crop & be ready to plant it as soon as your vegetable crop is finished
Plant any fall vegetables such as cabbage, collards, broccoli, beans and peas that you would like
Lawns
Do we really need to mention the ongoing watering, weeding, and grass cutting that needs to be done?
Later into the month, you should be able to water the lawns a little more deeply, but cut back on the frequency
Flower Gardens
Trim perennials that have finished blooming down to 4" in height & divide any groups if they are overcrowded or overgrown
Divide your Irises & plant new ones
Some cool season flowers you can plant include; snapdragons, dianthus, pansies, calendulas
Other items to consider
If you are planning to make Christmas presents, you might want to start getting them planned & started now. If you have a "Back to School" tax holiday in your area, you might consider taking advantage of it.
Speaking of Christmas & the Holidays – if you are still thinking about or looking at getting a major project completed before then you might want to start thinking harder & get yourselves on a reputable & qualified contractor's schedule.
As always please stay safe, if you feel uncomfortable, do not understand how to complete a task, etc… please call in a professional.