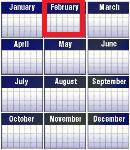 Ahhh February, we are now in the second full month of winter and many people in the northern states and elsewhere are starting to feel run down from a lack of sunshine.
If you are starting to feel this way may we suggest that you get out, go visit some friends, go for a walk and enjoy those sunny days, maybe start working on your garden, getting a jump on your spring cleaning, or maybe paint a few walls a nice bright color. Just remember that spring is right around the corner so let's see if we can get a jump on it, leaving us more time to relax & smell the flowers when they finally get here.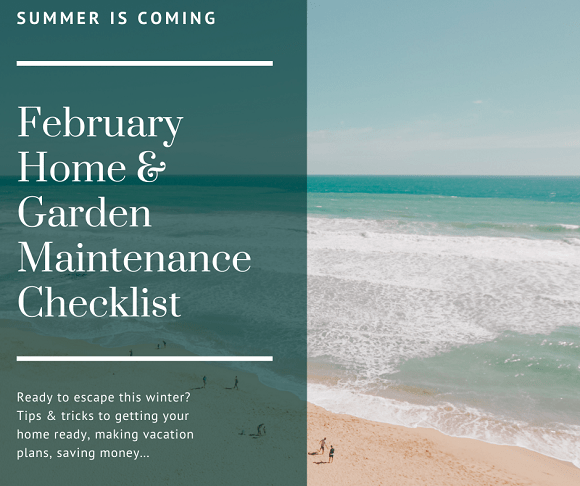 Maintenance Checklist
In last month's checklist – we had you do the walk about, where you should have listed any area's that might need to be watched, well it is time to check up on those areas. If any areas need attention, get them taken care of now or add them to your indoor projects list.
Start a calendar listing any vacations you want to take, and any major indoor or outdoor projects you want or need to get done. Start working up a budget and time frame for all of them, especially if some require periods of time when you might need to vacate the house. (You might want to review this article for tips on assessing what you should address first – Tips for ending up with a successful project that looks great)
If you have ceramic tile, granite or any other stone products in your house it is time to clean and reseal them, before the gardening and other outside work takes over – Ceramic Tile – Maintenance and Upkeep, Granite – Maintenance, Upkeep and a Geiger Counter?
How is the rest of your flooring? Carpet, Wood, and Vinyl it might be a good time to look at getting it cleaned or repaired. Many flooring stores start having sales this month to get rid of last year's overstock to make room for new.
Gardening & Grounds Checklist
For all the plants and herbs brought inside, make sure you keep them watered
Watch out for frost & hard freeze warnings – make sure you cover any plants, shrubs, or crops that may be damaged & cut back any damaged ones
Bulbs – if a warm snap happens, your bulbs that you planted earlier might start growing a little too early – if so make sure that you cover any growth with a new layer of mulch to protect them from the rest of the cold winter.
If you grow plants from seeds, it is time to get them started – many seeds should be started 6 to 8 weeks before the last frost.
Many plants are now dormant which makes this the best time to plant new ones or trim existing ones (If in doubt please contact your local universities gardening center or a nursery – I have found them all to be very helpful)
If you have a compost pile, now would be a good time to turn it if you haven't been
Other items to consider
Want to get a further jump on your Spring Cleaning – work on your pantry

Pull everything out, sort through it, and make some meal plans to help use up any canned goods or items in the freezer
Frozen foods are generally on sale in March – so by making room now you will have some room
If you have some canned goods that you don't want or can't see you using before they expire – donate them to a food bank or church (This time of year there stocks are pretty well depleted)
Dust off all the shelves & replace the shelf liners
Put all the items back in a way that works for you – all breakfast items on one shelf, or all canned vegetables, etc…

Want another way to get a jump on your Spring Cleaning – Organize your laundry room

Clear everything out, clean the shelves & replace the shelf liners
Toss out anything that is just taking up space
Organize items by task – put all your sponges in one bin, rags in another bin

Most of us have now received our w2's, 1099's, so you might consider working on your taxes to get back all that money from Uncle Sam… You owe, yeah file as close to April 15th as possible. But you might want to also check out your Home & Business insurance coverages now as spring flooding, storms, etc… are just around the corner
As always, please stay safe; if you feel uncomfortable, do not understand how to complete a task, etc… please call in a professional.