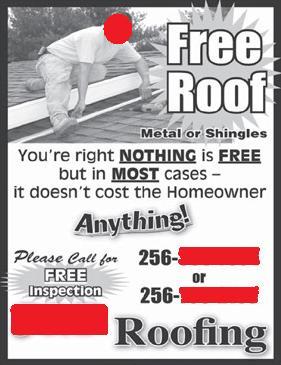 Knock, knock – Hello?
Hi, I'm Mike & we were just looking at your neighbors' roof and thought we spotted some damage to yours, would you mind if we performed a free roof inspection? It will only take a few minutes, you see we do lots of insurance repair jobs and most of the time we can get you a completely new roof and it won't even cost you a cent.
Really, why that sounds great.  (Man, this must be my lucky day)…
What's even better is we have contracts with most of the major insurance carriers, so you don't need to do anything – we can handle it all for you. Do you mind me asking who your carrier is? …….. Oh it's XYZ, well that's great, we have a great relationship with them – here just initial these 2 pages, and sign here & we can get this whole thing taken care of for you. Oh, the initials are so that we can handle the claim and get paid directly from the insurance company without them bothering you.
Well how about the deductible? Oh, I see you put a little sign in my driveway & write that off as the deductible – sweet…
Unfortunately, in most cases this was not your lucky day. What is listed above is actually a combination of a few different scams that are played out daily all across the country. For example, the North Alabama BBB on the 19th of this month sent out this one…
During the past month, the Better Business Bureau of North Alabama has been issuing statements concerning calls to their office regarding American Shingle, a company that was headquartered in Atlanta, GA with a local office in Huntsville (American Shingle & Siding of Alabama) and more than 20 other cities.  The company's employees had been going door-to-door in several parts of North Alabama, offering to provide free roof inspections and working with the resident's insurance company to approve roofing jobs. In each call to the BBB, the homeowners who had roof damage reported that they had been asked to provide part or all of their insurance money to the company before the roof replacement job would be placed on the company's schedule.

After payment was made and the consumer waited 4-6 weeks for their new roof, as indicated by salespeople, they would receive a notice stating that the company needed to delay the roofing job by an additional 4-6 weeks, pushing some jobs into late August or even late September.  Consumers began to question if the company intended to repair/replace their roof, or just keep the insurance money that had been provided.

More recently, there are signs that the company has closed all of its doors. The location in Huntsville has been closed and a voice recording on the company's Corporate Office phone reports that the business is currently closed while they relocate to a new office. The recording indicates the office will reopen on August 16, 2010, but as of August 18, 2010 the recording had not changed.
Quick Lessons:
Needless to say, at the end of the email, they attached a list of items to watch out for; Money down, Door to Door sales, know what you are signing, pressures you for immediate signature, and of course the "always check with the BBB". While I agree with many of the points, there were a few of them that are off base, and the last one is downright problematic in this case. See if you pull up the record for the company listed above; N. Alabama BBB Record, you will notice that the company does not have a rating.
Well, that is definitely not a first, so one might just assume that they must be ok, right? Unfortunately not, because as they say – the devil is in the details – it isn't until you scroll down and start really reading the page that you find out that "Reasons for this rating include: Complaints against this business are handled by another BBB." Therefore, if you pull the search again & choose the proper record that is when you might decide that this company might not be such a good fit.
Red Flags & other items to watch for:
While one really has no way of knowing when a company is going out of business, there were definitely quite a few red flags in their approach as mentioned above. Here are just a few other items to watch out for:
The it won't cost you a cent; We will waive your deductible, signs in the yard earn you advertising credit, etc… generally equate to insurance fraud and if the company is willing to do that, what else might they do or shortcuts are they willing to take – to save a few bucks
"Don't worry we have a contract with…", or "not to worry we will negotiate on your behalf" are major warning signs

First, insurance companies do not contract with roofing companies, they might be on their "preferred list" but that does not give them "negotiating" rights.
In almost all states, you must be a licensed adjustor to negotiate with an insurance company.

Storm Chasers: If a major hailstorm hits, watch out – it becomes an open invitation for the out-of-state storm chasers to come swooping in looking for the easy buck.

While there are a few legitimate ones, you might want to make sure that the "warranty" given, can & will be actually honored if required.
Are they licensed and insured to actually work in the state?
Just a few reminders:
Don't rush into an agreement, especially if they just show up at your door
Verify they are licensed (if under 10k – not required in Alabama)
Verify they have Liability & Workman's Comp Insurance (Should your Contractor carry General Liability Insurance?)
Check with your Insurance Agent, trusted friend, or lawyer if in doubt on something you are signing
As a BBB Accredited Business, we of course have to still recomend that you check the company out with the BBB (Our rating)
If it sounds to good to be true, it probably is – so check it out, before you find out that no you didn't win the lottery, the guy walking to the next house with your "down payment" or insurance information did
Other Related Articles: