Seeing I missed yesterday's article on clearing up some RRP misconceptions, I figured I would double it up today & just for fun, I added in a third one that popped up today. Many of these items we have covered previously in other articles, but they bear some repeating.
Lead Testing:
The first of three today is a quick reminder on lead testing. There is nothing in the regulation that states that you have to have your property tested, contrary to many news reports and confusion on many contractors' part.
§ 745.61 Scope and applicability (c) Nothing in this subpart requires the owner of property(ies) subject to these standards to evaluate the property(ies) for the presence of lead-based paint hazards or take any action to control these conditions if one or more of them is identified.
 As a reminder, if your house is tested you are required to save the reports given to you and disclose them to future lessees, buyers. You may also be required to disclose these results to your insurance company if requested / required by local laws. If you do have testing done by a CLR, they must use an EPA recognized test kit. Currently there is only one available to the general public that is manufactured by Hybervit Systems & it is the Lead Check system. (Of course, if you do not have any in stock, you are out of luck as they are on a month plus backorder)
§ 745.82 Applicability (2) Renovations in target housing or child-occupied facilities in which a certified renovator, using an EPA recognized test kit as defined in §745.83 and following the kit manufacturer's instructions, has tested each component affected by the renovation and determined that the components are free of paint or other surface coatings that contain lead equal to or in excess of 1.0 mg/cm2 or 0.5% by weight.
Pricing:
Well here we go again – you have got to love that the pricing issues is one of the top three issues on the EPA's FAQ sections. In it, they simply state it will only run $8 to $167 a job. Do I need to remind everyone that they need $300 to file one sheet of paper and to enter the information in the Certified Firms database?
When I first theoretically ran the numbers, I came up with a figure of $200 to $500 for a small bathroom remodel. The difference in price was based on the location, ease of access, and a few other issues. Well seeing I just completed an estimate that would utilize the EPA's steps; I thought I would share the numbers with you.
In this case, the bathroom is a basic 9' by 6' with a botched tile job. Normally on a job, this size I would charge $250 for the dump, site protection, and cleaning charges. Now based on the EPA's requirements and love of plastic, it comes out to $720.35 for an increase of just over $470. Now as a treat to a few contractor's & maybe even a few curious Homeowner's I have attached a few of the most often used line items from Xactimate*.
| | | |
| --- | --- | --- |
| Description | Unit | Unit Price |
| Plastic bag – used for disposal of contaminated items | EA |  $        2.22 |
| Containment Barrier/Airlock/Decon. Chamber | SF |  $        0.67 |
| Peel & seal zipper | EA |  $      10.36 |
| Add for HEPA filter (for negative air exhaust fan) | EA |  $   161.41 |
| Add for HEPA filter (for canister/backpack vacuums) | EA |  $      40.16 |
| HEPA Vacuuming – Light –  (PER SF) | SF |  $        0.30 |
| HEPA Vacuuming – Detailed –  (PER SF) | SF |  $        0.59 |
| Lead swab test – self test (per sample) | EA |  $        9.38 |
| Negative air fan/Air scrubber (24 hr period) – No monit. | DA |  $      70.00 |
| Add for personal protective equipment (hazardous cleanup) | EA |  $        7.81 |
| Protect – Cover with plastic | SF |  $        0.26 |
 * A few quick notes – these prices are based on my Service Area, and do not include what is commonly referred to as a Base Service Charge of 2 hours for the necessary paperwork.
The EPA Certified Firm Logo: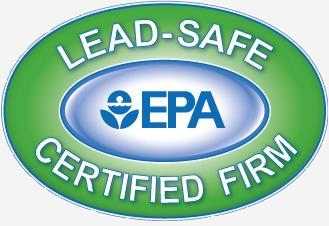 As a reminder, just because someone has the EPA logo on their site, literature, etc… it does not mean that they are certified. While only Certified Firms are supposed to use it, do not expect that will stop anyone trying skate around the rules. The Certified Firm should provide you with a copy of their Certificate & a copy of the Certified Lead Renovator of Record should be posted at the job site. We at SLS Construction have posted our information on our website & will provide copies as required by the EPA Regulation.
As an FYI for all Certified Firms, you may wish to remember the following items. Per the letter that came with your Firm Certificate; in advertising the EPA certification, firms must indicate clearly that the firm is certified only for purposes of Section 402 of the TSCA. Failure to accurately state EPA certification guidelines could result in the EPA suspending or withdrawing certification.
From the email that came with the logo; As an EPA Lead-Safe Certified Firm, if you choose, you are now authorized to use and display the attached custom logo with your certification number… The Lead-Safe Certified Firm Logo identifies a firm as certified under the Renovation, Repair, and Painting (RRP) Rule.