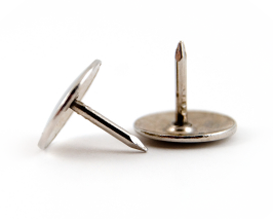 Ahhh, the lowly thumbtack and how I loathe thee… Antique plaster, solid wood, faux finished, paneled & perfectly finished drywall just pock marked with hundreds of little holes where posters, notes, pictures & calendars use to hang – enough to leave one thinking that it should be criminalized. While a few of today's Let's Blog Offers are connoisseurs of them, there are only three locations I think the dreaded thumbtack should be used; cork-board, bulletin boards, and cubicle walls. So if thumbtacks aren't the answer, or your college (or parents) bans you from damaging the walls, what is?
Scotch & Double-sided Tape: Hmmm, no, not really as most leave a residue &/or will damage the items when removed.
Blue Painter's Tape: Only if this is for a temporary sign – after 7 days the adhesive has been known to bond to finishes making it nearly impossible to remove &/or stripping the finish off of walls & floors.  (Quick Tip – if this is an issue use a blow dryer to help heat up the adhesive for easier removal)
Poster Putty: I have never used this, but many have sworn on how well it works. Seeing I can't really talk about it, let me just Google or Bing that for you; Google or Bing. (insert laughing smillee here)
The Message Center: Back in Phoenix we used to have a split white board & cork board that was mounted by our phone so that we could post notes, leave schedules, messages, etc… Now we simply have a white board on the refrigerator & use magnets for doing the above. (see next)
Kids Room / Study / Dens: Similar to the message center is creating a mounted or standalone area for posters, pictures, notes, etc… While the following example from HGTV is for a simple blackboard, there is nothing saying you can't choose to replace the blackboard portion with corkboard, white board, add in a few mirrors for bedroom, etc…
Frame It: There is nothing wrong with treating a poster like a piece of art and pictures belong in frames. Ahhh, but aren't you still putting a hole in the wall – in some cases yes, but you are only talking about one nail and not four. If you do need to hang it, make sure you use a picture hanging kit, or look into a product like 3M Command Products (which are great for wreaths & your front door).
Plate Rails / Shelves: Nothing says a plate rail just has to hold plates – them and shelves make a great place to place framed pictures and other knick-knacks.
Poster Hangers: imagine a crisp clean modern frame with only a top & bottom rail that is hung just like a piece of art, well that is a poster hanger. (for other hanging methods – see Frame It)
If you have another great tip, we encourage (and sincerely appreciate) you posting it below in the comment section. If you are curious what others take is on the thumbtack, we encourage you to check out the list below of fellow Let's Blog Off bloggers &/ or follow along on Twitter.