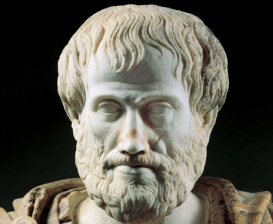 Yes it is that time for another Let's Blog Off & this week's is dealing with, is there a difference between a fact and the truth? As stated in the preamble; Finding truth has been a human preoccupation for as long as there have been humans. Aristotle defined truth as "To say of what is that it is not, or of what is not that it is, is false, while to say of what is that it is, and of what is not that it is not, is true." Aquinas picked up Aristotle's ball and ran with it and held that "[truth is] equation of thing and intellect."
In such hyperbole-laden times as these having a basic, philosophical discussion about facts and truth is a healthy exercise. Humanity's greatest thinkers have left a tremendous framework to guide these discussions but at the end of the day, each of us decides these things for ourselves. So for this Blog Off we'd like to ask you, what is a fact and what is truth and how are they different?
As is our custom, we will be linking to all those participating in this week's Lets Blog Off at the end of the article & who knows, maybe we might find a new Aristotle or Aquinas in our mix…

While there have been many theological and philosophical discussions on this in the past, in many ways they are irrelevant to many of us in our normal lives. What isn't irrelevant is how people use them today trying to sell, swindle, or make far reaching policies based on a supposed "truth's" or a "fact." One line that has always stuck with me is "the best lie is 99% truth".
One reason we started doing a myth & misconception series not only here, but on our Green Building Solutions site was to start helping consumers stop getting taken by many salesmen using facts to sell a solution, while ignoring the other facts that apply. Just like many other area's in life, one must check out all the fine print & if you don't see any you need to find out where it is.
I would have to say that my biggest issue though revolves around scientists that use the word truth to apply to theories. I am sorry but just because you observe X does not make it a scientific fact, nor entitle it to be considered anything more than observed results. While it is true (hopefully) that you observed said results & your report is truthful (again hopefully) you can't say that it is "Truth" without numerous other tests, etc…  to back it up. For example one of my biggest pet peeves is with  GWP.
GWP in short stands for "Global Warming Potential" and for many fans of using Fiberglass or cellulose insulation only – it became an overnight selling bonanza. Why you can't use foam, you will be doing all this damage to the environment & contributing to global warming. Some individuals even took the time to come up with these nice looking GWP calculators & charts to help prove their point. Unfortunately, for any that truly look into it, a few items might jump out at you; the key word Potential, scientists saying they don't understand everything but the modeling shows… we have a 30% margin of error built into this calculation, and another 30% in this calculation (which when combined is a 60+% error factor), etc…
As for the title, well anyone that has been to or at least seen a court show knows that is what ones says as they take the stand to tell the "truth," while a judge or jury sits there to see which truth is more credible. With the many truths & facts out there, you might want to remember that when it comes to buying, believing, or doing something you might want to also consider the credibility of the statements.