In yesterday's Safety Sunday article on Staying Lead Safe in One's Own Home, we briefly talked about issues with older pipes that contain lead in them.  Shortly after that on Twitter I was discussing a bathroom plumbing issue where I recommended that they check out PEX piping to re-pipe those fixtures. While I love Twitter for being able to get quick thoughts & ideas across, when it comes to longer drawn out discussions it doesn't fly.
What is PEX?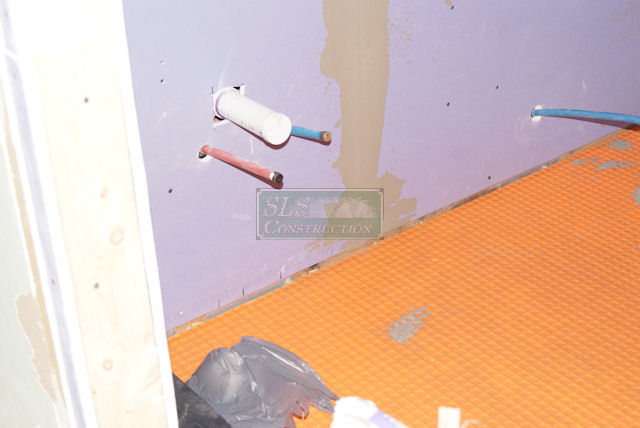 PEX stands for cross-linked polyethylene& was developed in the 60's & introduced into the US in the 80's where its popularity continues to grow year after year. There are three general methods for producing PEX tubing, the "Engle" or "Peroxide" (aka PEX-A) method, the "Silane" (aka PEX-B) method, and the "E-beam / electron or electronic-beam" (aka PEX-C) method. While most would consider the "C" variant the most green, the "A" variant is the strongest and produces the most uniform piping around. Seeing my name is attached to the project, and the product is made by a local company REHAU, it is a no brainer that we go with the "A" Variant that even comes color coded.
PEX Appeal: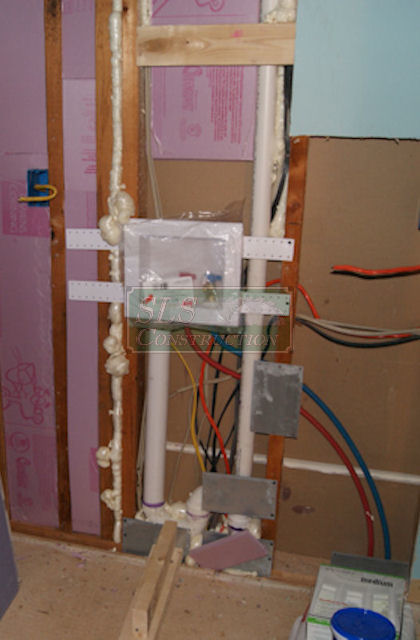 Part of PEX's appeal is based on the ease of installation, its reliability, overall cost, and its flexibility which you can see from the picture above. Another major selling point is its thermal properties and its ability to withstand freezing temperatures better than copper. Because of its thermal properties it will also reduce the rate of heat loss from the lines and help eliminate condensation issues.
Why PEX for Retrofit's & Re-pipes?
While these pictures are taken from one of our recent projects in Vestavia Hills where we have fully gutted both bathrooms – you don't need to in many cases to install this product. In many cases a small access hole is all that is required to run a new PEX line to a faucet or toilet. While we showed just how flexible it is above, the nice item is that it also can be pulled just like an electrician would fish a new circuit. Another great selling point is that one can purchase it on rolls up to 500' long,  which means that the only fittings required in many cases are the one at the supply point and the one at the end of the run. Seeing most plumbing leaks occur at the fittings, this sure does cut down on any potential trouble areas.
Home Run, Traditional, or Hybrid?
Most traditional plumbing systems have a supply line that branches off and feeds every single fixture, which can cause some issues when more than one fixture is calling for water at the same time. While the supply line should reduce in size from the original fixture to the last one, that is rarely done and can exacerbate the issue above. The other major issue is when one calls for Hot Water from the farthest fixture as the hot water has to run all the way from the Hot Water Heater and past the supplies to all the fixtures. The other downside to this system is the lack of shutoffs and the amount of fittings required.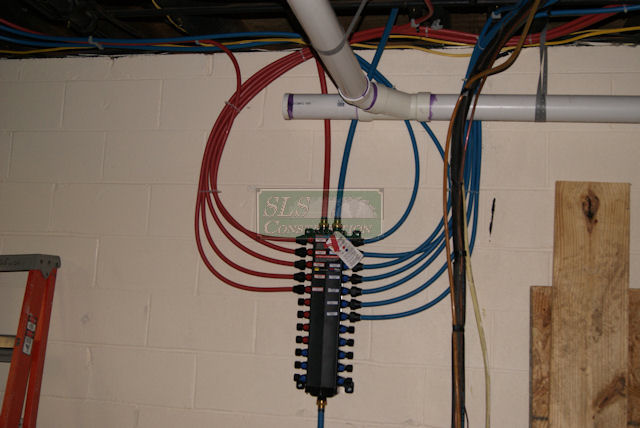 With the introduction of PEX it made it easier on plumbers to utilize what is referred to as a "Home Run System." A Home Run system is where the water still comes from the same supply line but it runs into a manifold or distribution point. From this manifold a line is run to each fixture generally utilizing smaller lines as each line is only needed for that fixture. Because of this layout, that will help eliminate or reduce the issues caused when water is called for from multiple fixtures at once & the waiting period for Hot Water. The picture shown is the one we used from MANABLOC that has a shutoff for each supply line.
There are numerous variants of these systems, from one major supply line feeding two or more manifolds to a supply line being split into two and feeding both ends of a single manifold. Generally these are not seen except on larger houses where one might have two or more Hot Water heaters, or they are utilizing a radiant heating system.
Closing Thoughts:
While there are many other solutions for running water to your fixtures, one can easily see why I generally will spec out PEX tubing as my first choice. While they do make fittings for DIY applications, this is one area where a skilled plumber would be my first recommendation. The great work shown above (and plenty that isn't shown in the pictures) is from Davis Plumbing in Birmingham, Alabama.