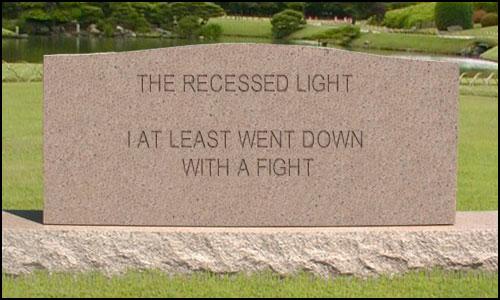 As many individuals know, we started this RIP series to figuratively place certain myths, misconceptions, or products to rest. While we do not have the power to actually kill off using said products or bogus truths like GWP (yes you're time is coming), it has been a great way to get people to think before they blindly follow everyone off the cliff or make the same dumb mistakes. While we do write an obituary for each item, we also include a section where the use of each product (assuming it has some redeeming value) could or should be used.
The article on recessed lights, has created some interesting debates & an even a well-written rebuttal article written by Arne Salvesen CKD where he went through all the points & offered his thoughts on them. It was really good to see all the points he made, especially where he agreed and the later follow up comments left by him & others on that article. It appears though that we still have a few points that need to be addressed, so that we can hopefully put the final nail in this coffin & lower it into the ground.
No differences?
"Provided the pot-light is installed properly (IC rated where required, vapour barrier applied, etc.) It's no different than installing a bathroom ventilator or sky-light into a ceiling…" "In an insulated space you simply do not use any fixture that is not IC rated. Insulating around them is no different than insulating around any other obstacle. I agree with the amount of space not being directly insulated. I just don't see the difference if insulation is installed around the IC rated fixture."
Heh, heh we will leave the vapor barrier issue for a later article, but the premise that a "pot-light" is no difference than any other item is fundamentally flawed from the get go. That is akin to one saying that there is no difference between refrigerators when working out the design. Fortunately, we were able to address the issues with spray foam & most of those other items in the comment section. In fact in one of his comments, Arne actually summed it up pretty well, "…Insulation is always going to be a problem any time you break any plane…" (Progress made)
The real issue:
"My only question is what other options are there that will provide equivalent lighting?" "Excellent points, but they still don't answer my question: where are the better lighting options? Most home-owners will choose better lighting over energy savings every time." Well I can't argue with that last point on Home Owner choices (assuming we let them see the bad choices) but it appears we have found the root of the issue – well what else is there that we can use?
Well one of the first objections we can eliminate is a lack of choices, as anyone that has had a chance to visit a lighting display store can attest. In fact, in most cases, the issue is how overwhelmed one can become with all the choices available. One of the most overlooked light sources I see, is a lack of adequate day lighting from windows, solo-tubes, skylights, etc… as most cooking is done during the day, not late at night. Once that issue is dealt with, you then have four lighting layers one needs to contend with.
The four lighting layers:
The four lighting layers in order of importance are the task lights, general lighting, display lighting, and ambiance lighting. Once you start analyzing each layer, and parts in each layer, you can start addressing which lighting choice would be the best. For instance, under task lighting, you might require more lateral lighting for countertop area's (hmmm sounds like under cabinet lights), while you would be best served with some sort of down lighting for the sink & stove areas. The stove area can easily be addressed with the vent above it. As for the sink area, that can easily be served with a pendant light, puck lights, or even track lights.
One misconception many have is that the "general" lighting needs to brightly light every surface, while truth be told it needs only to be bright enough to ensure safe movement around the room. In most cases, this can easily be handled with a single surface mount fixture; a specialty light located in a solo-tube, a ceiling fan, pendants, sconces, and the list goes on. As for decorative & ambiance lighting, I don't see anyone truly having an issue finding a better option than utilizing pot lights. I personally like LED rope lights located above the cabinets for night lighting & ambiance.
Bringing in the right people:
As a Design-Build firm, one might assume that we would never utilize other Designers, Architects, or Engineers, which would be incorrect. While we do offer Design-Build services, we also realize that there are times when a specialist would best serve our customer's best interests. For example, Arne Salvesen is a specialist who is a Certified Kitchen Designer and based on his site does some great work. Just like those that specialize in Kitchens, there are those that specialize in lighting like James Bedell of New York (on Twitter), that if brought in early enough, can help design a lighting system that not only accentuates ones work, but helps one make smarter choices based on other criteria.
Final Thoughts:
My favorite comment came from JB of the Building Moxie Blog, "There may be no *right* answers, just strong arguments in favor of reach and I am merely a strong proponent of . . . well informed decisions — made on a case by case." With that said, Amen & may they RIP as people's first choice & being installed where they do not belong.