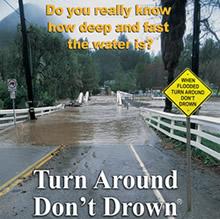 As shown by the title, this upcoming week is Flood Safety Awareness week. Based on recent events not only here in Alabama, but around the world I think that serves as a great reminder of why being prepared or knowing what to do is so important. As a quick reminder, more deaths occur due to flooding each year than from any other thunderstorm or hurricane related hazard.
In Your Car:
I really do not get it, but most of the deaths related to flooding are the result of "careless or unsuspecting motorists" who attempt to cross flooded roads. Back in Arizona, we had another term for it, and that was "stupid." If you wish, we can blame the PC infraction on the heat and a news anchor as most incidents there happen during the middle of the summer with the monsoon rains. As for the news anchor – I can still remember watching the news about another motorist that decided the road wasn't to bad, and drove around the baricades during a storm & required rescue. One of the anchors after reading the story, stopped, sat their stunned for just a second & blurted out how stupid can these people be…? The rest as they say is history,and in 1995 the Arizona Legislature passed Title 28-910, aka the "Stupid Motorist Law" which holds the driver liable for any and all costs of responding, rescuing, &/or removing said vehicle (up to $2000) for attempting to cross any road, bridge, etc… barricaded or temporarily covered with water.
While I do not know of any other states with a similar law on the books, the National Weather Service & FLASH, have come up with a program called TADD or "Turn around… don't drown!™" and offers these four simple reminders:
Avoid areas already flooded, especially if the water is flowing fast. Do not attempt to cross flowing streams. TADD™
Flooded roads could have significant damage hidden by the water and may be washed out, so NEVER drive through flooded roadways. TADD™
Be especially cautious at night when it is harder to recognize flood dangers.
Do not camp or park your vehicle along streams and washes, particularly during threatening conditions.

While they mention 6" of water can knock you off your feet, and can cause one to lose control of their car, it might not even take that much depending on the speed of the water. In many cases, 2 to 3 inches can cause the same issues & effectively cause a hydroplaning action to occur where you might find yourself simply along for the ride.
At Home, On Vacation:
If flooding occurs, get to higher ground. Stay away from flood-prone areas, including dips, low spots, valleys, ditches, washes, etc.
Do not camp or park your vehicle along streams and washes, particularly during threatening conditions.
Avoid flooded areas or those with rapid water flow. Do not attempt to cross a flowing stream.
Do not allow children to play near high water, storm drains or ditches. Hidden dangers could lie beneath the water.
Pay attention to your Weather Alert Radio, and if you live in a flood zone be prepared in case the river, ocean, etc… starts rising. Some basic gear & steps to take are in our Disaster Preparedness article & items you may wish to consider for your house are on the video below.
While they did not mention this one directly, be careful in slot canyons & around rivers, as it does not have to be raining anywhere near you for a flash flood to occur. Back where I grew up we had plenty of those canyons & if we could see rain clouds anywhere on the horizon, we simply did not chance it, especially after witnessing the power of one first hand.
 Additional Info & Websites: