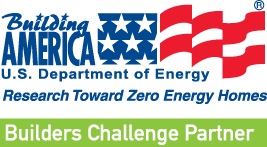 Since 2008, hundreds of builders in cooperation with DOE, the NREL and numerous other parties have taken up the Building America Challenge to build thousands of high-performance homes. The end goal is to too help all builders reach the Net-Zero mark by 2030 as economically as possible. Since 2008 the target has been set at building homes 30% better than current homes (HERS score of 70 based on 2003 / 06 codes).
With an onslaught of newer codes, improving best practices and knowledge almost any legitimate builder can hit that mark if they aren't already. With that in mind, DOE's Building America Program is raising the bar & looking for your thoughts on the process. You have until the end of this month to make any comments with the final version going live this April. With that in mind we offer a quick look at the requirements and our thoughts on it.
The newer goal(s):
One of the first goals is to improve the energy efficiency by an additional 15% (From a HERS 70 to a HERS 60). Speaking as a rater, verifier & even as a builder they are also thankfully integrating with ENERGY STAR, EPA's indoor airPLUS & WaterSense programs to eliminate their propitiatory guidelines. Not only will this make it easier for the builders, but makes it easier for builders to follow a progressive path to improving their buildings.
The Seven Mandatory Requirements:
All homes must meet all ENERGY STAR Qualified Homes Version 3 requirements and checklists
All insulation levels (Ceiling, wall, floor, and slab) & infiltration levels shall meet or exceed the 2012 IECC levels.  ( 3 ACH in CZ 1 & 2 / 2.5 in 3 & 4 / 2 in 5, 6, &7 / and 1.5 in CZ 8 )

I am unsure on this one whether all HVAC duct systems must either be all inside the conditioned envelope &/or they must have 4% total duct leakage at maximum. Personally I think the "&" is the better option but that may be a tough pill for some builders to initially swallow. Of course there is one other option & that is going with a split ductless system.
All plumbing fixtures, toilets, and hot water distribution systems shall meet EPA Water Sense requirements (pretty easy if you review it during the design phase)
Lighting & Appliances – All installed refrigerators, dishwashers, clothes washers, and vents must be ENERGY STAR qualified with 80% of the lighting fixtures or bulbs being ENERGY STAR
Talk about easy as I recommend this one to anyone considering ENERGY STAR – all homes must meet the EPA Indoor airPLUS Verification Checklist
That's ok if you never have heard of this one, as you definitely wouldn't be the first & it can be hard to find. All homes that live in an area that have 5 kWh/m2/day average daily solar radiation or more (based on annual solar insolation) must be "renewable ready" and follow the EPA's Renewable Energy Ready Home Solar Electric Checklist & Solar Thermal Checklist unless said systems are installed.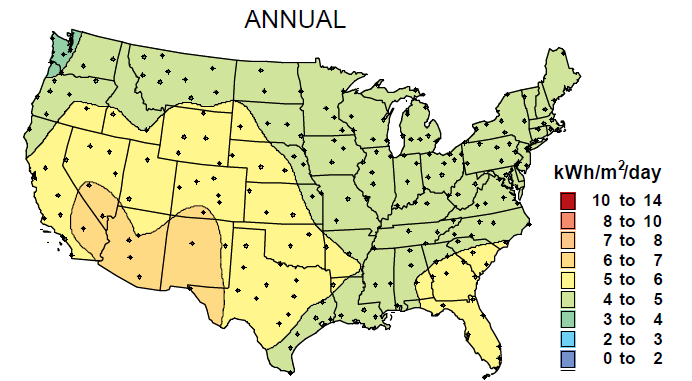 Two Paths:
Like the codes and many other programs there is a prescriptive & performance based path. In both cases the house(s) must meet the seven requirements above & have the work verified by a Third Party Verifier.  To use the prescriptive path, one must meet or exceed all the items show in the chart below & not exceed the following house sizes…
1 bedroom – 1000 SF
2 bedrooms – 1600 SF
3 bedrooms – 2200 SF
4+ bedrooms – add 600 SF per bedroom up to 5200 SF for an 8 bedroom house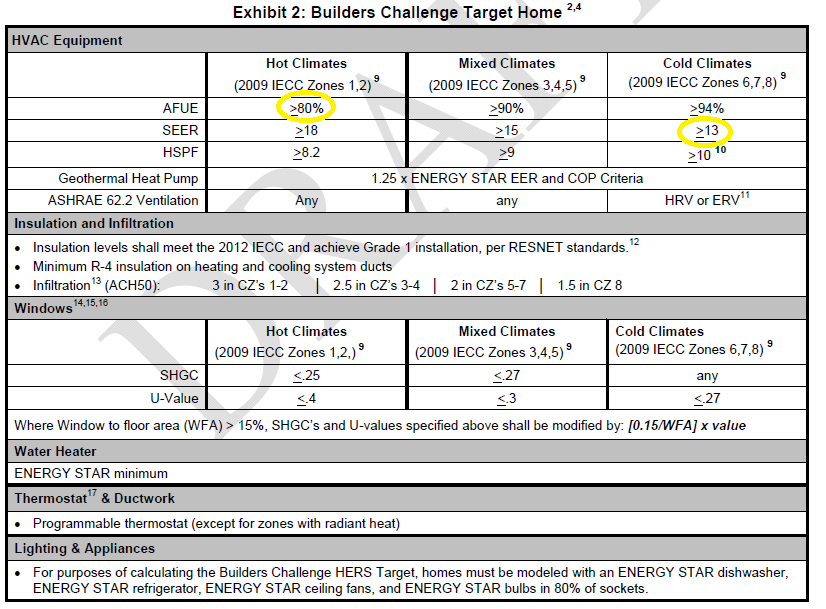 If you exceed the sizes above or wish to perform any trade-offs, you will have to follow the performance based path which includes modeling work being performed, etc… While the prescriptive path doesn't require any modeling work to be performed, I don't see to many builders skipping that as it is also a great marketing tool 7 gaining ground.
One Major Point of Contention:
Personally I like this mix & think it will serve many builders well as a stepping stone to the even tougher energy codes coming down the pike (e.g. IECC 2012, 2015, IGBC, etc…) I do have one major point of contention though & it involves the allowable HVAC system configurations shown in the chart above…
Seriously, a SEER 13 in climate zones 6 – 8 and a naturally vented 80% efficient furnace in climate zones 1 & 2? Are we not trying to raise the standard across the board and promote health & safety while trying to reach the Net Zero goal? While I can understand the thinking (hey it doesn't get that hot or cool in those areas …cough bull shiate cough…) I still can't wrap my head around allowing any naturally vented appliance being allowed into the conditioned area. This is a voluntary program & meant to help builders & push manufacturers to help lead and be able to offer more innovative products, so why not bump the minimum up some.
Let me encourage anyone that also disagrees or agrees with this or any other items should remember that you only have till the end of January to comment. If the amount of emails I get reminding me about this is any indication, they really do want your comments. (Public Comments)
Final Thoughts:
As I mentioned above, I like the newest iteration of this program and I see it as a great step to help many builders jump ahead of the pack. An interesting item (& I am trying to get confirmation on this) is that I am only seeing one must meet all these programs guidelines & checklists, not to actually be certified by them. If that is the case, this might help eliminate one large stumbling block I see for many & that is the issue of not having enough qualified (or should I say certified) HVAC contractors that can work on ENERGY STAR houses. (Interesting piece on Energy Vanguard about this issue)
So are you up for the Challenge?
So this leaves us with one question, whether you are a Builder, an Architect, a Designer, or a Building Trades Professional – do you care to step up to the challenge? Even if you decide that this might not be for you at the moment, don't forget to check out all the resources available for free on their site. As always we are here to help provide you the information you might need through this blog, or to help you meet those goals with our solutions services that range from consulting & training to verification & certification.