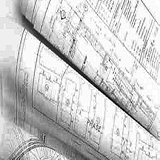 Last week we focused on this simple question; do we keep with the status quo of basically designing houses with a 30 year shelf life, or design them to last & be used for generations? While the question might appear "simple," just how do you design for multi-generations where everyone is comfortable, and one is glad to be home? Last week we covered the exterior of the house & this week we are going to take a look at the inside because it is easier to deal with it up front.
The powers of 3 & 5:
Just like the exterior, the power of 5 applies inside a home. While a 3' hallway is wide enough for one, a larger one allows for more people to pass, not bump pictures, thermostats or tripping over a child that tears out of their room.
5' is a nice area to allow one to open a stove & get a hot pan out or in whether you are standing or in a wheelchair
3' is great for doorways & should be the minimum amount of free space allowed in closets, hallways, around all furniture & beds (5' would be better if you can swing it)
Living rooms, the kitchen, bathrooms, bedrooms & the entry way should have a 5' x 5' clear space for turning around which also aids in making spaces look larger & not as cluttered
The dreaded stair: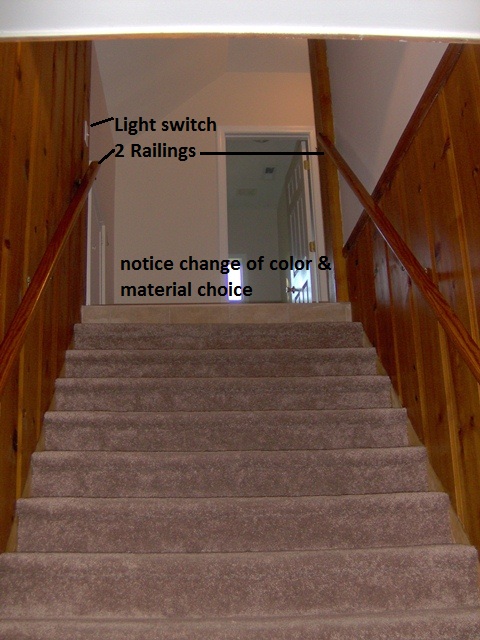 While not an issue with ranch homes, many two story (or split level) homes generally place all the full baths & bedrooms upstairs. As kids this can be fun, but if you twist an ankle or worse the fun is now a nightmare. Make sure you include a full bedroom & bath down stairs.
Consider making it a master suite, a guest room, or even an office with a drop down Murphy bed.
A full bath can be great if the kids come in all muddy as you can have them clean off there instead of traipsing through the house, upstairs & all around.
One other trick is consider stacking closets so that if required it can become an elevator.
Flooring:
Carpet is out and non-slip rugs are in for those that like "modern" architecture, have allergies, or are using walkers, and wheelchairs. If you are considering carpet, consider using low-density pile with firm pad
Tile, hardwood, finished concrete & linoleum are all good choices…  (Especially with radiant flooring)
Be careful of using the same materials if there is a step up or down – consider using a different material or changing the pattern at the step & consider the slip resistance of a product
Knobs, Levers, and Pulls:
Your hands are full with groceries, or greasy as all get out, can you get that door open, turn on the sink or open a cabinet without making a mess?
Skip the regular knobs & go with levers on all doors
Cabinet drawers and doors – consider "D" shaped handles (fortunately these can be changed out easily if needed, but at $5+ a pop…)
Single action levers are great for faucets & help prevent accidental scalding (all new faucets generally come with an anti-scalding system built in – we still recommend checking that or better yet turn the water heater down to 120°)
Electrical:
Personally I like the decorative type switches as they are easier to use & quiet personally look better
Light switches should be no more that 48" up which works out great when you are doing drywall
Electrical outlets should be 16" up from the ground which not only makes it easier for someone in a wheelchair, but requires less bending and lowers the chance of a baby trying to put something into it
While many people now use wireless phones & internet connections consider placing telephone & internet connections in each room.  While you may never use them some equipment may require them & with a little forethought you maybe even ready for the next big thing
Lighting is critical to preventing slips & falls & task lighting makes life go by that much easier
Thermostats – this can be a tough call because if you place it to low the kids will want to play with it – fortunately this is one I would leave up & consider going with an internet connected or whole house automated version
Entryway & stairs:
See Exterior article for numerous tips on this
Is there a countertop, table or bench on the inside to temporarily put items down so you can shut & lock the door?
Closets:
Remember the powers of 3 & 5 which should be clear area
Consider closet organizers with multiple hanging heights & storage areas
Consider lighting the closet which can use a switch built into the door opening itself
Be mindful of the doors blocking access
Bathrooms:
There is no reason to just throw grab bars in around a toilet, but installing blocking for it later is well worth it.
Speaking of blocking, for any of us that have had kids make sure it is installed where towel bars, toilet paper holder, & other items will be placed
It may also be well worth considering a curbless shower with linear drains for the baths which not only looks great but makes cleaning easier
Consider adjustable &/or handheld showerheads (preferably that have a WaterSense® label)
Elongated toilets that are ADA compliant (about 2" taller than regular ones) make it easier for most to use it – for kids consider a step stool which will also help them reach the sink to brush their teeth & wash their hands
Don't forget to use slip-resistant flooring (which includes in the tub &/or shower)
Kitchen Cabinets & Storage:
Drawers & roll-out shelves are your friend, especially for blind corners & deep cabinets
The more storage down lower – the better
Don't forget counter top space for dishes & prep adjacent to or opposite all appliances
Make sure surfaces are easy to maintain & clean
Appliances (Kitchen & Laundry):
Large displays & text help make doing chores easier and reduce the chance of error
Elevated front loading washers, dryers, and dishwashers also make chores easier
Side-by-side refrigerators with water/ice dispensers might not be the most efficient, but the easiest for all to use
Consider a conduction cook top for an easier time cooking and also to help prevent burns
Microwave ovens at counter height or in wall are best which will also help eliminate those all-in-one units that do absolutely no good for cooking
Natural Lighting:
As we mentioned above, lighting is important and nothing beats natural light
"Solatube" style gives one the benefits of a skylight but with a much smaller footprint & allow less heat gain or loss
Windows are great but choose carefully based on your house & climate
Make sure all the cords are easy to reach and use but not at a height or an area where a baby could strangle itself
Other amenities:
Laundry chutes in multi-story homes
Audible and visual strobe light systems for doorbells, telephones,  &/or smoke or CO2 detectors are not only great for those hard of hearing but also kids who play the music just a tad to loud
Whole house automation that can include security, intercom, video, & sound systems along with HVAC and lights that can be controlled not only from special receiver, but TV's or smart phones
Home wired for security which can be upgraded for personal panic buttons
Central vacuum system