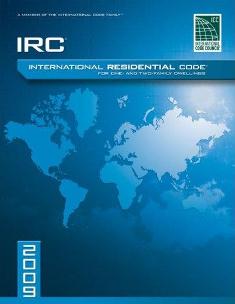 EDIT: This was originally set to look into Alabama's new Residential Energy & Building Code which went effect October 1st 2012. As mentioned below many areas of the state were following numerous versions of the code & this was a primer piece on the changes one could expect to see jumping up to the newer 2009 IRC.
…While everyone's focus has been on the "Energy" portion, not much has been stated about the building portion…
For most of the southern portions of the state this part doesn't affect them as they have already been following it. For places like Huntsville, Decatur & Madison county who are still on the 2003 IRC codes or even Cullman who is on the 2006 IRC there is bound to be a few surprises & headaches.
With that said let's take a quick look at some of the biggest changes between the three codes. In today's article we are going to cover the first 4 chapters on Administration, Definitions, Building Planning, & Foundations. Tomorrow we will deal with the remainder of the "Building" chapters (5 – 10) & follow that up with the mechanical portions.
Chapter 1: Administration
R105.2 Work Exempt from Permit: in 2006 they lowered the "detached" building size to 120 SF – it is now back at 200 SF assuming your local building department (AHJ) allows this
R105.9 Preliminary inspection: oh how I love this section… (turn sarcastic font off) "Before issuing a permit, the building official is authorized to examine or cause to be examined buildings, structures and sites for which an application has been filed" All in all for remodeling projects it really is a good deal as the inspector might spot something they may feel you need to address which is better that you find out beforehand rather than later.
R106 Construction Documents: expect many AHJ's to start requiring full manual J & D's, possible wall bracing details, etc…
Chapter 2: Definitions
There are numerous changes, additions & clarifications; but the one to watch out for is "Attic, Habitable" (70 SF+ meeting headroom height) will not be considered another story but will require an emergency egress method, smoke alarm… (Be careful as labeling an area as just "storage" may not fly with most AHJ)
Chapter 3: Building Planning
With a slew of deck collapses back in 2003 coupled with hurricane Katrina the codes dramatically changed from the 2003 to 2006 versions & were then ratcheted up again for 2009.
R301.2 Climatic & Geographical design criteria: As we have 7 different wind loads, and most of the state does fall in one of two snow load calcs, it is definitely something you will need to review. Connectors, bolt locations, fastener spacing, and a host of other changes have been implemented.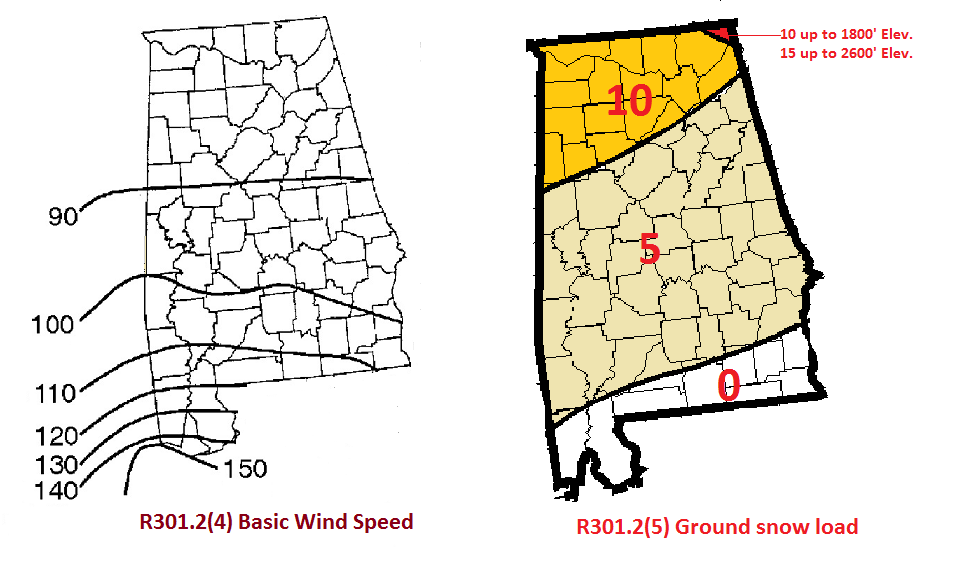 R301.5 Live Load (Chart): Habitable attics – add a 30# live load to calculations
R302 Fire-Resistant Construction: this is a new & renumbered section that encompasses many of the items that used to be scattered throughout the codes. Most of the changes I see are minor in issues. For those that might have lived in areas without codes, an attached garage is required to have fire rated protection (including the door) which also protects the occupants from carbon monoxide.
R305 Ceiling Height: Habitable basements are now 7' with no exceptions – uninhabitable basements must be at least 6' 8" with beams & ducts allowed to extend down only to 6' 4" (or it is considered a crawl space)
R308 Glazing: (aka Fenestration) has been completely reorganized & simplified – whatever you do, do not remove those labels especially where tempered or safety glass is required
R310 Emergency Escape & Rescue Openings: Basements (Unless less than 200 SF & only containing mechanicals), Habitable attics, and all sleeping areas must have a means of egress which does not require one to go through a garage
R311.3 Floors and Landings at Doors: exterior balconies that are less than 60 SF & only accessible from that door do not require said 36" landing
R311.4 Vertical egress: and there is that dreaded "Habitable Attic"
R311.7 Stairways: They eased this up for some allowing for a maximum 3/8" difference & not the 1/8" or ¼" maximum difference many of us had to build with. Graspable handrails are also now required
R313 Automatic Fire Sprinklers: Stricken from Alabama code – no AHJ may require them nor can they ban them if a homeowner wants them installed
R314 Smoke Alarms: All devices must be hard wired, interconnected (via wiring or RF) & located in "each" sleeping area, outside each sleeping area, on each floor, in the basement & in a habitable attic. It is also specifically listed when any permit is required for interior work (excluding HVAC or plumbing only) a current houses smoke alarms must be brought up to code.
R315 Carbon Monoxide Alarms: They are now required if there is any fuel burning appliance located in the house or if the garage is attached. They should be located at minimum outside each sleeping area. It is also specifically listed when any permit is required for interior work (no exclusions unless there is no fuel burning appliances or attached garage) one must add carbon monoxide detectors as required by code. (Personally you should add one no matter what the exceptions are, especially as we tighten up houses & require air intakes)
R316 Foam Plastic: If you are installing foam for insulation you should definitely read & understand this section
R317 Protection of Wood…: Basically covers all the location PT wood needs to be used – just make sure your crawlspaces are deep enough (at least 18" to the bottom of joists & 12" to any girders). Along those lines if you are using PT wood you must use either Stainless Steel or Galvanized fasteners (not sheetrock screws, staples or regular nails)
R318 Protection against Subterranean Termites: the whole state falls under this section which requires retreating any cut PT ends or notches, using chemicals, etc… As for the foam inspection channels, using a termite shield with either a bait system or chemical spray specifically eliminates that requirement which not only is the most energy efficient option but prevents numerous other problems.
R319 Site Address: if the house is visible from the street it must have 4" high numbers identifying it that stands out from the background
R322 Flood-resistant Construction: if you are building or remodeling in a flood plain, you need to review this section
R323 Storm Shelters: "In addition to other applicable requirements in this code (pulling a permit, getting inspected, etc…), storm shelters shall be constructed in accordance with ICC/NSSA-500.
Chapter 4: Foundations
R401.3 Drainage: From the foundation wall out to 10' the ground must drop by 6" at minimum
R401.4 Soils tests: Expect to see more soils tests out in the county areas where there is insufficient data or if areas nearby have been found to have a bearing capacity less than 1500 psf.
R408 Under-floor Ventilation: aka the crawlspace section
For vented crawls – 1 SF of net opening is required for every 1500 sf IF a Class I Vapor Retarder is installed (properly). Failure to do that drops it to 1/150. Seeing we live in a humid climate the less venting the better. Ventilation openings must have a screening material with opening not greater than ¼" to prevent rodents in.
For sealed crawls – woo hoo it is now listed in the code books (now whether Huntsville & others drop the required "engineered" requirement is to be seen) and requires a properly installed Class I vapor retarder, insulated walls per the IECC (R5 continuous) & either a continuous exhaust fan (1 CF per 50 SF of floor) or a supply & return line for the HVAC unit (also 1 per 50)
There are 3 access measurements to be aware of; Access to mechanical equipment requires a minimum 24" x 24" access (or the size of the largest piece of equipment). From inside the house (best for sealed crawls & those with ducts located underneath) 18" x 24" or from outside 16" x 24"
All debris need to be removed
If flooding or water intrusion is an issue you will need to refer to 408.6 & .7
Related Articles & Links: