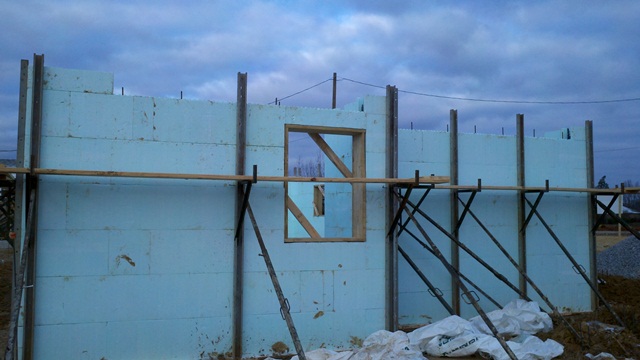 In our last post on "Let's get this project rolling" we caught up with the project & mentioned some of the weather that was liable to make life a little difficult. When I left the schedule & weather forecast stood as follows:
Monday:  Official kickoff (Invite news crews, etc…)
Tuesday: Start laying up walls & get bracing put in place – severe storms after 3 PM& lasting till around midnight
Wednesday: Finish getting walls in place – muddy, overcast, and cool
Thursday: Cut in all windows & doorways, be ready for concrete Friday AM – muddy, clearing skis & cooler weather
Friday: pour concrete – Clear sky, windy with a low of 25 & highs in the low 40's
Reality on the other hand was another matter as the rain simply never stopped and they ended up not even making it to the site on Wednesday. On Thursday they really pushed it & managed to almost get two days' worth of work done in some miserable conditions. I must say I am impressed as I would have simply just blown both days off on my site. Arriving Friday morning with the temperature sitting at a nice brisk 27°, this is how the site looked: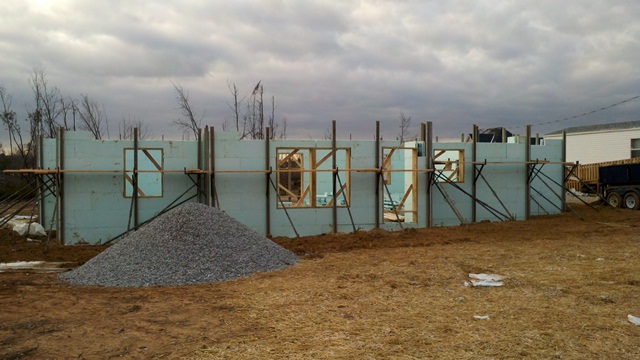 For the walls, they only had the top course left and a spot by the door. They managed to get all the bucks in place on the exterior walls leaving some foaming and reinforcements to be taken care of. As for the "Storm Shelter / Room" that was a little further behind as the roof portion still had to be completed & the door buck installed. Goal per Danesh Foroughi of Stonecraft Construction (the ICF guy) is to get it all wrapped up & pour concrete by 1 PM. (we hope to have an interview completed with him in the next week or so)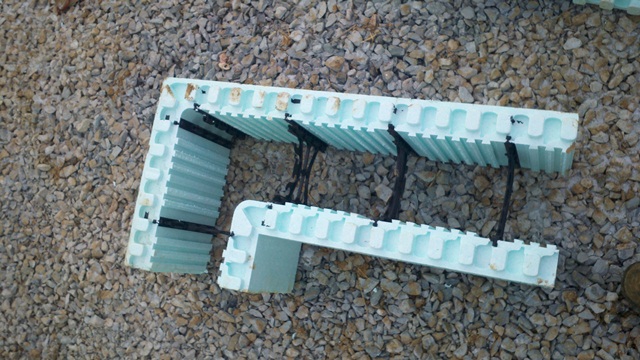 This is a picture of the ICF's that are being installed which resemble big Lego blocks. The plastic webs end with a plastic plate which acts as the stud for installing strapping or screwing drywall to which are located 8" OC.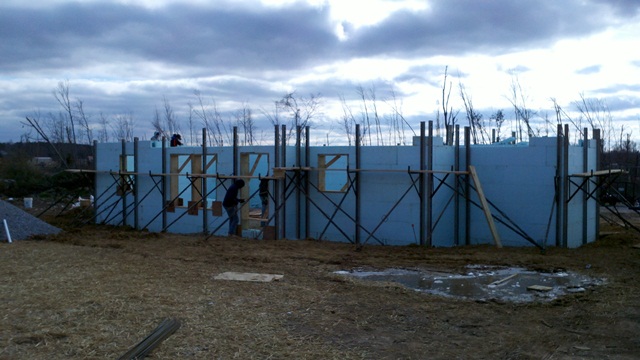 10:52 uh oh – the sun is peaking out & we might have just hit the 30 degree mark. Good news the frozen chalk line & tape measures have now been thawed out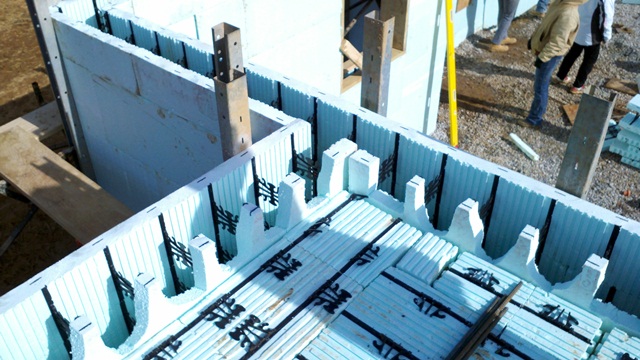 11:36 amazing how much the sun can improve morale & improve productivity. This is a picture of the storm shelter roof, we have about an hours' worth of tying rebar in front of us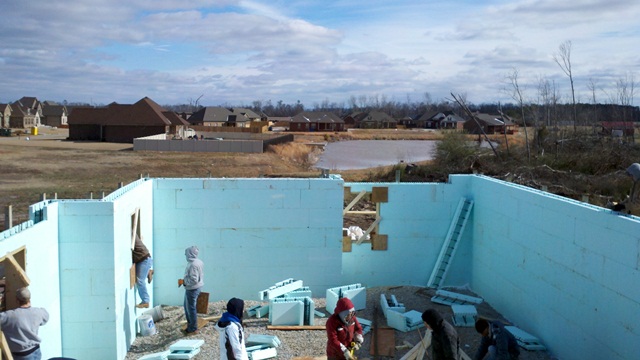 11:36 still got two sections that need the ½ blocks installed & some more reinforcement but it also seems doable
12:00 Lunch Time & my phone dies…  Unfortunately we got word that the pump truck we were scheduled to use wouldn't be able to get here until too late so no concrete pour today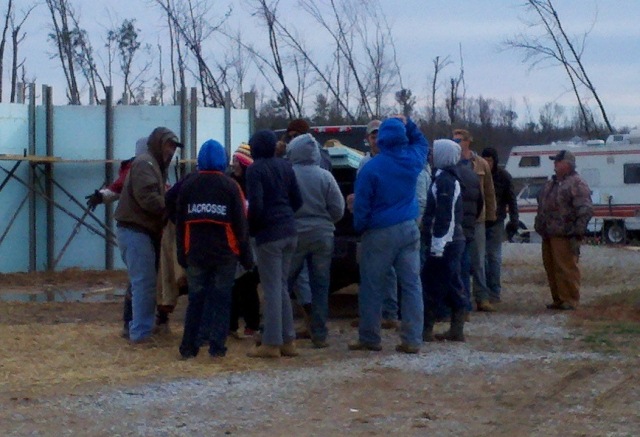 2:45 @ 37° and that's all she wrote, everything is set for an early Monday morning pour and the Notre Dame College group is saying their final good-byes as they are driving back to Ohio on Saturday. A few people have promised them a video of the pour that they all wanted to see, and if all else fails I know I will be snapping a few shots.
The volunteer program & the volunteers:
Habitat has numerous programs on many campuses & during summer & winter breaks they will send volunteer groups out to numerous affiliate programs that have an ongoing project. In this case, Notre Dame College via their campus ministry had 2 volunteer groups; one assigned to Athens and another one which they blogged about in West Palm Beach. The students pay a small fee to Habitat, and basically just have to worry about showing up. The local affiliate finds them lodging (In ALC's case – it is free), while the college provided the vans and fuel. As for meals, those are generally handled by local companies with this group only having to buy one meal during the entire trip.
I was able to chat with a few of them as we worked together & just like the SKILLS group I got to say I am impressed. They all worked hard & were in good spirits throughout the project (even with all the nasty weather). One of them mentioned that the weather wasn't bad compared to where they were from, and he went on "that the hospitality shown here more than makes up for the weather. This is my second trip with Habitat & the hospitality shown here is amazing." For some, they were bundled up like the Michelin man, and almost cheered out loud when the sun came out – "I can handle the mud, it just the cold that makes it difficult." Hopefully once they make it back to Ohio, one of the students will be sending us a copy of the group photo that was taken & we will see if they have anything else they would like to add.
For more on this series as the Athens Limestone County Habitat group goes for LEED Platinum, the project, & how we came to be involved in it…