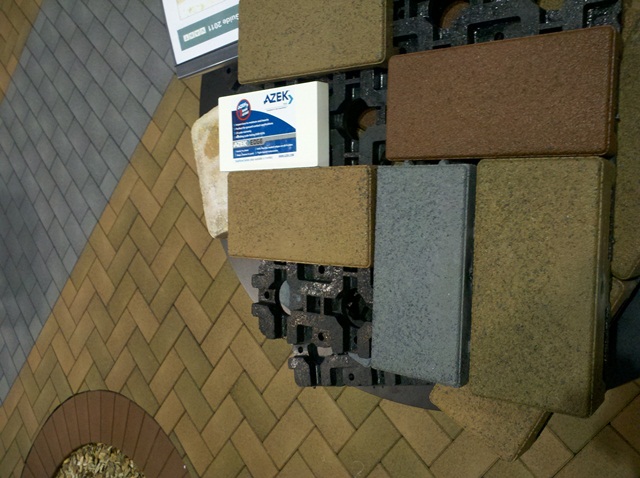 For those of you who were following our Tweets from the IBS in Orlando you might have caught this picture of a product that simply stopped me in my tracks. The reason – well I knew I had just stepped onto a concrete paver display but yet, it didn't feel like a concrete paver. Upon a slightly closer look (while letting my feet breathe a sigh of relief), these weren't real concrete or clay pavers, but they were a composite paver now being offered by AZEK. Can you say – game changer?
Unfortunately I never got around to doing a full recap of the IBS show where I planned on mentioning this product & quite simply, forgot all about it. Well this last Friday the regional field representative happened to stop by to see how things were going and if we needed any literature, samples… & there they are again. Well if I thought they were a game changer before, after talking with him for a bit & seeing some projects I realized how short-sighted I was originally as all I had pictured were driveways & walkways.
Driveways & Walkways:
There really isn't too many difference between the steps required to lay these as compared to a regular concrete paver. Both require a proper base is installed & tamped, followed up by sand. Now instead of lugging who knows how many tons of pavers, you simply lay down your grid being careful not to get sand on it. Now you can walk on the grid as you install the pavers. You finish it off with an edge restraint, tamping & add sand or crushed granite in the cracks.

Flat roofs: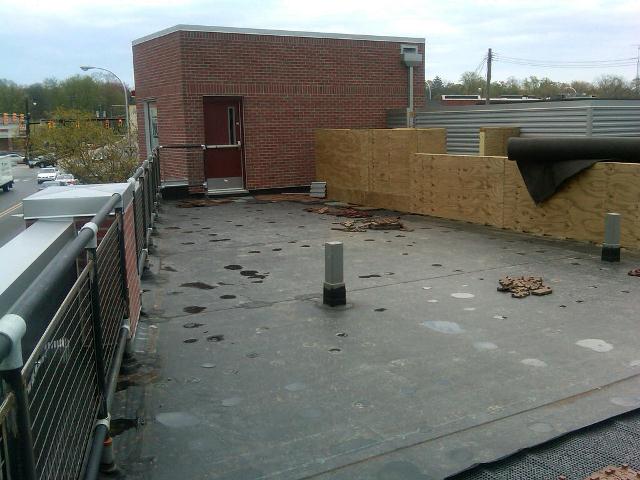 I am not afraid to admit it, but sometimes trying to turn a flat roof into a deck can be a nightmare. Not only do you have to worry about how you are going to get it level and attach everything, but more importantly trying to avoid damaging the roof while still allowing easy access for any later repairs or work that needs to be done. For some, they don't like the idea of wood & rather have stone or brick pavers installed which means we have to factor in the weight & how are we going to stage the materials. For example – 11 pavers weigh in at 64 pounds and will cover 2.4 SF. This works out to 26.6 pounds of weight per SF & that doesn't even start to include anything else required to install them.
Step 1: Install a drainage mat (not sold by AZEK) to protect the rubber, foam, &/or asphalt roofing while allowing for water to still run off the roof (pictures courtesy of Mike McCraw of AZEK Building Products)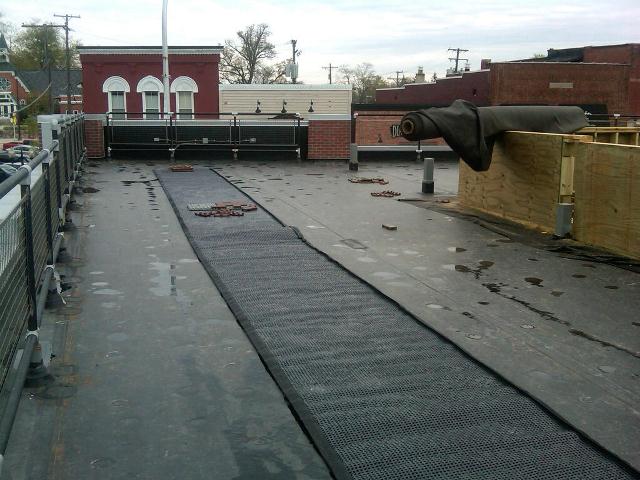 Step 2: Lay the grid down, choose pattern & install pavers

Step 3: Enjoy the view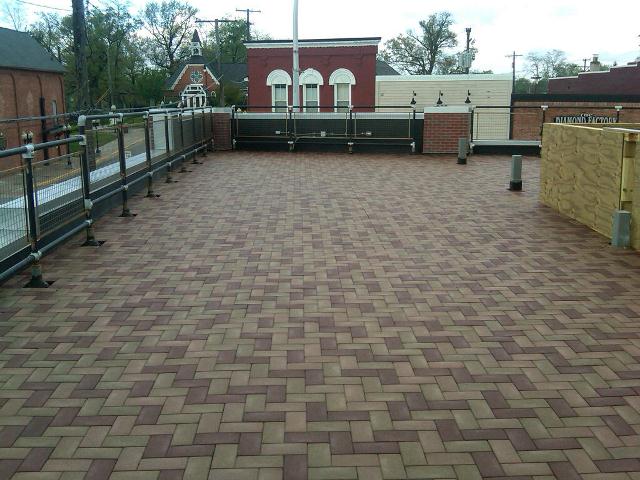 Resurfacing a deck or patio:
Talk about easy, as long as the deck is structurally sound you simply lay the grid over the deck, install the pavers, and apply an edge banding material (cedar, PT, AZEK trim board, etc…) – one quick note the deck needs to be 2" or more below the door threshold.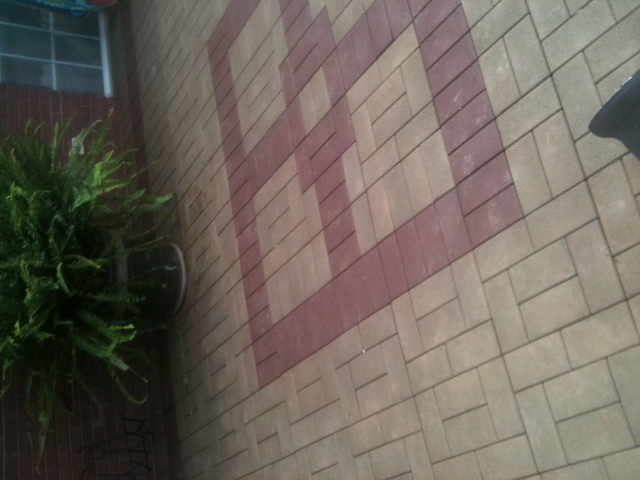 Stairs:
Dealing with the stairs is probably one of the reasons that decks or even patios never really entered my mind, but it really isn't too difficult. Place the grid on each tread, screw down each corner & apply adhesive to each paver& set in place. For open stringers, simply run a trim piece to cover the sides. For the riser part, attach a trim piece to cover the riser, grid & paver. (Just remember that per the IRC 311.7.4.3 – Stair tread nosing must extend out ¾" to a maximum of 1 ¼" past front of riser unless the tread is 11" or larger)
The weight factor & specs:
The "regular" paver & grid (unit) measures 2.38" in height, covers 1.78 SF (16" x 16") & weighs in at 16 pounds.
Using the weight example above, instead of carrying 11 pavers @ 64# – you could be carrying 4 units of these
Coverage basically triples from 2.4 SF to 7.1 SF & the weight per SF is almost a third (26.6 to 9)
The "permeable" unit has the exact same measurements as above but weighs in at 14.6 pounds or 8.2# per SF
The "resurfacing" unit (not meant for vehicular traffic)covers the same amount of ground, but is only 1.75" tall & weighs in at 6.4 pounds or just under 4#'s per SF

The "green" or LEED factor:
The product is 100% recyclable (Closed Loop – e.g. once an aluminum, always an aluminum can) which can help with 2.1 & 2.2 for Construction Waste Management
The product contains approx. 95% recycled content from scrap tires & plastics which can help with 4.1 & 4.2 Recycled Content
If you live within 500 miles of Minneapolis MN you might be able to get the 5.1, 5.2 credit for Regional Materials
The regular types, but especially the permeable versions can help with capturing & allowing water to naturally percolate back in the ground as compared to normal hardscapes (6.1 & 6.2 storm water design)
Currently they are working on specific colors which will meet LEED's 7.1 requirement on minimizing the "Heat Island Effect" which will probably be a big seller for many folks in the desert.
Misc. notes & tidbits:
First a word of WARNING – this product is not designed for fire pits (in fact many bricks, stones & pavers are not) & should be kept 4' away from them
For each 100 SF installed it basically saves 50 auto tires & 1500 plastic containers from going into the landfill
The scratch resistance & strength of these is quite simply outstanding, especially compared to normal products
These can be cut with jig-saws, circular saws, and chop saws – do not force the blade & let it do its job or you risk gumming up your blade (if you do – some solvent cleaner or brake fluid will help get it cleaned off)
If you are interested in learning more you can contact AZEK for a list of dealers & installers