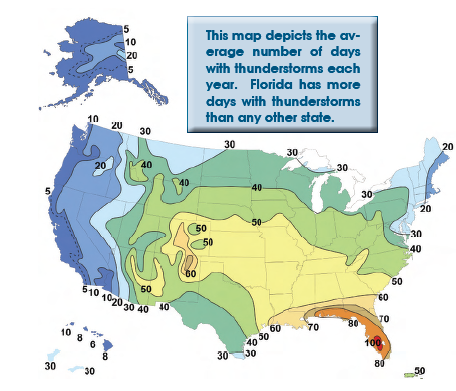 Alabama Gov. Robert Bentley declared Feb. 19-24 as Severe Weather Awareness Week to encourage people to make their own personal preparations long before severe weather strikes. On average each year in the US there are 10,000 severe thunderstorms, 5,000 floods, 1,000 tornadoes, and an average of 2 hurricanes making landfall. "The key is readiness," Governor Bentley said. "When storms strike, it's too late to prepare. Let's prepare now." Today is dedicated to Severe Thunderstorms which will be followed up by Lightning, Tornados, Flooding, and Weather Radios this week.
So what is a Severe Thunderstorm?
A thunderstorm is considered severe if it produces hail at least 1 inch in diameter &/or has wind gusts of at least 58 miles per hour. Larger size hail has been known to be able to reach speeds of 100 mph with straight line winds & downdrafts exceeding 125 mph which can cause just as much damage as a tornado or hurricane. Depending on where you live in Alabama on average we could be looking at anywhere from 50 to 80 severe storm days a year based on this map from the NWS.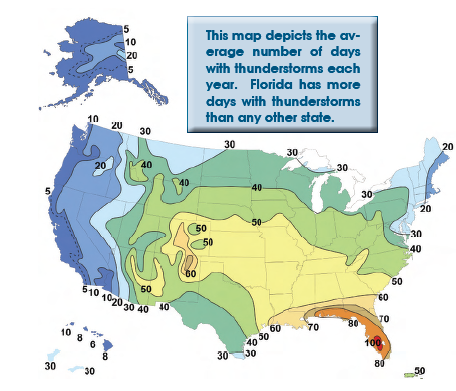 When a storm is approaching:
Pay attention to the radio or television and know the risks for the area in which you live or visit.
Depending on where you are, find shelter in a building or car (a building would be better especially if the storm turns into a tornado).
If you are in a house be sure to stay away from windows and if you are in a car keep the windows closed. (Do we really need to say a convertible is not a good choice of vehicles
If you are in the woods and can't make it to safety, take shelter under the shorter trees.
If you happen to be out on a farm, etc… try to find a way to protect your head and become as small as target as possible. The best position is to place your hands on your knees with your head between them. Do not lie flat on the ground as this will make you a larger target.
If you are boating or swimming, you need to get to land and find shelter as quickly as possible.
After the storm passes:
Unless you need to, stay away from storm-damaged areas.
If you are in an area that was affected, stay away from any downed power lines.
Take care of any immediate issues & check on your neighbors if safe to do.
Listen to the radio or TV for information and instructions.
Additional Websites & Information