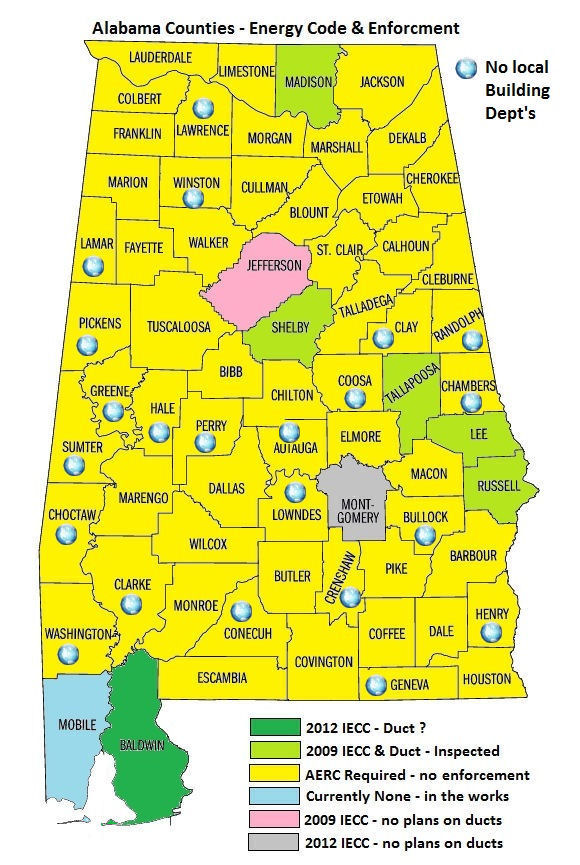 As many know Alabama adopted a new Residential Building & Energy Code which went into effect last October. One part of this was a delay placed on when the mandatory duct testing, insulation & building envelope leakage that was to go into effect today (July 1st 2013). Well welcome to the state of confusion, I mean Alabama as things just aren't as clear as they may appear.
The HACR Board:
Below is a picture of an email update that went out from the State's Heating Air Conditioning & Refrigeration board (yeah ventilation isn't too important here).  Essentially they state:
The new duct insulation requirement still goes into effect on July 1st
They will not require duct leakage testing until January 1st, 2014 (only requested & required to be turned in if there is a complaint)
The only exception is "like for like" /equal capacity change outs – so much for caring what the Manual J says
If the "exception" is used the "contractor"

MUST

inspect & notify the homeowners of the condition of said ducts on the original proposal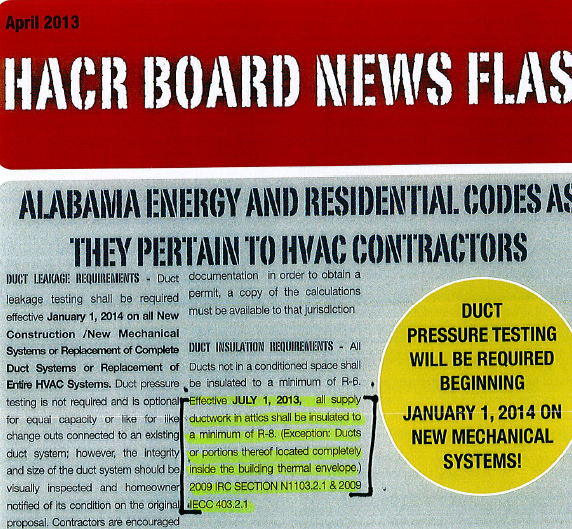 The AERC Board:
Well there is nothing on their site at all saying anything has or has not been delayed. With that this is a shot of the following "meeting minutes" from April 17th.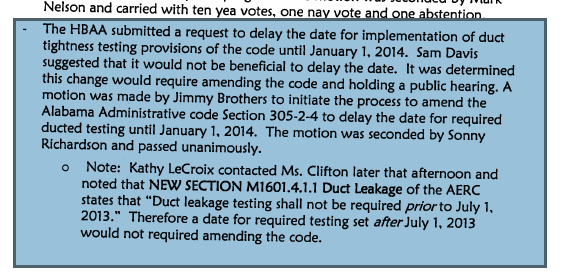 Talk about interesting, while they voted to proceed with the process of changing said amendment, they never agreed to the change so in essence the July 1st date stands. Of course as we pointed out in earlier articles, they have no enforcement powers so it falls on the applicable boards, Inspection Departments, & everyone's favorite – the lawyers.
The Inspection Departments: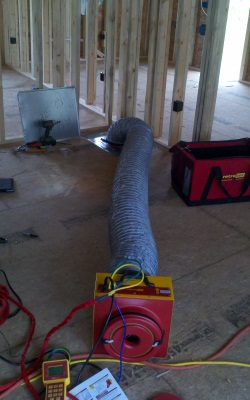 Well for cities like Vestavia Hills & Pell City any apparent delay won't affect them as they already require it. For many of those that have adopted the codes, the change also won't matter to them either as it was passed with the date listed. For some of the others listed on our Code Adoption page, they might just delay it. (Unfortunately due to scheduling issues, I haven't been able to update the sheet since February, but will be getting to it early next week)
A Big Catch 22 – our take:
As pointed out above, if an inspection department hasn't delayed the adoption; you really have no choice – let the duct testing begin. If you happen to be an area that hasn't adopted it yet / has no inspection department, things can get a little trickier…
If you are one of the 300+ contractors that took a class to do it & got the equipment I would say – set yourself apart. Not only will you be ahead of those not doing it, you also won't look so silly trying to remember how to do it come January. (Just remember the DET class only allows you to do it for your company installs, not others – that requires RESNET/BPI certifications)
If you took the class & haven't gotten the equipment – I would recommend crunching the numbers. If you don't do at least 15 or more new units a year, the equipment costs, calibrations required, storage, labor, etc… might cost you more than simply having an

independent third party tester

do it
Whether or not if you have equipment or not, it now gets down to your ability to handle legal risks (much like the RRP fiasco). Just because the board won't come after you until after you renew for next year, lawyers on the other hand…