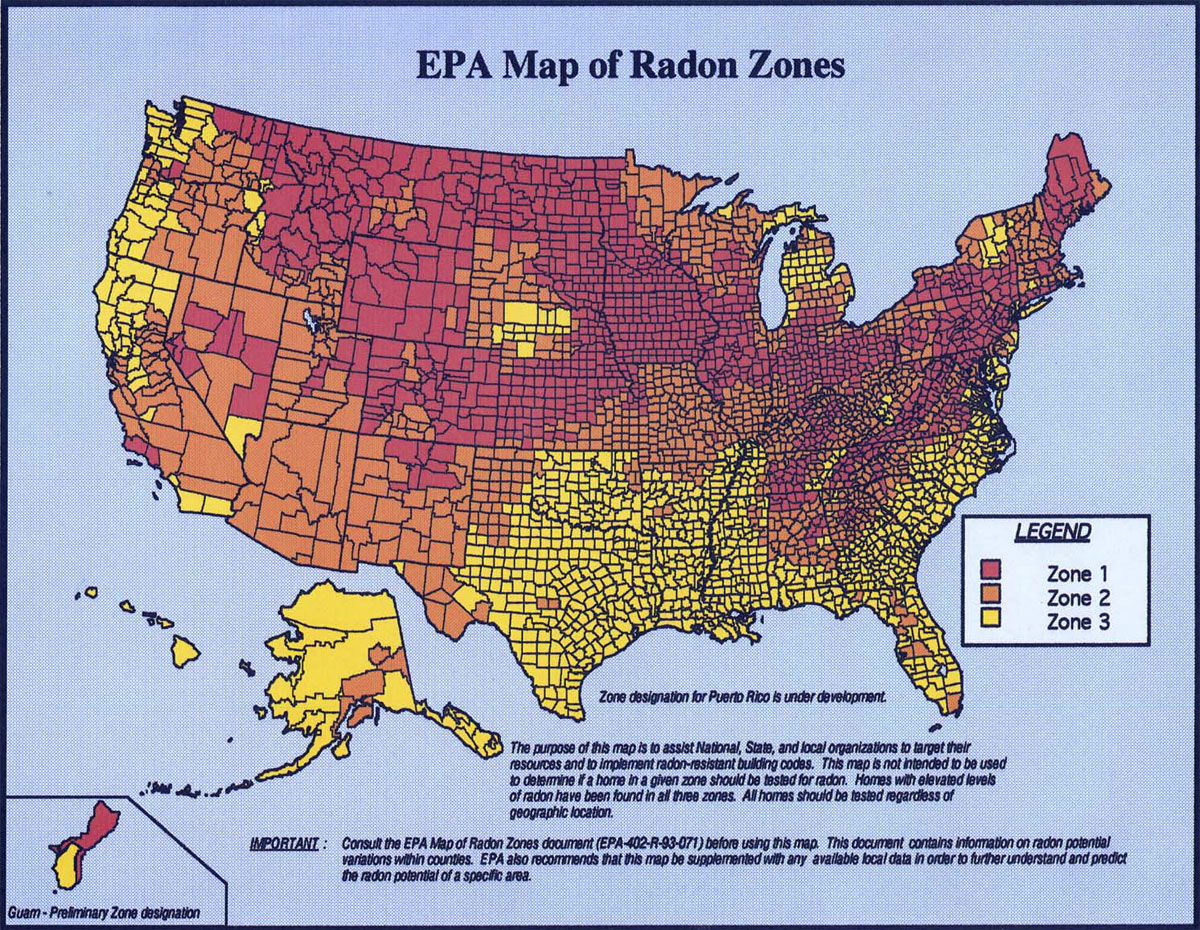 As many of you probably already know, January is National Radon Month. Just like CO, it is an odorless & tasteless gas; however, unlike CO there are no warning signs that it might be affecting you until it is too late.  It is estimated that elevated levels are found in 1 of every 15 homes nationwide with over 21,000 lung cancer deaths a year being attributed to it which makes it the leading environmental cause of cancer. While Radon can & does pose some serious health risks, it is simple to detect and even easier to virtually eliminate when building new or doing a major remodeling project.

The original idea for doing this article & the pictures are courtesy of ACES (Alabama Cooperative Extension System) and their outreach program for builders. This year their theme is "Test. Fix. Save a Life." No matter if you live in a slab on grade home, one with a crawl space, a basement, or even a mobile home with skirting you should test because as the picture below shows – you just never know.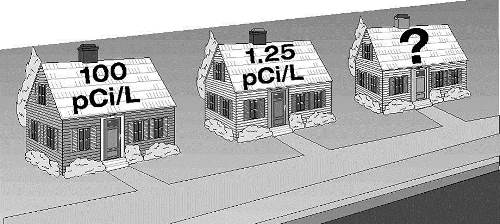 How it enters the Home:
The most common method people attribute to radon entering ones house is due to "the air pressure in your home is lower than that in the soil" thus leading to the gas being drawn in through cracks in the foundation, etc… The second most "well-known" method is via well water and that is well beyond the scope of this article.  Ahhh it's too bad the first reason doesn't really hold water.
While it is true that radon can enter via a vacuum aka stack effect, that isn't the only way & I would dare say not the primary mechanism. Radon simply starts off by following the fissures or fractures as it essentially seeks its own level which in some cases is aided by ground water. When it finally reaches the atmosphere it can easily attach itself to dust, aerosols, and other particles & continue to move around. This is one reason when testing your home, they tell you place your house into winter mode so that nothing disturbs the amounts normally entering the house.

"Because passive houses are built to such a high air-tight standard, the entry of radon is prevented as best as is possible. Beyond that, any possible infiltration is met by a balanced ventilation system that continuously refreshes the indoor air. Passive houses are, by design, well-protected from the dangers of radon." Got to love the US version of PassivHaus…In all reality because the houses are so airtight, and the primary driver of radon entry is not stack effect, any gaps that allow access ensure that the radon will remain in the house. While one might believe that the ERV/HRV will remove all impurities from the air, that is not its purpose nor was it really designed to do so, especially when one considers how heavy an element it is.

Will an HRV help remove radon – why yes it can as pointed out on slide 12 (pdf) from one of Dr. Wolfgang Fiest's presentation. However there is much more studying that needs to be done as pointed out in this 2012 study in Belgian. (pdf) For more you may also wish to check page 26 of this 2005 LBNL study (pdf)
An easy fix:
If you are just starting out designing your new house the fix is not only easy, but very inexpensive. For the most part all you need to do is possibly upgrade the plastic under your slab, grab some 3 or 4 inch PVC pipe, a few fittings & add in a junction box in the attic & one in the house. The in house one is not shown on the diagrams as they are not taking into account the 2009 IRC Appendix F & drew this up per the 2000 standards. That is simply to be used as an alert beacon in case there is an issue with the fan if you have to go from a passive system to an active based on test results.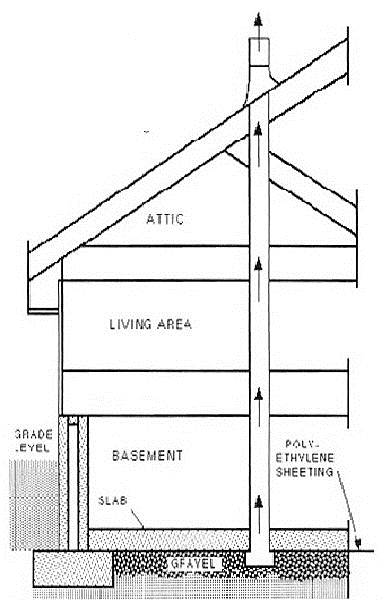 Smoking & Radon: While both cause lung cancer, being a smoker is still the leading cause followed up by radon. For those of us that do smoke, be aware that radon & smoking work quite well together, unfortunately not in a very good way. As for the hyperbole created over second & third hand smoke, well that could easily be why 88% (EPA Study) of Americans don't know how bad radon is & actually test for it… (For more on Radon & Testing)
But what happens if you are not going to have a slab – well basically you do the exact same thing as you would do above & what is already required by code. The only real change from above is you now need to add some perforated drain tile to help capture the radon.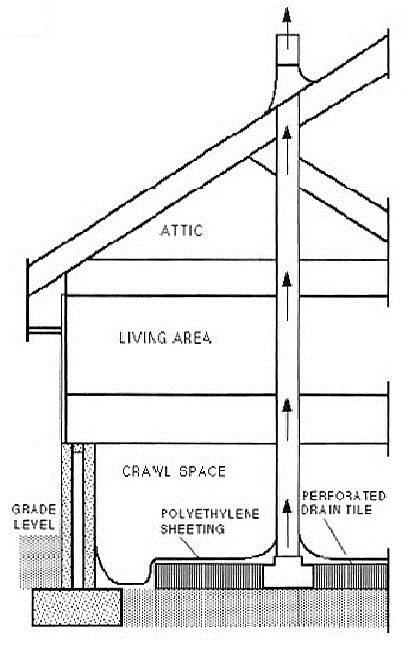 As a best practice a 6 mil poly is not sufficient in either of these 2 cases, but especially in a crawl space environment, so you would be best finding a 25 mil poly that will block the gas. If you don't believe me on the concrete portion, just watch how those guys pour it & then with a straight face say that the poly wouldn't be punched full of holes…
A few special considerations you might want to take into account;
An L shaped building might be best served by two runs, especially in  a Zone 1 or possibly Zone 2 area
A true slab on grade (where the footings & slab are pored as one is ideal for a central location, whereas a slab being poured later (hence expansion joints being used) might be better off being connected to an interior French Drain style system
Like many others, I do everything possible to minimize holes in the roof – if you are in a Zone 3 or possibly Zone 2 (and the Building Inspector is fine with it) – you might want to cap it off in the basement or attic. Then if you test later & protocols say you need to remediate you can try going passive & retesting or go active.
Newer codes also dictate that the piping used must be marked so that a plumber doesn't accidentally cut into it & if you do need to activate it, you put the fan on the right pipe
Activating the system:
So what happens when you run your test's again & the results come back saying that the passive system just isn't cutting it? It then becomes time to turn your passively venting system into an active one by cutting the pipe in the attic & installing an inline fan, a switch, and a warning light in the house in case the system fails. On the good news front, your initial investment ($200 to maybe $300) & the cost to activate it ($400 to $600 depending on where you live) is a lot less than the $2,500 to $5,000+ it would take to add one in after the fact.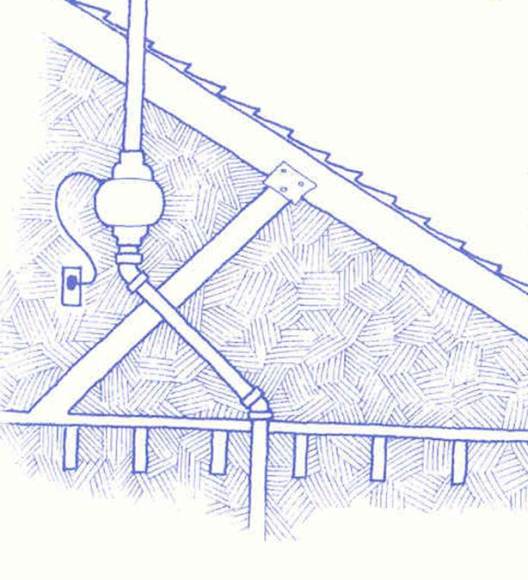 Ahhh but what happens if you didn't run a pipe up through the house & into the attic and instead just capped it off in the basement. Well you can do some major drywall work, or you can install the fan in the basement & direct the flow outside & up the side of the building.