For most builders & crews the biggest question when it comes to sheathing a wall is "should we do it while the wall is being framed on the ground, or after we have stood it up?" For others that have to add foam on the exterior, some start to wonder, "if I need to add this insulated foam board, do I really need to use wood sheathing everywhere or can the foam replace some of it?" With all the changing codes many are starting to also wonder, is what we did in the past still the best method, or are there easier & better means to do it now?

Unlike OVE where the premise is primarily on reducing the amount of studs or wood used in a wall, the basic premise behind Optimized Framing Techniques is taking the best framing techniques that fit the house you are building & utilizing them to not only save resources but to also have a strong, durable structure that uses a minimal amount of connectors required by other techniques.
The What & the Why?
If I had to sum up sheathing I would refer to it as; A material used to enclose & protect the structure (along with its contents) which also helps provides the needed structural stiffness & backing required by that assembly. For most residential structures the most typical materials used now are OSB or plywood while in some commercial wall assemblies a specialized gypsum type product is used.

While one would assume the most damage from the winds comes from the wind hitting the building, most damage sustained comes from the wind hitting the building at an angle where it can get behind the siding and essentially peel it off.The next biggest area of damage actually is on the backside of the building where the suction forces created can easily rip off most sidings & even foam board. (For example the assembly needs to be able to resist anywhere from a-29 PSF force at the corners, while the center area should be able to resist a -24 PSF.The bulk of damage from wind hitting a building straight on is actually caused by debris penetrating the structure which is why many coastal communities require "hurricane" glass or some other form of protection. This is also one reason why you may wish to consider bumping your sheathing up past code minimums & going with a thicker panel. At minimum I prefer a ½ sheet for 16" OC framing, while others I know will go no less than 5/8 or ¾. ¾ plywood is a favorite for some as it has been tested to stop a 2×4 being shot at it @ 120 mph.
 Horizontal or Vertical?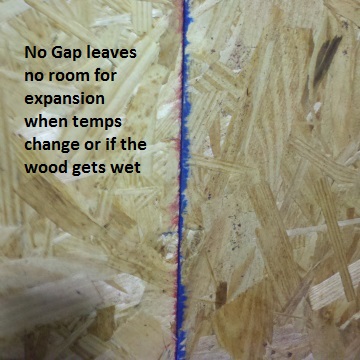 For years, many of us simply installed sheathing horizontally & used a 16 penny nail slid between the sheets to help ensure there was room for expansion & to help reduce the swelling caused by an moisture that got between the two sheets. With changes to the codes (caused mainly by a better understanding of seismic shear forces & what was required to help prevent a wall from racking in the wind…) it became a requirement in certain areas to start sheathing the corners & a few select other areas vertically.
As you can imagine this started leading many to start asking, if sheathing these areas vertically is good, how about the rest of the house, should we go back to horizontal in those areas or simply stick with doing it vertically? Well with the exception of maybe a few large windows, going with 100% vertical easily wins out especially when you consider a few more of the unexpected benefits. The dreaded wavy panel seam ceases to be an issue & low & behold the amount of air leakage took a major nose dive. Why, well you remember that 1/8" expansion gap that is required for expansion & contraction – well it now falls on a joist eliminating that path.

The death of the 8' sheet… One of the biggest items when sheathing a wall vertically is that the sheathing has to be continuous (602.10.4 &.5) which meant that an 8' sheet wouldn't cut it in many places so longer ones were required. So companies like Norbord started creating "TallWall" & "WindStorm" panels  to help alleviate this. One of the biggest advantages to this was not only does one end up with a stronger wall, but it also did not require as many fasteners & anchors saving time & money.While many of us do like using Simpson Strong Tie products, when a wood wall has more steel connectors than wood studs, one has got to wonder…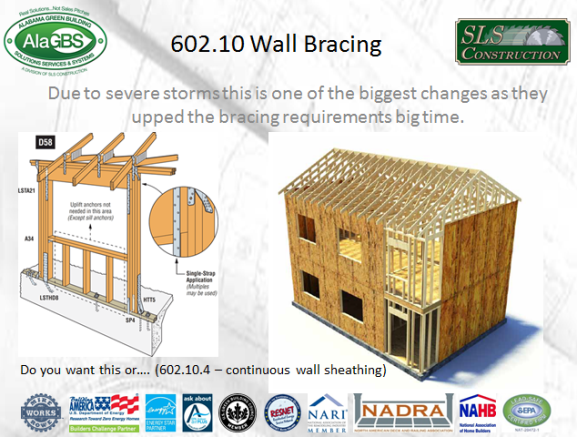 Installing sheathing vertically: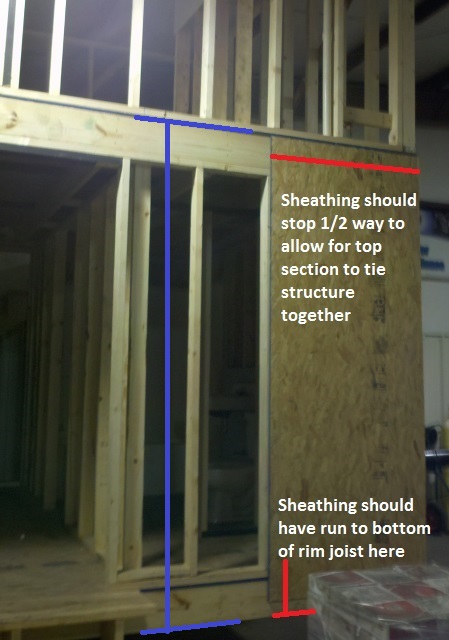 This is a picture I took when doing a presentation at the Local 372 Training Center in Tuscaloosa which primarily offers programs related to welding & plumbing. They created this 2 story mockup to help assist in their training & it just so happens to makes a great example. For a one story house, the sheathing should extend from the bottom of the lowest framing member to the top of the highest framing member (as shown in blue).
For multi-story buildings the sheathing on the bottom should extend down to the bottom of the lowest framing member & extend to the halfway point on rim-joist (as shown in red). The next piece above it should be allowed a 1/8" expansion joint ending at the top plate or at the midway point of the next rim joist. For more on these connections & other best practices you may wish to check out the APAwood.org site.

While some may like the idea of going vertical it just might not be in the works for them, but no worries there are ways of installing it where you can still gain some of the benefits.  Zip Wall is an interesting system which combines the sheathing with an integrated WRB & air barrier all in one. Another great option is 5/8 Tongue & Groove sheathing (just make sure the tongue is facing up) so if any water does get in, it can run back out & not into the groove.
Stepping it up a notch: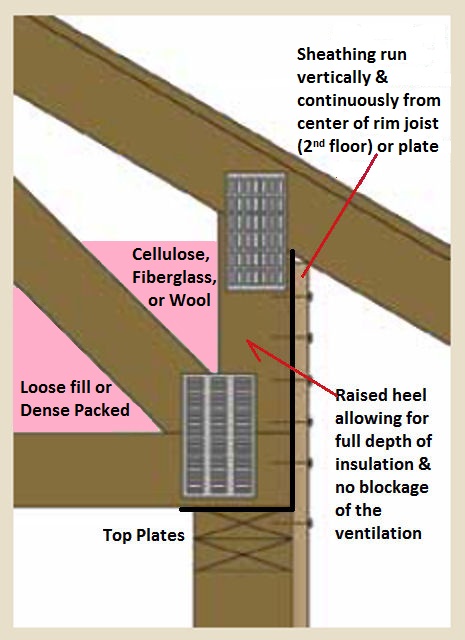 While raised heel trusses are still considered the domain of "green building" at this moment, with the stated goal of the ICC, AIA, & the others striving to reach net-zero by 2030, you can expect that they will soon become mandatory.  Not only are they great from a thermal efficiency standpoint, one can extend the sheathing up eliminating some bracing (allowing for more insulation), the need for baffles, but also help create a more sturdy structure.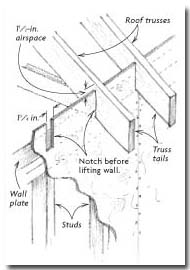 Mike Guertin is one of the original pioneers of utilizing the wall sheathing with trusses. His original work back as this diagram from a 2005 Fine Homebuilding magazine reprint shows, it was mainly used for blocking the insulation & eliminating the hassle of installing baffles. I got to admit, combining his notching idea with a raised heel or hot roof system would make for a pretty tight system.
Sheathing Grade Marks: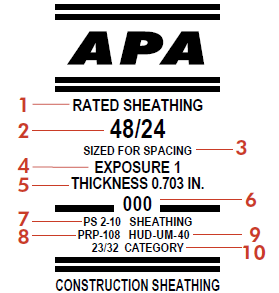 One of the most confusing aspects for many people is understanding what the grade marks mean on lumber.
This is commonly called the "panel grade" which can refer the grade of the veneer or its intended use.
Span Rating — in some cases you will see two numbers separated by a slash while in other cases you may just see one. The left-hand number is maximum spacing for when used for roof sheathing with long dimensions across supports while the right is for flooring.
Occasionally you may see one of two terms here:

Sized for Spacing refers to a panel that is trimmed a fraction shorter so that when installed with the proper expansion gap it will equal its nominal size.
Tongue and groove

 Bond Classification refers to the exposure rating based on the severity and duration of the weather and moisture exposure the panels are designed to withstand.
Manufacturing mill's thickness declaration
Manufacturing mill's identification number
Product meets Voluntary Product Standard (typically PS 1-09 for Construction and Industrial Plywood & PS 2-10 for Wood-Based Structural Use Panels)
Product meets APA's Performance Rated Panel Standard
Product meets HUD Standards
The performance category is linked to the nominal panel thickness designations used in the IRC & IBC

One of the most popular questions asked by new framers is should I stand the wall up & sheathe it or should I sheathe it while it is on the ground. By far & large I like doing it on the ground as it is much easier to get everything lined up, glued & nailed properly before raising it up. Shoot some builders are known to actually install the windows siding & trim & then raise it up because it is so much easier that way.With that said; the wind, manpower & equipment available is generally the main deciding force. If you only have two or three guys, you can easily & safely stand up a long wall with framing member only. Adding on the sheathing and you will either need a lot more men or pump jacks. For tall gable walls that are fully fitted out, you had better have a boom truck or some sort of lift to help make it happen.