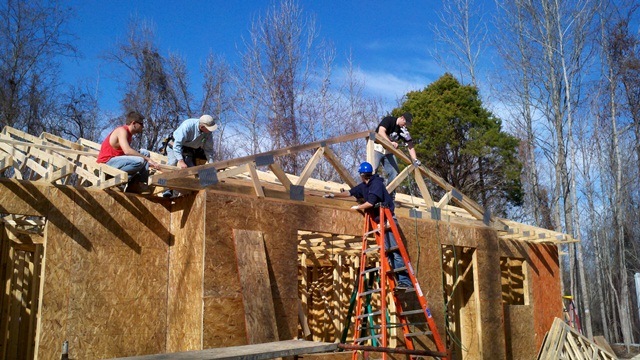 If there is one thing that throws many new construction companies for a loop (and even some more established companies), it is estimating. Just last week on one of the forums an owner was asking; who should eat this cost? The issue, he dropped a set of plans off for his supplier to estimate not only the price of the materials needed but the quantity. The issue as I recall was they were off by at least 4 squares (100 SF = 1 square), forgot ½ the vents & numerous other issues resulted in him doing the job at a loss.
While one might think that it is the suppliers fault or issue, they were covered with a little stamp & some fine print which said; hey while we do our best to be accurate, we are not liable if there is an error.  On the flip side of the coin a few weeks before that I was at another companies site & there was over a pallet of shingles (42 bundles to a pallet aka 14 squares) still sitting on the ground & the roof in question was essentially complete.  While one would hope that the supplier would take those shingles back, they might not be able to if they were special ordered. As many of us know, being just a bundle short can cost you 3x times the amount when you factor in materials & time, but having a ton extra costs can cost you as well.

I can imagine there are a few specialty contractors out there going; wow that stamp would be nice… Unfortunately as you know, there is not a single GC or PM out there that would accept a bid like that. Besides the biggest problem for most ends up when you don't have the most current set of plans or not being told about changes until you start (bathroom being moved to the other side of the master suite, etc…). In order to protect yourself;
On your bid – write down the plan number, date, &/or revision number you are working off of instead of just XYZ Project
List out the specifications you are using – faucet X, 25 outlets (white decora), etc…
List key locations of equipment or how you will do your runs – are you planning on running everything up from the basement or down through the attic, the AC pad will be located here, etc…
So how might one avoid getting taken for a ride? The best advice come from Ronald Reagan who simply said that while one can trust, one should also verify. I know, for many of us who wear so many hats, just where do you find the time to do that? I essentially use the spot check approach. For example, I may look at the plans & count outlets in the case of an electrician. If the code requires at least 30 & they only have 25 listed, well then we need some clarification & I will send it back to them asking them to recheck the numbers & remind which code we are using. For roofing & other materials, I will typically check the square count, & look at the numbers for a few other items – if those look good it is probably good to go. If one or two items then I know I need to tear into it more &/or double check my counts.

Roofing rules of thumb: Estimating shingles or other roofing material is pretty easy on most roofs when you know the conversion factors.
1 in 12 pitch = 1.003 (shingles aren't allowed)
2 in 12 = 1.014 (shingles aren't allowed)
3 in 12 = 1.031 (need to double up felt per code)
4 in 12 = 1.054
5 in 12 = 1.083
6 in 12 = 1.118
7 in 12 = 1.158
8 in 12 = 1.202
9 in 12 = 1.250
10 in 12 = 1.302
11 in 12 = 1.357
12 in 12 = 1.414
For gable style roofs – Take the length & width of the building, add on the amount of the overhangs & multiply together then multiply by the correct conversion figure above. Take this number & divide by 95 & round up to the nearest 1/3 or full number – now you know now how many squares of material you need which includes a 5% waste factor – for more cut up roofs I may divide by 90. (This method also works just fine on hip roofs)
For ridge venting & caps – length of the building + overhang – if using 3-tab shingles, you can generally get 33 LF per bundle
Starter strips, I&W, Drip Edge, Fascia – take the width + overhangs & multiply by the conversion factor – add this to the length + the overhang & add in 5% waste. If you need a second row of I&W – add another
length measurement to it. If you plan on using 3-tabs for starter strips, you will roughly get 81 LF per bundle.
Woven Valleys – add 1 bundle for approx. every 8 – 10 feet of valley – don't forget the I&W shield and other flashing that maybe required
Along the same lines, I pretty much have a good clue on what some of the other specialty trades are going to bid the job for. While I will quickly jump on the phone if I think the numbers are too high, I will just as quickly jump on the phone if I think the numbers are too low. It could simply be that they missed something or some specification got overlooked. While some may call it "just business" I want everyone to make money on the job. Not only does this eliminate the "why should I care I am doing this at a loss" mentality, but it also helps guarantee that if something does come up down the road, that they will still be in business & hopefully have my back like had theirs.