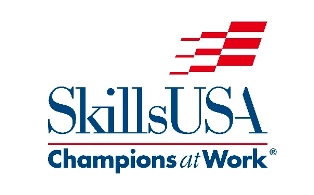 This is my third year making it to SkillsUSA for the National Championships and I guarantee you it won't be my last. While many conventions & events seemingly get stale that doesn't seem to be an issue here especially with so many stories to tell – whether it is a carpenter leading his team from a wheelchair, any of the Scholarship winners who might not have even had a chance to compete, the volunteers that give up 8 days to this, or…
The TeamWorks Event:
Except for our PVC & copper plumbing pipe being sent to the wrong "Hall" and a few missing judges (shoot I had to play electrician this year) this was probably the smoothest I have seen everything run. To top that off the competitors this year were some of the most courteous that we have ever met.
My Time Lapse of the Team Works Event

A unique view – "Walking the floor" by our good friend from Louisiana Bill Robinson of Train2Build & Rebuild (no folks, he really isn't that tall – lets just say it is a good thing the safety judges were only for the competitors)


For a recap on the process you may wish to review: Day 1, Day 2, Day 3, and Day 4 from our 1st year which also includes some shots from the 2011 TechExpo & Custom Welding Competitions.
mikeroweWORKS Scholarship:
This is the third year that the Mike Rowe Foundation has provided travel scholarships to help students actually make it so that they can compete. While winning State guarantees you a spot & a greatly reduced rate for a room, they still need to be able to make it to Kansas City & pay for the room & incidentals. In some cases, some of these students were part of a team & as you can imagine; if one person can't make it, not only do they lose out but so does the whole team. Well this year not only did mrW help get 50 of them here, but many of them also got to meet Mike in person this year.
Wednesday afternoon I took off from TeamWorks & helped all the other Tradesmen (& some future tradesmen) assemble the gift toolboxes.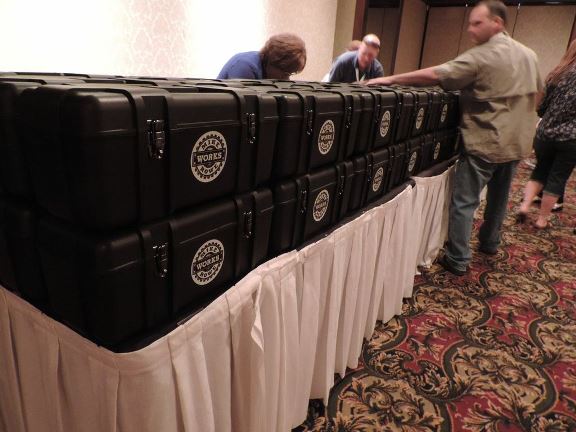 The mrW toolboxes were provided by Master Lock along with a variety of locks and included a gift card for a free pair of Cat Footwear, a cooler, & a die cost medal. The final item was a postcard to receive a poster of Mike's new endeavor (see below for more).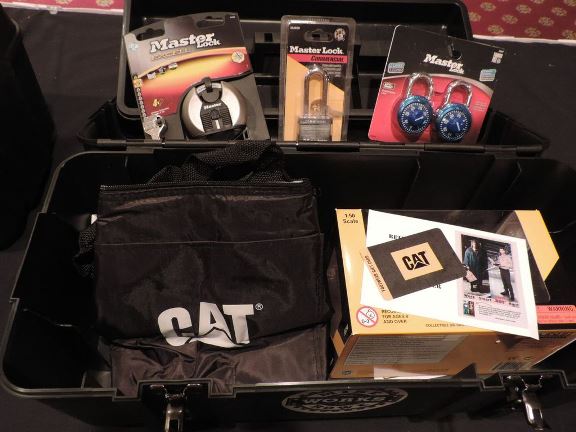 Tina Oswald-White who runs the Foundation got a chance to play Vanna and explain what was in the toolbox. The best part was when Mike gave her a shout-out she got the loudest & longest applause which was well deserved seeing how much of her heart & soul she has poured into the Foundation & many of the competitors.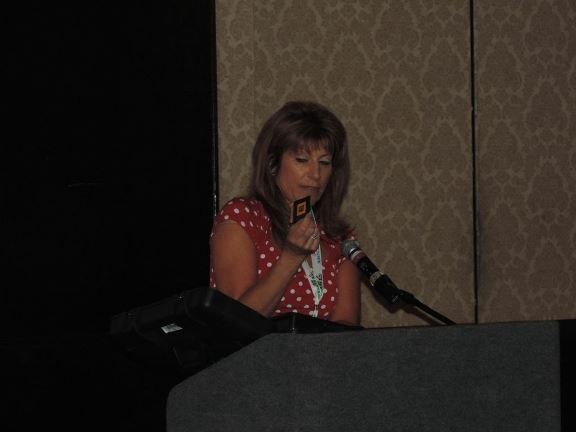 Mike speaking to the group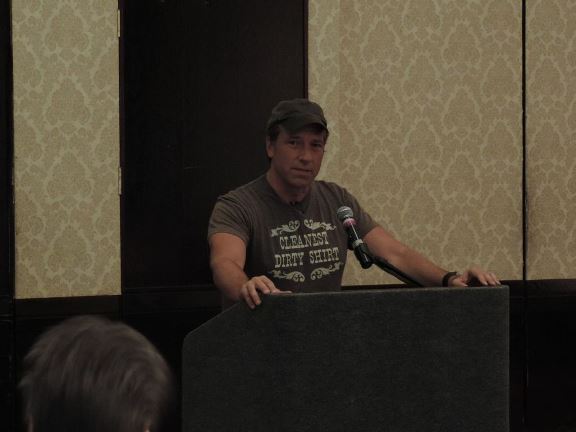 The Group Shot (courtesy of TheRealMikeRowe)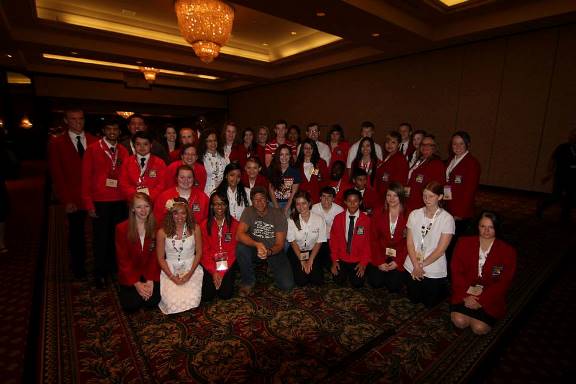 Amazingly with Mike's schedule he still had a few minutes to actually say Hi to all the tradesmen & pose for a picture… From left to right: Kathy aka Teach, Tina, Sal of Langer Roofing, Mike himself, me, The Villard's (Melody & Albert) of Villard Ranch (yes you might recall from the sheep episode which had a major impact on Mike), The Authment family; Joey aka OdiMan (who has spent numerous years as a Skills volunteer) and his wife Kelly. Dropping down from the right to left are their two future tradesmen who were a big help. Next are two "non-tradesmen" but heavy supporters of mrW & Skills (and a very welcome addition to the group); Jennifer Brady of Skilled Trades America & Rebecca Rakers of the AED Foundation who graciously became the (un)official mrW photographer & has provided many of these great shots.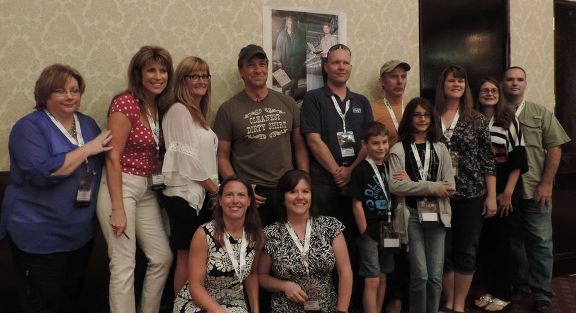 Well make that two shots as we had an oh crap, where is Bob at… The new face is Robert Medved of State Farm / Collision Hub & probably one of the biggest reasons many of us even learned or heard about Skills.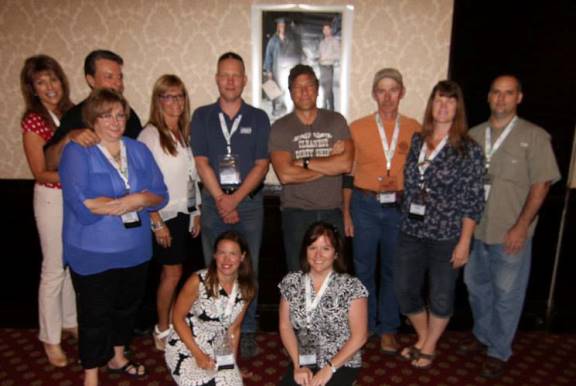 Oh & lest I forget, a quick shout-out to the Marriot for all their support, the great people that helped pull this off & some of the best BBQ I have had in a while. This is a shot of Mike signing a poster for them. (Check out the opening ceremony below or an upcoming article about the poster)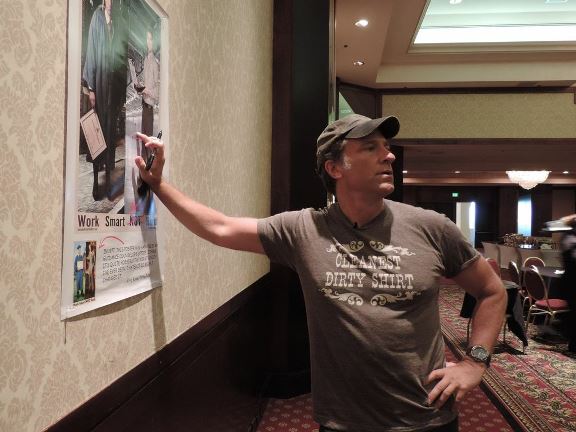 The Opening Ceremony:
Yeah, I would say everyone was having fun & pretty pumped up for the ceremony & competition. Needless to say I had to get the obligatory shot of Alabama's group as they were getting ready for the opening procession.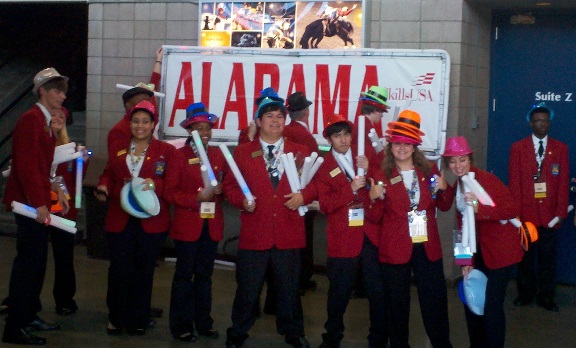 Fortunately they have made the opening ceremony available to be viewed, and the keynote speech done by Mike Rowe. If you have issues with either of those links – you might want to try here; http://www.useducationtv.com/default.aspx?sid=39100 I really got to encourage you to watch Mike's Keynote address & thank you Caterpillar for sponsoring the Opening Ceremony & getting Mike there.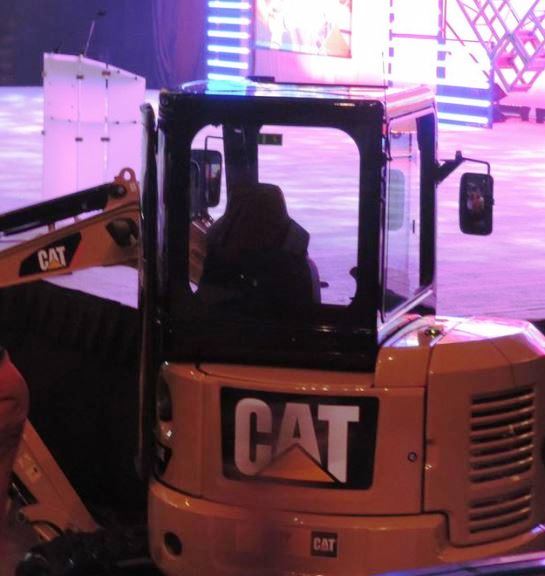 You know you have made it when you can walk up on that stage wearing a baseball cap, T-Shirt & jeans.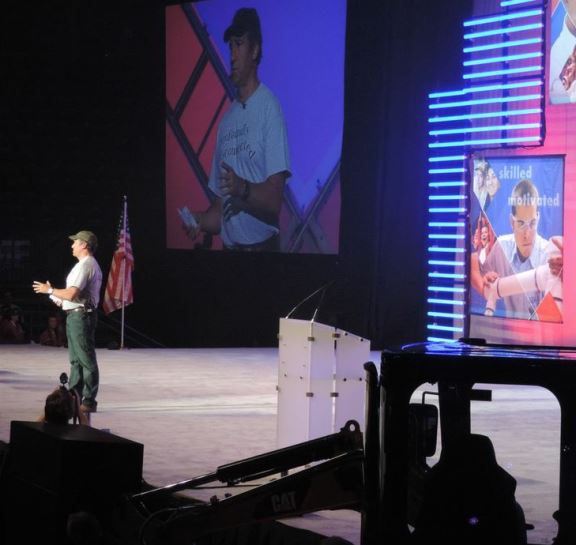 Competition Day:
While some competitions have been going on since Tuesday & some where even completed before hand & shipped here, the main competition day is Thursday.  As I took the prior afternoon off I couldn't really take off Thursday morning… so let me punt – here is an excellent video recap from Skills:

While I didn't make it to the main competition floor, here is what the Masons & the Cabinetry competitors had to build this year…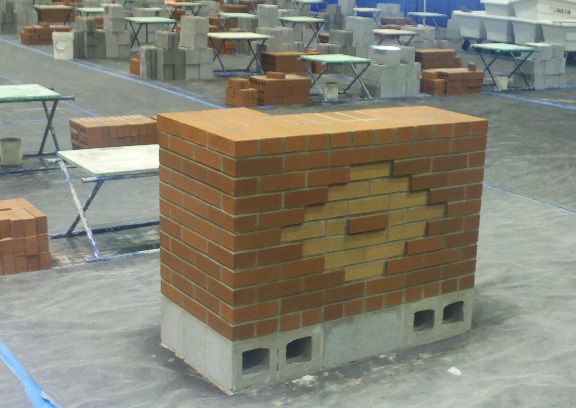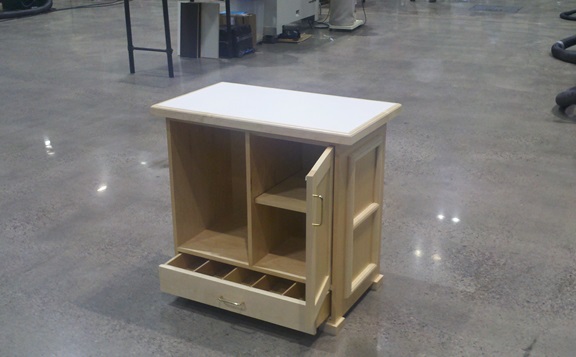 Friday – Community Service Day & Closing Ceremonies:
In the Team Works area we are busy tearing things down but for most of the other competitors the day is meant for community service & getting ready to find out how well they did. I think the recap video from Skills does a nice job of not only capturing the whole week, but especially this day…

To see the full Closing & Award Ceremonies: Click Here
A very special shout out to the approximate 6000 competitors & their advisors.
In the Team Works Event a big congrats goes to;
TeamWorks High School:
Barry Arrington II, Dylan Jones, Rodney West, Christian Metroka of Adairsville (Georgia) High School – GOLD
Steven Barrett, Zach Scott, Sage Space, Kristen Tarwater  of Gordon Cooper Technology Center (Shawnee, OK) – SILVER
Salvador Cantero III, Austin Kelbley, Jacob Serviss, Jacob Welly of Vanguard-Sentinel CTC-Sentinel Campus (Tiffin, OH) – BRONZE
TeamWorks College/Postsecondary:
Don Shandera III, Ben Stigge, Jonathan Herrman, Alex Schincke of Metropolitan Community College (Omaha, NE) – GOLD
Isaac D Pudenz, Zane S Schug, Anthony A Bruellman, Jonathan D Moritz of Iowa Central Community College (Fort Dodge, IA) – SILVER
Brandon Moulin, Malcolm Gravette, Steve Morgan, Paul Jones of Tulsa (Oklohoma) Technology Center Lemley Campus – BRONZE
From the 50 Scholorship Competitors a special shout out to:
Abigail Hoffman, St. Charles, MO – Gold (Basic Health Care Skills)
Joyce Nelson, Ripley, TN – Gold  (Career Path Showcase – Business, Management and Technology)
Kylie Burkey, Blountville, TN – Gold (Cosmetology)
Alexa Perrucci, Hackensack, NJ – Team Silver (Community Service – Culinary Arts and Hospitality Management)
Dylan Jones, Adairsville, GA – Team Gold (Teamwork – Construction)
Olympia Serrano, Westminster, MD – Team Silver (Promotional Bulletin Board)
To see who one for a particular event or from your State: Event Medalists
The Good & Bad:
Of course with all the good comes a little bad, and the biggest part is leaving. It was great reuniting with a lot of good friends & making some more but wow did this week just seem to fly bye…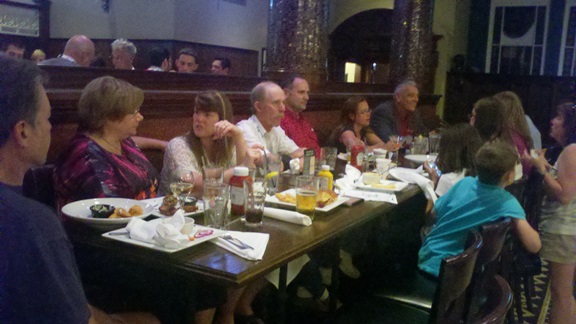 I felt sorry for the poor waitress, we started out as a table of eleven, added in a two great guys from Snap-On tools, and then soon jumped up to a table of 20. Next time we just might have to reserve the back room at The Dubliner as it seems to be a yearly hit with us for their service & food. (though hint, hint – you need to carry a Pastrami & Corned Beef Sandwich, I haven't had a good one of those in 8 years)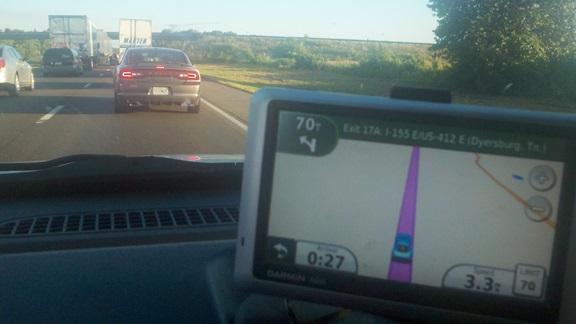 You know I have always heard that bad things happen in threes but good grief, the drive this year. That is a shot of my GPS which originally predicted 10:30 PM for getting home – well after 3 traffic delays in Missouri all caused by accidents it wasn't until after 2 AM that my head hit the pillow. What makes it funnier is driving up I ran into 3 lane closures in Kentucky for sections that were already finished… Illinois tried killing me with three different storms with the last one leaving me glad that the hail wasn't any bigger or my truck would have resembled a Mig. Well nothing was going to stop my this year, nor will it next year…