Got the whole family coming over for Christmas, Thanksgiving, or a reunion and you want a conversation piece? Can't figure out what to do or get for your significant other, or… Maybe you are just like us, needing something to fill a dead space or just meet a special need – well you are in luck because one of the three projects below might just fit the bill. Along those lines I will add in a few thoughts & tips that might not have made the entry before, especially as we near the holidays.
Trivet's: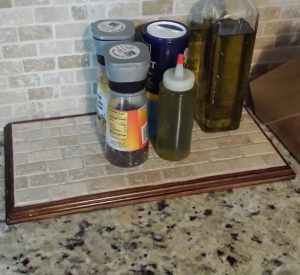 Thanksgiving & other large feasts generally result in a few issues like where are we going to put that dish, do we have enough serving spoons, and just what are we going to put underneath all these items. While I can't help you on using an enlargement charm on your table or making more serving spoons appear like magic, creating a large trivet or custom holiday versions is pretty easy.
Want to make it easier, consider finding a custom tile piece the size you need and add some bumpers underneath. Shoot they even work great under candy dishes, as drink coasters, conversation starters and even nice little giveaways. In reality the possibilities are endless and one can easily stack them up & place them away until the next big feast. Want more tips & tricks on getting ready for the holidays – check out our planners.
Chalkboard's: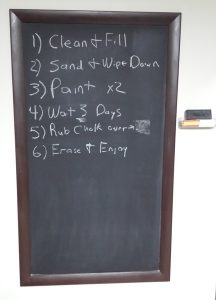 While chalkboards may have gone the way of the dinosaur in today's schools, they sure are making a comeback in many people's kitchens, pantries, and even mudrooms. Kid's can color on them, it is great for writing out a recipe or even shopping lists. Our post on ours was pretty short – we showed many of the steps we used on the chalkboard we have besides our refrigerator now.
The only thing we didn't include was we made it a custom size by simply drawing out where we wanted it (plus 1/2″ on all 4 sides) and then added trim around it. A few quick items, make sure you remove the tape quickly after the second coat so it doesn't pull off any of the paint.
The smoother the surface, the better the board will be. If you leave any divets or the drywall is slightly textured, you will have issues writing on it and erasing it. You can get the area smooth by utilizing a combination of fillers and sanding or you could always consider cutting a thin piece of wood to the size you want & trim around that.
Scrabble Wall Art: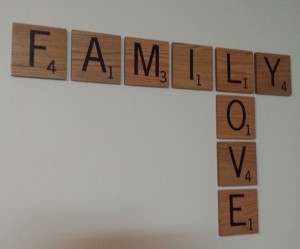 Want to spend almost $1500 for a fully playable version that measures 5′ x 7′, check out my friend Nick's piece on Cupboards Online. Looking for something more down to earth, easily customizable, and can fit in almost anywhere – well all the steps are here on our step by step directions for creating an interesting décor item by creating your own custom scrabble pieces. The only catch is 2 letters take up nearly a foot (wide or tall) so make sure you lay things out first on graph paper.
Looking for something a little smaller (for instance for a bedroom door), consider using a 3″ or 4″ tall piece of wood. Thickness wise, I think we made the right choice going with 1/2″ thick pieces though if I had a planer I might have shaved a little off. If you are going with smaller tiles, consider buying 1/4″ thick wood. I wouldn't go with any thinner as any issues with humidity levels could crack the pieces. If you do go with 3″ or 4″ pieces, there are numerous router templates you could use to route out the letters before chopping the board into the proper sized pieces.
Looking for the final piece – well here you go. Sorry we were holding off finishing everything off till our newest tradesmen was born which happened 2 days ago giving us a very nice surprise Christmas present, especially as he was not supposed to be born till the middle of January.