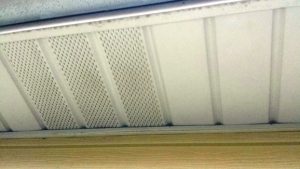 I am air-sealing & insulating my attic trying to help prevent ice dams which included adding baffles in each bay. Well while looking outside I see that I only have one vented panel every 4′. Do I need to change out / use ventilated soffits outside only? Hmm, how about the eaves, would it hurt to use ventilated panels or…
Why Ventilated Panels?
The first question is why do we need ventilated panels – the short answer is because it is needed to allow "needed" air into the attic space. The only times this is not necessary is if you are just using gable vents or utilizing a hot roof system only.
Wait, does this mean that there are area's that don't need them, I shouldn't use them?  Nope not necessarily; and in fact like we pointed out in "Are "Vented" Cantilevers Bad?" this will generally allow any moisture that managed to get in this area to drain out.
Now what happens if you have a bunch of vines, brush or other "green" items in this area (or maybe even an errant sprinkler system)? The short answer is that you probably should avoid using them in these areas due to the moisture that would make its way into the attic. With that the better answer is to fix the source of the moisture problem.
Do I need the entire area to be ventilated?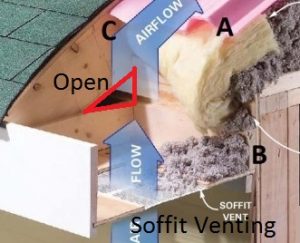 In short the answer is no for most houses as shown in this picture; you see that open space – well that allows air to flow from one bay to another. Now if those rafter tails are blocked off or you used I-Joists, then the answer is that yes you need soffit venting in each bay.
How much do I need?
The long answer on this varies based on a simple formula – you need 1 SF for every 150 which is to be split equally from the ridge to the soffit. For a typical gable style roof you can then divide that answer in two and you have the "net free area" of ventilation required per side. With this answer & knowing what the net free answer is from the manufacturer you know how often you should be using a "ventilated" panel. Now that is assuming you don't have any issues shown above, etc… In short you will want one ventilated panel for every 2 solid panels if using vinyl soffit. For vents like those shown above – one every 3 bays should be more than adequate.
Can I install more / what happens if I don't install enough?
The first part of this ties in with the question above on areas related to soffits & cantilevers – sure you can install more and in most cases it won't hurt. Got a powered roof vent (which you shouldn't except in very rare conditions), well you might want to install more which leads us to…
Now on the flip side, not installing enough can cause issues. As we know air like water seeks the path of least resistance and if it can't pull enough from outside it will pull it from your house. Trying to avoid ice dams or condensation, well that isn't the best way of accomplishing that.
Can I vent my bath exhaust out of the soffit?
I just love questions that start off with the word can… sure you can but that is not a good idea. It is better to vent them out a gable end or through the roof. For more see our piece on Bathroom Venting.
How about intakes / exhaust for an ERV/HRV?
Intakes is a good call but for exhausts the issue regarding the bathrooms above still rears it's ugly head  – it would be better to redirect that elsewhere than where it can flow back into the attic area.
Are there any other options if soffit venting is not an option?
Besides going with gable only, there are some specialty options for those with no to very small eaves, etc… There are now numerous products like Smart Vent, Fascia Vent, etc… which generally uses a cutout to introduce air above the insulation in the attic. Just like traditional venting, you have to make sure that the vent areas remain clear and insulation should not be in direct contact with the roof sheathing.