A few weeks ago we talked about kid proofing a home & one item I spaced was a trick we used for our raised fireplace hearth. As most know, when your kid starts trying to learn to walk they aren't the most graceful so hard sharp edges are not something most parents like to see in a house. So how do you solve this?
One trick many use is simply placing carpeting or something similar on the hearth, but we know it won't stay there to long. Add in some non slip matting, they may work for a bit longer, but pretty soon it won't stay there long. Some will go as far as trying to glue it or even gluing pool noodles down to the edges, but when it comes time to remove it, you have a sticky mess left.
Quick Trick:
Ever hear of gaffer tape? It is an interesting product developed by movie studios to help hold items up, cover over microphone and other cables. The ones responsible to do this are called gaffers & they needed a tape that wouldn't leave a sticky residue, holds items well, etc…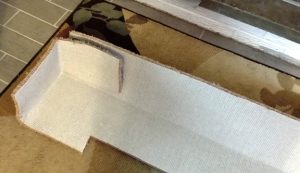 As you can see by the picture above I used a few pieces folded over each other to help hold the carpet in place. To your left is a piece of left over carpet that I trimmed to overlap the hearth. I simply created a tab & used gaffer tape to help hold the front flap to it. Then I simply placed the carpet back over the hearth as shown below.