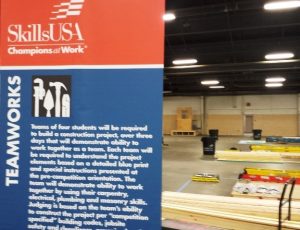 Ahh my vacation – attending SkillsUSA National Championship as a judge in the TeamWorks event. Yep vacation; no pay, staying at a hotel but having one good time. For those that don't know – TeamWorks is a four day competition that mimics real life. There is one Carpenter, an Electrician, a Plumber, and a Mason who have to work together as a team to complete a project.
On day one they have to do a presentation on why we should essentially hire them & then get everything in order for the Build. Days 2 & 3 are focused solely on building – they have 16 hours (sometimes less) minus 4 mandatory breaks & 2 lunches to complete a structure based off the plans provided. Generally any change orders (material shortages / architect oversights) are given on day 1, but sometimes into the build itself. On day 4, while they are not judged for it, they have to clean everything up. May the best High School & Trade School Teams win…
The day(s) before:
As I am sure you might have guessed, there is a lot that goes into puling this off & while I got here the day before (Monday) to help, some arrived on Friday to start unpacking the crates & laying out.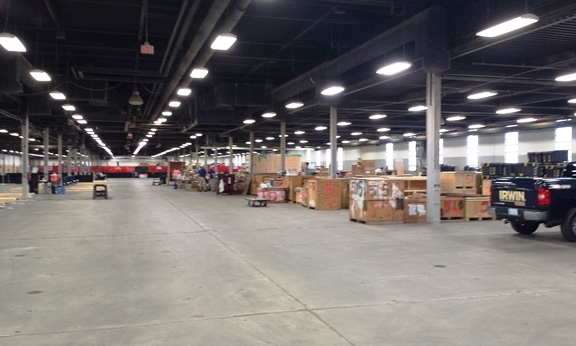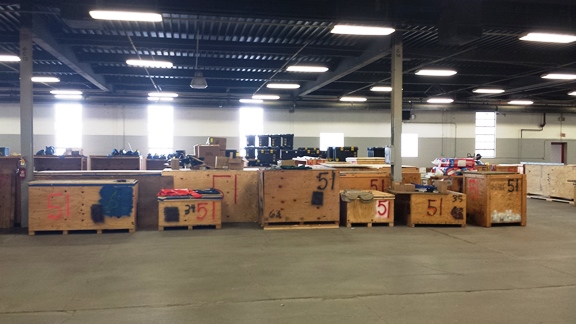 Leaving Monday night, this is a view from the far corner looking back to the storage area.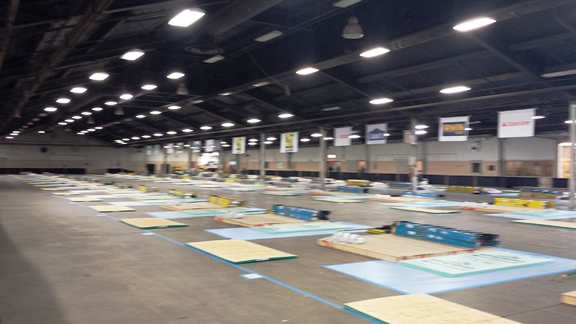 A closer view of one of the teams work sites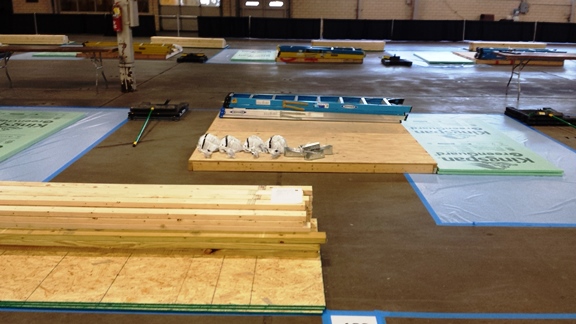 Much like the house tables at Hogwarts, there is a corresponding area back in the storage area with the rest of their materials (more on this in another piece)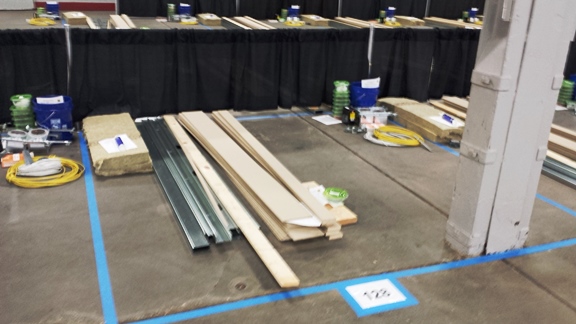 A quick look at the staging area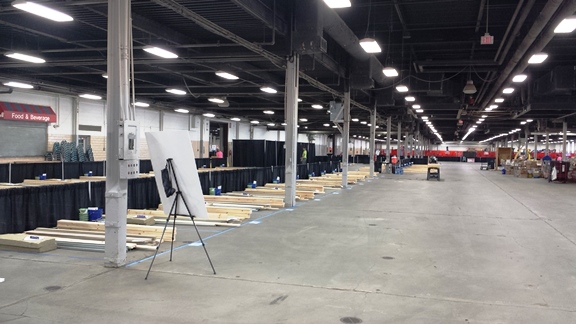 Day 1:
Day 1 starts off with an orientation followed by the teams getting to review the plans, finalize their presentations before stepping behind the curtains to give their presentation.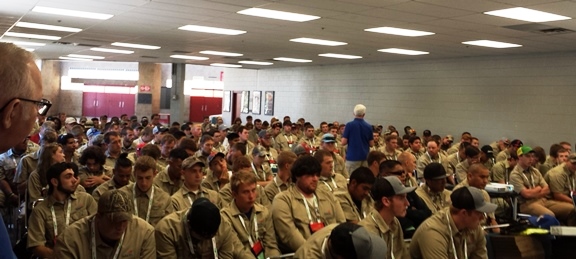 After all the presentations are done, the teams get to inspect their sites, check what they have been given & start charging the batteries for the building set to commence the next day.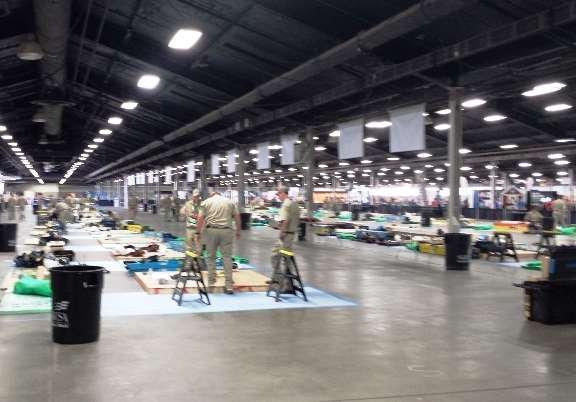 Day 2 aka Build Day 1:
30 minutes in


90 minutes in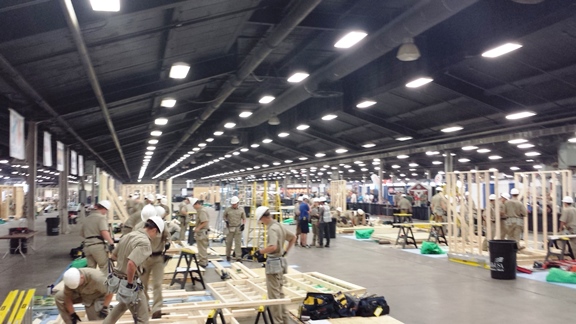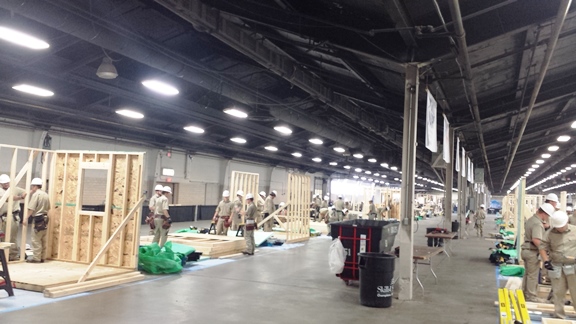 11:30 or 210 minutes in – almost lunch time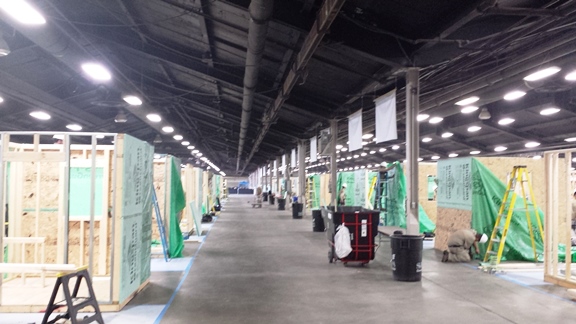 Lunch Time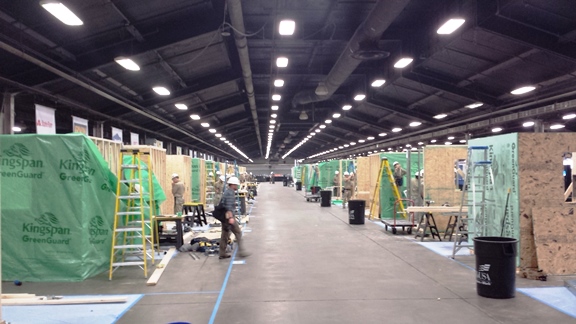 Hour 5 (a few roofs are up – yeah they were flying this year)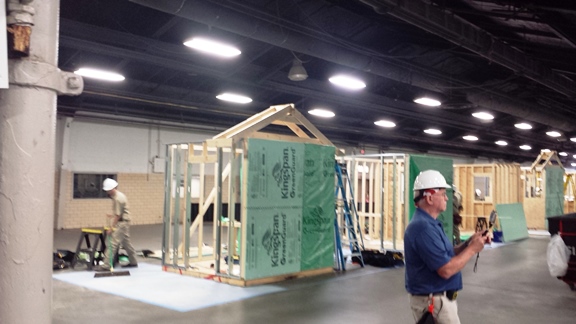 Hour 6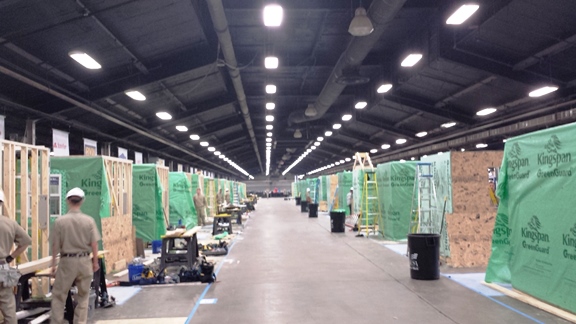 But wait there's more…
Heh expect to see a piece from Fine Homebuilding on this, during the first day there were 2 skill check stations set up – one for the electricians to diagnose circuit issues & match up the corresponding box with it…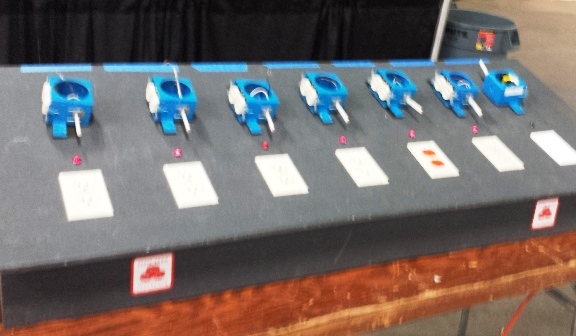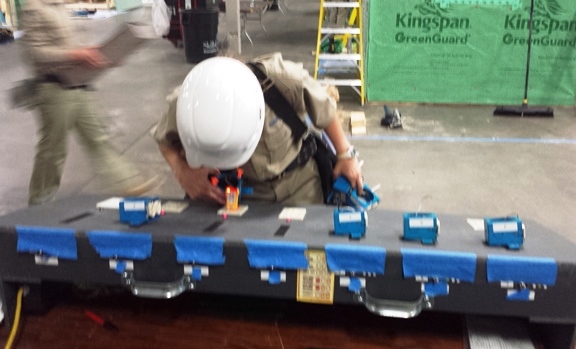 and one for the plumbers to build a specific item that would hold water which matched the exacting measurements given in a set amount of time.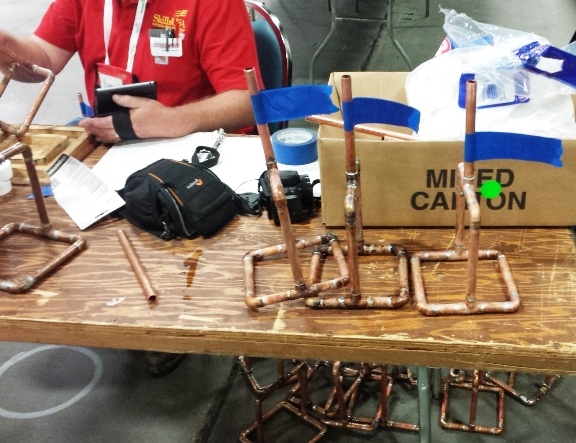 Day 1 Completed:
Must be nice to be a competitor, they get to call it at 4 PM – for the Tech Team Members & judges, we were there till a little after 6 (no complaints, trust me it was tiring but fun)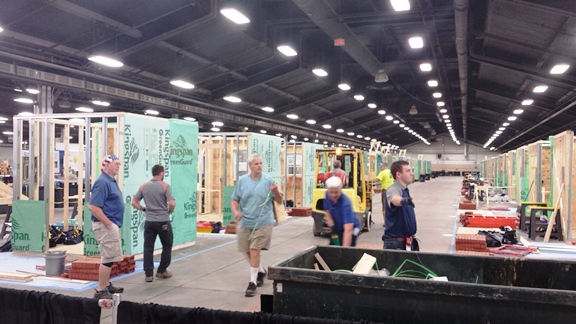 Day 3 aka Final Build Day:
One of the nice things is sometimes a vendor will donate something new – in this case the new updated masonary weep system (say good bye to ropes & B holes left in masonry walls)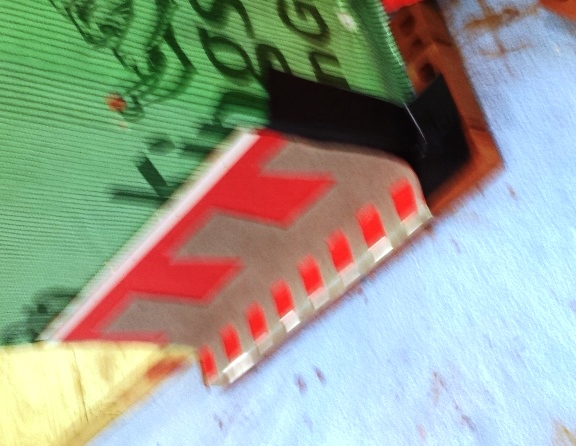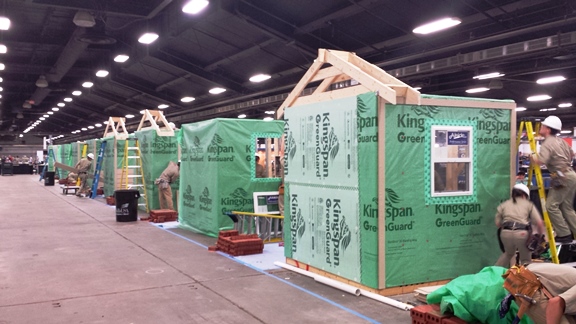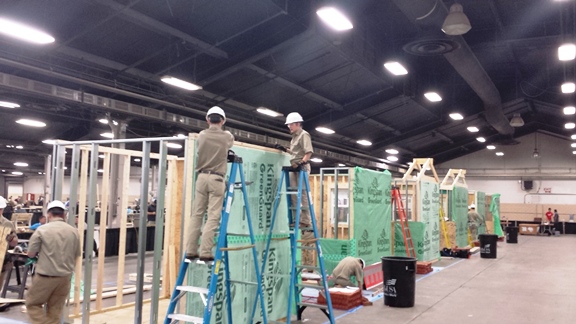 30 Minutes In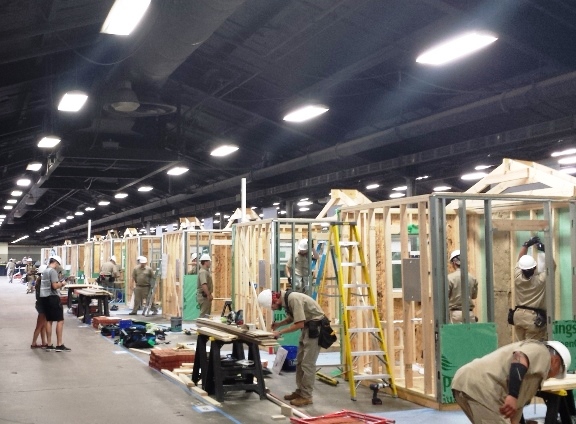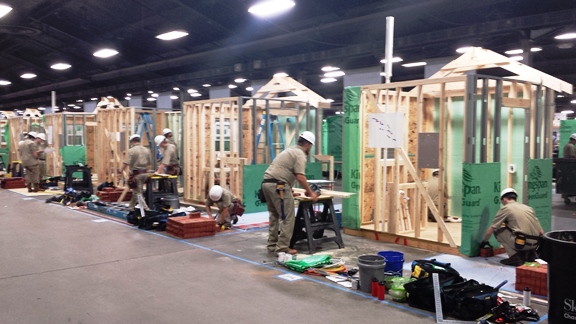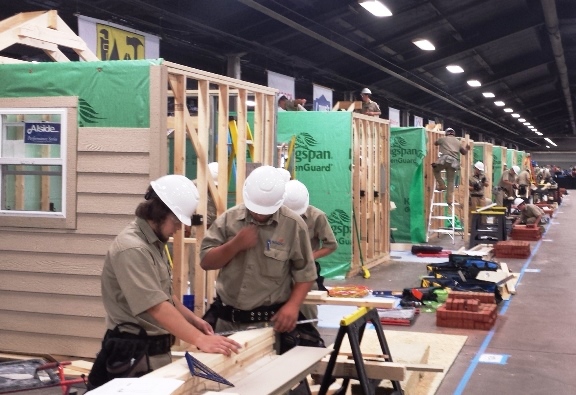 1 Hour In: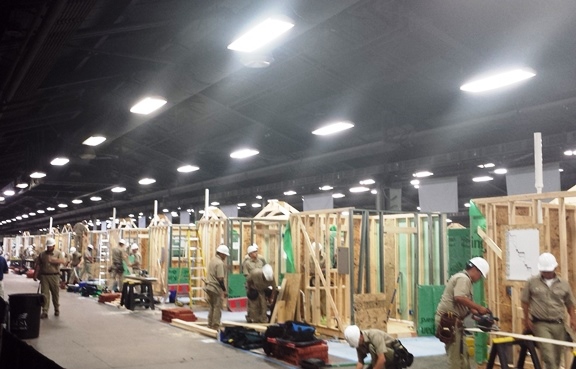 Lunch time – time for the final push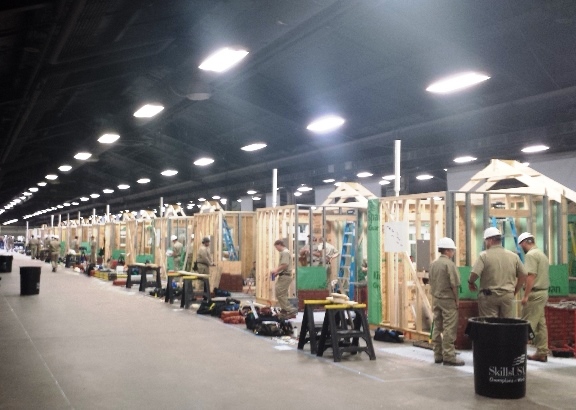 & that folks is all she wrote… Done (well till tomorrow when they have to tear it all down & turn in their tools)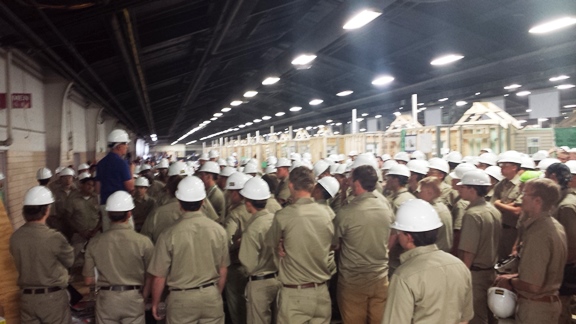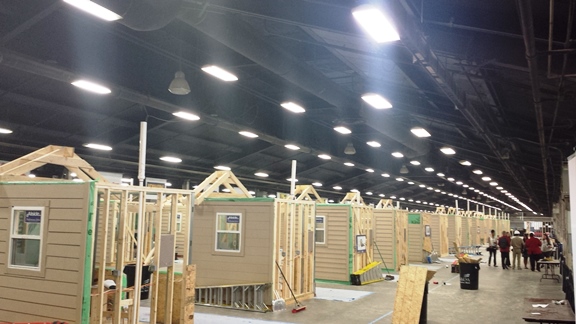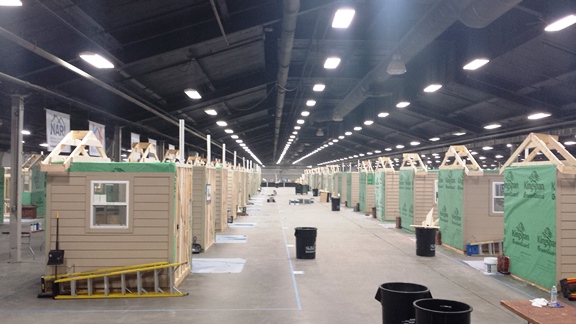 A view from outside the fence: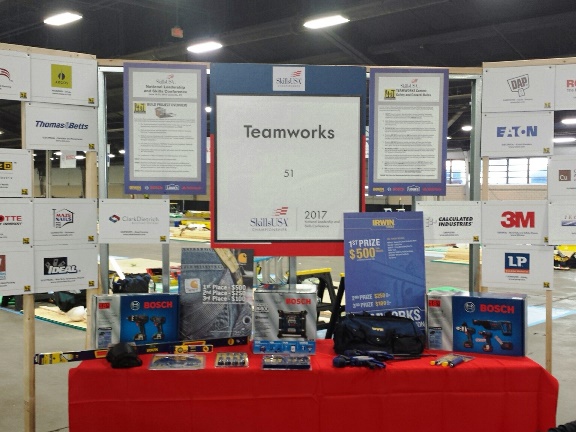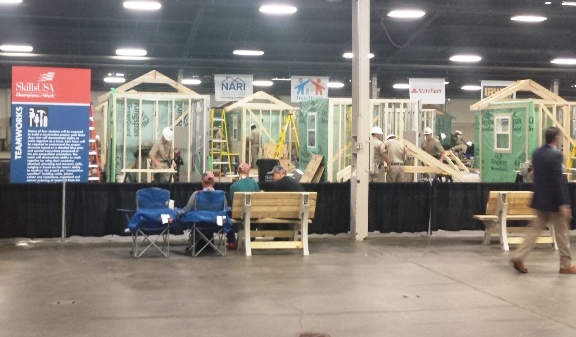 A few best of class:
Masonry – Trade School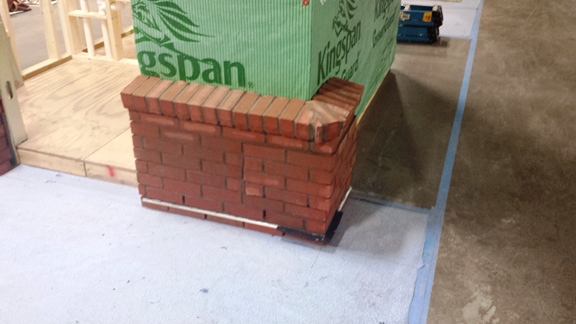 Masonry – High School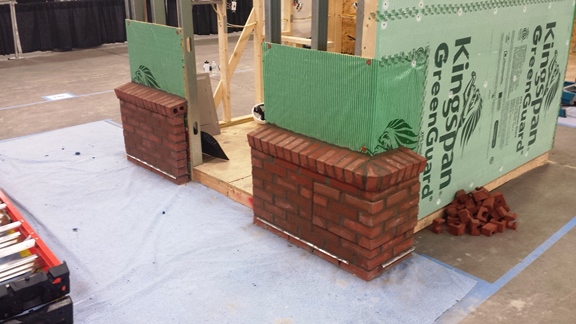 Labeling the panel: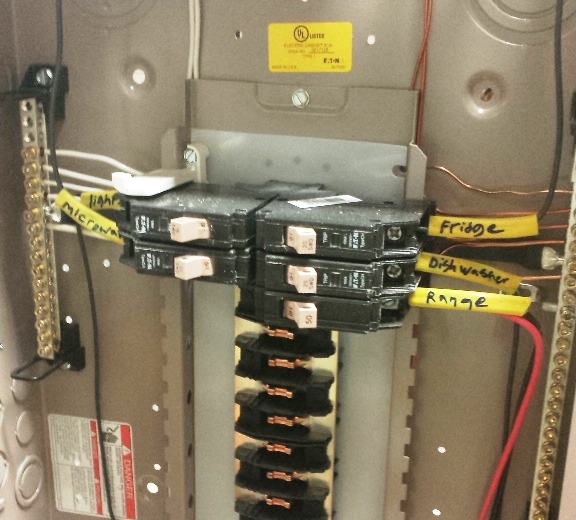 Unfortunately for me, I had to say good bye so I missed the final debrief (what went well & what can be improved on) along with the demolition. A big congrats & thanks to not only all the great judges, Tech Team members, sponsors & SkillsUSA but to all the competitors & advisors – I think this was probably one of the smoothest running competitions yet. I can't wait for next years.