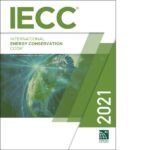 In our last post we looked at the newest insulation requirements found in the 2021 version of the IECC. Curious how that stacks up to say an ENERGY STAR, Zero Energy Ready Home, or maybe even Passive House (PHIUS)? Well lets do that, but first a quick recap with the full chart showing how the codes have changed over the years. You will see why we need that in a second…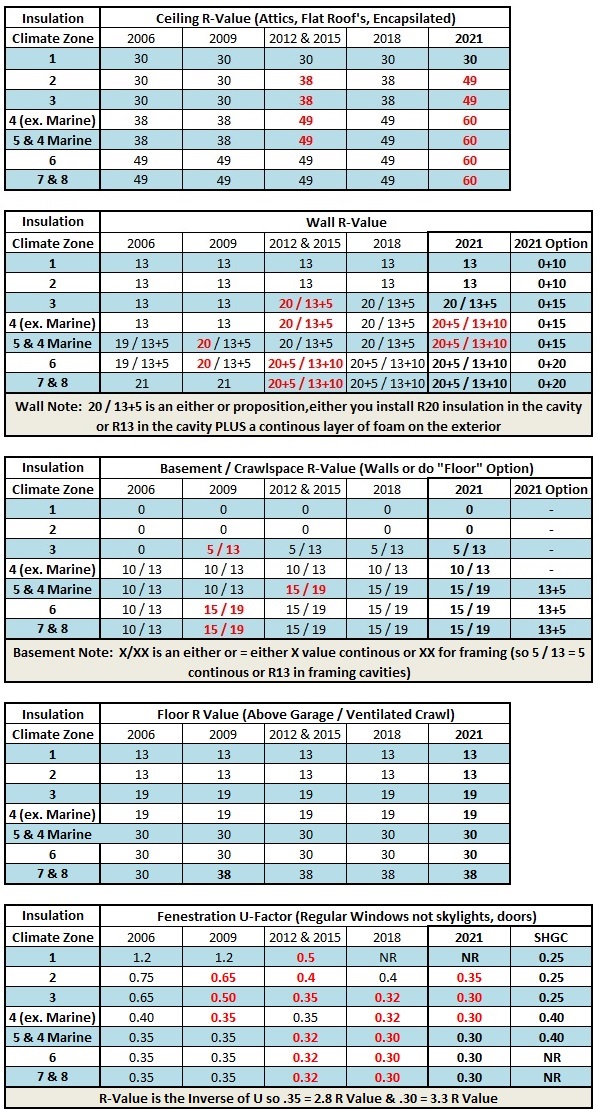 ENERGY STAR: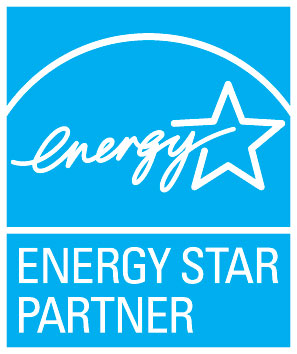 Ready to be disappointed, well at least on insulation values? Quite simply houses only need to meet the 2009 IECC insulation levels which is where things have stood since 2011. "3.1.1 Meets or exceeds 2009 IECC levels OR; 3.1.2 Achieves ≤ 133% of the total UA resulting from the U-factors in 2009 IECC Table 402.1.3, per guidance in Footnote 5d, AND specified home infiltration does not exceed…" Yes, this also includes Fenestration. So for those most part, there is nothing special in the insulation requirements and essentially they have to make it up in other ways to gain performance / earn the label.
As an ENERGY STAR verifier, I expect that with the 2021 codes coming out which includes some updated "backstops" for HERS style programs like ENERGY STAR, it is either going to have to update to a Version 4 or maybe they will integrate the changes into "3.12 or 3.13." FYI, most of us in the US are currently using Version 3.11.
Zero Energy Ready Homes: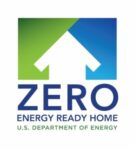 I remember becoming a verifier for them back when it was known as Building America Challenge. Times change & now they are known as Zero Energy Ready Home which requires one to not only prep for future renewable energy but to meet or exceed "ENERGY STAR" & EPA Indoor Air Plus Certifications. Ahh does this mean the 2009 levels also? No, as a mandatory requirement is "Ceiling, wall, floor, and slab insulation shall meet or exceed 2015 IECC levels" Fortunately for them this will still work with the "backstop provisions" in the 2021 code so no update is needed yet, but the 2024 code cycle will soon be underway…
Passive House 2.0

Now this is where things do get interesting. Passive House US or PHIUS for short has recently introduced a "prescriptive based" version which they are calling PHIUS+. Yeah, nice marketing try (you tried calling yourself that before), I am going to simply call it PHIUS 2.0.
A few quick points on this; if you love lots of architectural design, building a Mc Mansion, having a jetted tub, fireplace, gas furnace or oven – well this path is not for you. You would have to go the more traditional route using WUFIfufi, specialized consultants, etc… If you can live with out those items this might be the path for you if you want to do it. For more on this, my friend Carl Seville takes a deeper look into PHIUS 2.0.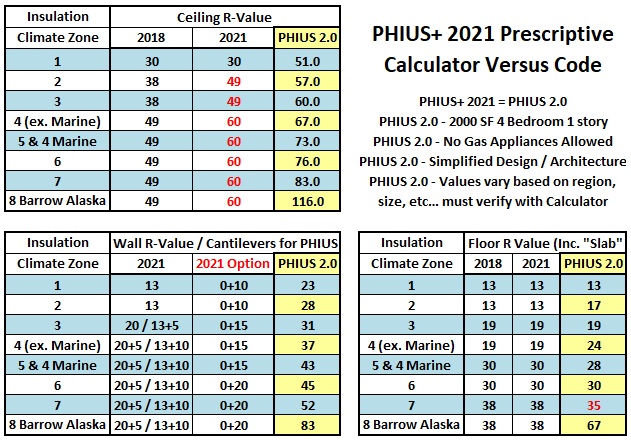 Above is where I used their "Calculator" and using a 2000 SF 4 bedroom house I chose a "representative city" from each climate zone to see what the value would be. I must forewarn you that what you see above may vary from what your specifications would be. For example, Phoenix Arizona differs from the Zone 2 by requiring a little less insulation in the Walls (26) & Ceiling (55) but needs more for the "Floor"(22). I would love to know the genius that figured that math out, but it is what it is.
One other item to note is that PHIUS 2.0 is more specific on certain areas / items – for example cantilevered areas are considered "walls" while the codes are quite on that aspect as we discussed last week. You may also notice that there is a red section under floors where PHIUS value is less than what is required by codes. The codes though don't require that much insulation under slabs, just floors above unconditioned spaces. So for under slab insulation you would be exceeding the codes, but if the floor is above a garage or unconditioned space you are technically a little short.
PHIUS Fenestration: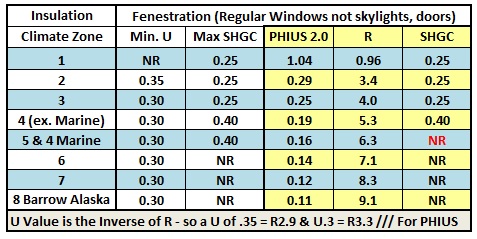 If there is one thing Passive House is known for, it is there specialized window requirements. I would say it isn't until you start hitting Climate Zone 4 that things start to get "slightly" difficult and more expensive. In order to make it easier for those having problems figuring out what the R Value would be for a given unit – I added an R Value column for the PHIUS requirement for those that might be curious.
Where do codes & programs go from here?
I do find it interesting that PHIUS has added a prescriptive path & while I do agree that this might make it easier to get builders going this route… I think the codes will be moving more towards the path that they left behind – namely your design should only use X amount for cooling & Y amount for heating per SF. With that for most programs to succeed or still hold relevance they need to do some quick work to catch up & show why they are still going to be relevant. Many area's are moving quickly to or already at the point that Net Zero is here and alive. As for the codes – I don't expect them to get to the PHIUS levels of Insulation, there are a few more tweaks that are out there, but that is for another piece…