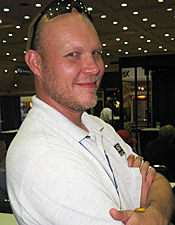 Yep that is me, Sean Lintow Sr. I have over 20 years in the construction & project management arenas & have been blessed to work on some pretty interesting projects (2 day builds, houseboats, sky scrapers, ICF LEED Platinum house and the list goes on), worked with some really talented folks & even ran my own successful remodeling company. As a third generation builder I started young by picking up bricks & nails at the age of two, working as a hoddy & landscape helper by 12, building doors in a shop & installing them at 14, roofer & carpet layer when I was 16 & 17.
One of my passions has been for better lack of a term being "green" as the area I grew up in was heavy into super insulated buildings, solar heating & electricity, etc… Many of the field trips we had at school revolved around cooking with solar, power generation, & living off the grid. With that when the banks crashed bringing construction to an almost complete stop throughout the country, I decided to go back to school to get current & be able to help other builders, trade partners (never really liked the term sub-contractor), and even homeowners separate the wheat from the chaff and get "Real Solutions & not Sales Pitches"
Current Certifications & Licenses:
ICC Residential Energy Inspector & Plans Examiner
March 2016 –
Certified Energy Auditor (CEA) – Association of Energy Engineers (AEE), 1545
March 2011 – December 2017
Certified Home Energy Rater – RESNET, 5319939
July 2010 – July 2016
Certified Green Professional – NAHB
July 2012 – December 2017
Building Analyst & Envelope Professional – BPI, 5016147
April 2010 – May 2016
The HTRC
The HTRC aka The Homeowners & Trades Resource Center was originally launched back in July of 2009 to provide in depth pieces and articles that just didn't seem to fit on the main site. It was originally referred to as the Resource Center for Homeowners and quickly became known as the HRC. A little over a year later, in 2010 we had hit a 170 articles & with the advent of the RRP, becoming a mikeroweWORKS Tradesman, etc… not only did the direction change to also help others in the trade but so did the title to better reflect that. Thus the HTRC: Homeowners & Trades Resource Center was born.
Currently there are over 700 articles dealing with everything from maintaining ones home, numerous FAQ's, Building Science pieces, how to have a successful remodeling project, with ton's of other how-to's to just name a few. That is one reason why you will see on the right, a list of the most recent pieces.
'