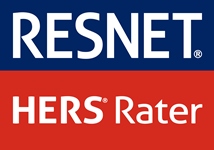 By the end of this year all HERS Raters & Field Inspectors (RFI's) in good standing must complete CAZ training & testing. While one can debate should they or shouldn't they the die has been cast and the mandate has been made. If you wish to listen to an entire hour long presentation on this – feel free. If not feel free to scroll down for the salient points. but first lets start off with a checklist to help you easily pass the CAZ simulation portion.
CAZ Simulation Checklist:
Can I just start off and say those that scoffed at this idea (yea mea culpa) missed one of the biggest benefits. Sure it is a joke as it doesn't really represent what you would experience in the field, but it does force one to stick to learning and following certain steps which is the hardest thing to teach and learn for most new people entering this field. So with that – the checklist to follow to get a 100% on the test. (Printable PDF Version)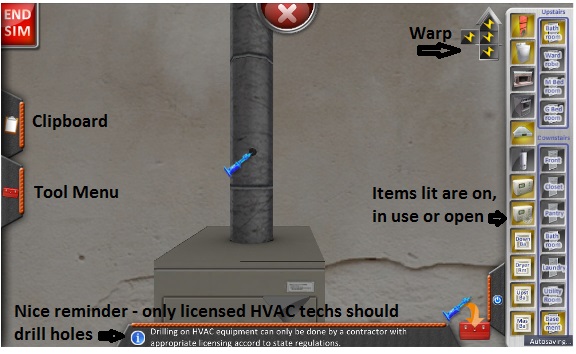 Outside before moving on:
Safety Glasses On
Zero out & verify on Clipboard (Outside Checks):

CO Monitor
Combustion monitor
Gas snifter

Check for gas meter leak
NOTE: If CO Monitor goes off while inside – Stop testing, turn off appliances, open all exterior doors and windows and exit home. Appliance must be repaired before you can continue.
NOTE: Thermometer & recording temps only applies to training – it is not part of the simulation
Inside Initial Testing Steps:
Close front door if you did not "warp" in
Check gas leaks & verify on Clipboard (Gas Leak Detection):

Furnace
Water heater
Dryer
Fireplace
Stove

Open window in kitchen
Oven – check for food (open & close door – if item present just click on it)
Oven CO check – regular & ambient incl. Workscope for each section (Burners were removed in simulation part)
Turn oven off
Close window
Setup Worst Case: Baseline
Setup blower door (by clicking on box)

Open manometer & click reference tube on left
Click blower door that is setup to signal you placing tube outside

Check each room

"Physically" check each room & ensure windows are closed (bottom bathroom always open?) & fans are off (you can check fans via right panel – if lit they are on)
Close doors on way out

Go into CAZ room & close door – measure baseline & record it
NOTE: If there are 2 CAZ's – measure for both & use slider at top
Setup Worst Case: Measurement
Double check your clipboard that the baseline was recorded
Turn all exhaust devices on using right panel

Oven exhaust
Upstairs Bath
Master Bath
Main Floor Bath
Laundry Room Fan
Dryer

Go to blower door & click on fan – set to 300 CFM to simulate fireplace
Check all doors starting as far from CAZ by opening

Watch manometer / check side panel
If pressure goes up, leave door open
If pressure goes down reclose the door
Record pressure & door locations (you can use the right panel to see which are "active")

Turn air handler on & check pressure

Recheck all door positions like above
If pressure increased overall – leave as is, if it doesn't or decreases turn air handler off & reset doors based on step above

Record "biggest" measurement & difference on clip board
Complete Workscope
Worst Case Testing: Water Heater
Turn Water Heater on High – scroll up before selecting smoke stick
Test for spillage – place smoke stick away (if it fails keep testing)
Use Combustion Analyzer (should be on far left icon) – select probe & place under draft hood, use pencil to record number (if either fails see note below)
Select correct "work scope answer"
Press power button on Combustion Analyzer (that puts it away)
Turn Water Heater to vacation & exit the appliance
NOTE – IF either tests "Fail," record worst case numbers & then retest using spillage & combustion analyzer steps above but filling in Natural areas. DO NOT TEST in Natural if neither fails or you will lose points
Worst Case Testing: Furnace
Turn Furnace on at Thermostat
Test for spillage on Worst Case (yes even if Water Heater failed) — as an FYI your smoke stick doubles as a drill if you need to drill a pilot hole J
Place smoke stick away (like above if it fails keep testing)
Use Combustion Analyzer (should be on far left icon) – select probe & place under draft hood, use pencil to record number (if either fails see note above for Water Heater)
Select correct "work scope answer"
Press power button on Combustion Analyzer (that puts it away)
Exit from appliance
Turn furnace off by turning thermostat off – exit from appliance
Double check all items have been completed & exit from the simulation
A few quick notes:
First & Foremost – YOU ARE NOT REQUIRED TO DO CAZ TESTING on any house even if it has naturally drafted appliances as it is not part of the "rated minimum features"
If you became certified during 2013 / 2014 & completed these tests already you are good to go, this only applies to raters certified before the CAZ tests were included
As of the presentation date above (Early June) only 200 to 400 Pre-CAZ raters have taken the test with approximately 75-80% passing rate per RESNET
Important Dates:
As of January 1st, 2015 if you have not passed all the tests required you will be listed as Suspended in the Registry. (no it doesn't matter if you have all your credits, renewed with your QA provider, etc… which you still need to take care of)
As of May 1st, 2105 you will be listed as Terminated
Required Tests/Training:
There are 3 main components to this:
Classroom & Field Training

In some cases this could be a simple 1/2 day item while in others you could be looking at 2 or more days – it all depends on what the training provider submitted to RESNET for approval for their "Rater" or RFI training courses.
Do you hold an active BPI Building Analyst certificate – if so provide this to your QA provider & this portion is no longer required. Envelope, Heating & other certificates DO NOT count – only Building Analyst

An online 25 question test similar to the Rater/RFI one took originally but based solely on the "Interim CAZ Testing & Workscope Guidelines" which ironically no longer apply after Jan. 1st.

Worried about memorizing it? Don't, as you can use a copy saved local on your computer & just use Ctrl F to search for the term. For more – Test Taking Tips

The online simulation exam –

Fortunately you purchase it early and can practice on it till your heart is content (The simulation is good for one year – even after you take the test)
You can either purchase it from a training provider as part of a package or you can purchase it directly yourself for $199 (you still need a training provider to proctor this test & the one above)
I recommend going through each of the training portions & giving the full simulation a few run throughs with the checklist to be sure you have the steps down – as mentioned above you can either pull it up while doing the exam or use the printable version.