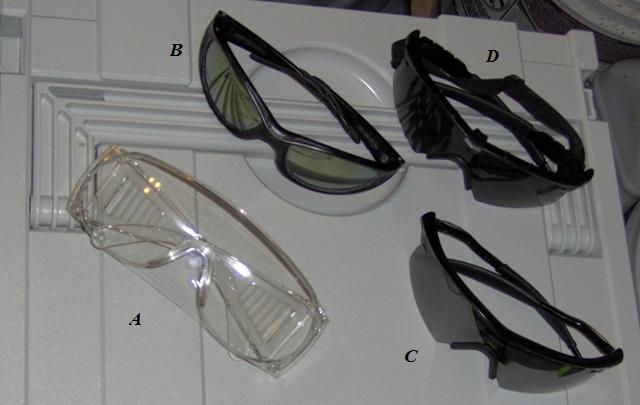 For our inaugural Safety Sunday quick tip, I thought we would start with one of the most important tips brought up in our Labor Day Safety article. In the immortal words of Norm Abrahm, "there is no more important safety rule than to wear these (tap-tap) safety glasses."
In all honesty, I don't always remember or follow that advice. There have been plenty of times, I have thought about going and grabbing them, but then simply go – Ahhh, this will only take a second. In more cases than I care to remember, that second has cost my 5 or minutes of cussing my stupidity as I try to wash out the drywall dust / popcorn texture or sawdust from my eyes. Oops
Pictured:
A – Does anyone really like these, as they are uncomfortable and do not protect from outdoor UV light? Some good points are that they do have side guards, breathable, work well inside, are OSHA approved*, and lightweight. I keep a pair handy, for the guy that shows up without his
B – While they may look like cheap sunglasses (ok they are), they are also approved by OSHA*, work well outside and look a lot better than the pair above.
C – My favorite – Oakley M-Frame's for the wrap around protection, fit & outside protection. The only two issues, they are not great in low light situations & they are not OSHA approved.
D – Military Version Oakley's – suweet… They are OSHA approved*, have multiple lenses & a band to prevent them from following off, what isn't there to love?  Ahhh yes, I only have one pair & if you are not in the military, or have a friend that gives you a pair for Christmas – you are out of luck. Purchasing them off a third party can and will land a few people in trouble
Quick Tips:
Pretty simple, take that extra second and put them on, whether you are working under the car, mowing the lawn, or cutting something.
Wear the proper glasses, goggles or full face mask for the work you are doing
* OSHA approved – while not necessary for homeowners, it allows one to know that the glasses will handle a certain level of impacts, etc… If they are approved you will see a Z87 imprinted on the frames or lens.
Worst case – something gets in your eye:
The first thing is to remain calm so you do not turn a bad situation worse

While using a power tool, release the trigger & pressure on the tool – wait till it stops
If you are on a ladder, don't jerk or take your hand off the ladder – slowly feel your way back down the ladder

If you are using chemicals – make sure you know what you need to do beforehand to take care of any accidental splashes (oh, and goggles would probably be better)
Sawdust, drywall, etc… in the eye – rinse the eye out & don't rub it
Metal sliver, wood splinter — Do not try to remove it, cover the eye with a small paper cup, bandage & tape it there, close & cover the other eye to prevent the injured one from moving around & doing more damage – go see a doctor
Proper Care & Maintenance:
Clean glasses regularly with mild soap and water
To prevent scratching wash the lenses off first with water before wiping to prevent scratching
Safety glasses should be stored in a clean dust-proof case and not just thrown on top of the dashboard
If the frames get bent or if the lenses get scratched or pitted enough to impair vision – they should be replaced immediately
Additional Info & Web Sites
Tool Box Talk provided by NIOSH
OSHA Eyewear Selector
OSHA Standards 29 CFR 1910.133
NIOSH / CDC Eye Protection Guide & Resources
We hoped you enjoyed the inaugural article for Safety Sunday and as always, we welcome your comments, thoughts & idea's for future articles.