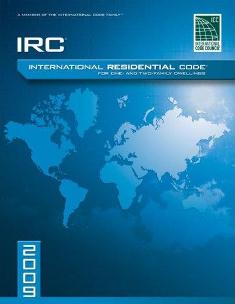 Just like any other scientific field, building science is constantly evolving as new information, testing, and materials are released. Unfortunately in some cases the acronym's, amount &/or type of information provided is not only hard to understand, but can also be meaningless based on your house or area you live in. With that, welcome to our newest series where we plan on taking common terms & practices and distilling them down like the popular "for Dummies™" books do so well.
Building codes; are quite simply a set of minimum set of standards that must be met when building or renovating a building. In the US we all use the IRC or International Residential Code book which is updated every three years.

An eye for an eye: Building codes have been existence for at least 6,000 years with the Code of Hammurabi from Babylon being one of the oldest building codes that has survived. Translated it reads:
If a builder built a house for someone and does not construct it properly and the house which he built fall in and kill its owner, then that builder shall be put to death.
If it kills the son of the owner, the son of that builder shall be put to death.
If it kills a slave of the owner, then he shall pay slave for slave to the owner of the house.
If it ruins goods, he shall make compensation for all that has been ruined.
Almost enough to ask – is this the real reason that man scattered to all corners of the earth?
Most modern building codes have evolved primarily due to safety issues & concerns (and killing is now frowned upon). For example, with an onslaught of deck failures back in 2003, the 2006 codes were updated to address this issue along with many others. Another example is the dreaded sink / bathtub full of water that we have all seen in the movies – sure everyone knows not to put electronics by them that may fall in, but… and thus GFCI's were created & then adopted into the codes.

When reviewing specs or before signing a contract make sure they list which codes they will be following so you do not get stuck with a change order for the "I didn't know" &/or that wasn't specified
AHJ?
The AHJ is shorthand for "Authority Having Jurisdiction." The AHJ can be a township, a fire marshal, a city, a county, or even the state that has the authority to adopt, modify &/or enforce the code. The ability of an AHJ to modify the codes in many ways is a good thing, as certain aspects of the codes may not be stringent enough to cover local conditions &/or to eliminate certain provisions that are questionable. While this can be a good thing, it can also lead to many problems for the contractors who might need to keep up with multiple versions of the codes being enforced differently.
The Code Cycle:
The ICC or International Code Council is composed of manufacturers, trade groups, inspectors, and others interested in the codes. It is a consensus based organization that uses a three year cycle for all code books to be refreshed. As soon as a code book is released they start working on the next one and releasing updates for the occasional "oopsies" or clarifications on intent.
Locally most AHJ do not adopt the newest codes immediately as they not only need to learn about the changes, but they also need to make any needed or "political" changes. Part of this is driven by them needing to get input & in essence "sell" the public / city council / legislators on the updates.  If all goes well, the "newest" codes are adopted within 2 years of release – i.e. the 2009 IRC would be adopted January 1st, 2011, etc… In some cases, whether it is because they may not be able to "sell" or they simply believe that the current codes that they are enforcing are good enough, they simply won't worry about it.

The more things change… Deuteronomy 22:6 When thou buildest a new house, then thou shalt make a battlement for thy roof, that thou bring not blood upon thine house, if any man fall from thence.

Most houses back then had flat roofs, walkouts, etc… and were a popular place for parties, sleeping, etc… In this case if someone were to fall off because you didn't have a railing or parapet their blood would be on your hands.

Interestingly based on other texts, the parapet / railing was supposed to be 2 cubits high which roughly equates to 36" which is what today's codes call for.