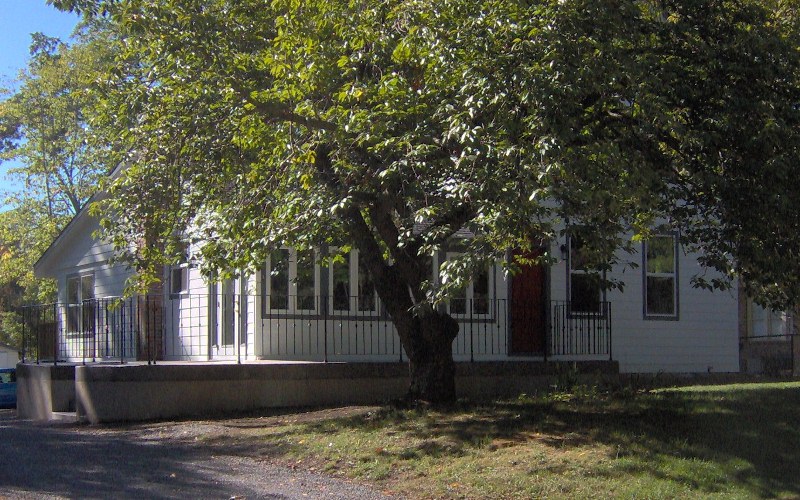 Recently a group of us started an interesting conversation on Deep Energy Retrofits (DER) & Historical Homes that spanned Twitter, blogs, and a whole host of other social media platforms with a ton of useful links. While the terms holy war, invaders, and boxing match came out of it, so did some great questions & thoughtful answers. As a builder, remodeler, energy modeler, deep energy retrofit fan, and closet preservationist I guess it time I added my wooden nickel to the conversation while hopefully adding something useful to it and some of the questions posed.
What is a DER?
Is it just a number, a concept, a certain process, or a combination of factors? So far we have had heard numbers ranging from 30 to 90% along with talk about health, safety, & comfort. As a builder / remodeler it is quite simple, it is first & foremost a project which is all about the customer's goals, health, safety, comfort, and yes – the budget. While a regular retrofit maybe seen as replacing old obsolete items, when one gets into a DER though the concept changes.
A DER isn't about just reaching a certain number, using specific products, replacing an item, or slapping band aids on an issue, but rather it implies a comprehensive inspection being done, a plan being developed, with the culmination of opening &/or accessing the areas needed to properly fix the energy related issues buried deep like insulation, ducts, etc… I must also add that in my book in order to qualify as a DER, the house should also be brought up to meet or exceed current energy codes. For some newer homes, 30% might be the limit, whereas some older ones might easily be around the 50 to 70% mark.
What makes a building historical?
Per the NPS (National Parke Service), a building generally must be over 50 years old to qualify & must also meet certain criteria. That criterion is actually one the most important pieces to consider before any work is done on the property. Was the property listed because George Washington spent the night in a room there (i.e. the interior is the most important), is it because of the architecture, the first time X was used, or??? This might help prevent the shell shocked look when someone says "Peter, we don't care about the inside." (Great response by John Poole on this question)
Who's Historic Values?
As a reminder, "owners of private property listed in the National Register have no obligation to open their properties to the public, to restore them, or even to maintain them, if they choose not to do so. Owners can do anything they wish with their property provided that no Federal license, permit, or funding is involved". The National Register only "encourages citizens, public agencies, and private organizations to recognize and use the places of our past to create livable and viable communities for the future".  (National Register of Historic Places PDF Brochure)
While the "Feds" generally hold no control over what one does to the property (minus the caveats above) the control each state, county, city, and other local groups or committees has can be dramatically different and herein lays the issue for many. While one group (like the 1879 remodel pictured) almost wanted to hand us a medal for getting the vinyl siding removed (that a prior owner installed), others would have stonewalled us for months on the replacement material and colors which would have meant the vinyl stayed & was simply patched. (NPS NR brochures, FAQ's, & guidance docs)
Who's being unreasonable?
You want to add how much space to the exterior… Depending on the reason for the historical designation – I will generally side with the preservationists on this within reason. Generally a ½ to ¾ bump will not be noticeable so that one can apply some sheathing & drainage wrap (assuming skip sheathing wasn't used). Not only does this improve the structure but it allows for the siding to still breathe & dry out. For the DER guys, by utilizing Closed Cell foam & possibly a SIS (Structurally Insulated Sheathing) you know have an R27 assembly. (Sorry if you think that a 4" foam exterior & cellulose installation is the only way to go – remember this is about the goals & best way to achieve them)
Everything is rotted and un-repairable so we were thinking – HURUMPH – Well it needs to be the exact same material & hung the same way… Can I get away with a bite me on this? In all seriousness, there is no such thing as the "same material" now-a-days. Whereas a board used to have 30 growth rings per inch, most now only have 3 – 8 rings which means that they absorb water more readily, are not as strong & deteriorate quicker.
Todays "same material" versions can have a major impact on not only the life of the product, but also the house if you do not account for those changes. Granted you can paint all six sides, but that still requires a way with dealing with water that can form or get behind it. If you want something to look as good & last as long as the original, you are looking at composites. Besides when one looks at the Secretary of the Interiors Standards for Rehabilitation (Pg. 7) it doesn't say all, or you must but rather "The following Standards are to be applied to specific rehabilitation projects in a reasonable manner, taking into consideration economic and technical feasibility".
Whatever you do must be reversible… I just love this one, which generally comes with the following; look whatever you do, you must be able to reverse it later – so no foam, just cellulose or fiberglass… First, no matter what product is used you will have to reopen the wall to remove it, & when you couple that with everyone's belief that the wall assembly will get wet – why are you insisting that a sponge like material be placed inside the wall? Now I am not saying foam is the only option as there are numerous places & times other items will work great. In some cases though (especially where the bays are the drainage plane) that you are just asking for trouble unless you either leave it alone or deal with the issue.
Foam might cover up some historical detail… Inside a wall assembly, hidden from site, that had knob & tube tacked to it, and? Actually I can see this being valid for some beams buried in the walls & the solution is quite simple and that is to work together & get any areas photographed & documented.  Maybe cover the area with some foam board, tape, wax paper or plastic to that one area so that it can be inspected later.
It isn't worth it / does the cost justify the means… I really do love watching the experts talk about ROI, simple payback periods and watching them continuously miss the boat. Just like it is rare for someone to buy a granite countertop because of payback, many people own historical homes for a multitude of reasons. Granted there are areas where older historic houses are bought because they are cheap & affordable, but for many people – they fell in love with the charm & character. Many of these start considering themselves stewards of these properties looking at long term fixes and ways to ensure they will be left to future generations.