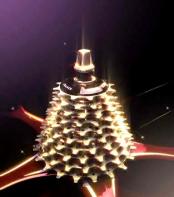 Oh Christmas tree, oh Christmas tree, oh no… As most everyone knows, there are generally three types of Christmas trees available on the market; the artificial tree, the "Fresh-Cut" tree, and my favorite a Live tree that I can plant later. No matter what type of tree you get there are a few common sense things you should do, to hopefully keep you in a festive mood.
The Picture – is one from a Christmas greeting sent out by Specialized bikes a few years ago. By clicking on the picture you can view the entire greeting, or if you don't have Flash enabled, you may view it on YouTube.
 Safety issues for all trees:
Placement: While it is nice having the Christmas tree right next to a roaring fire, that is not a good idea & they need to be kept back at least 4' if not farther. I personally recommend that they are kept at least 1.5 times the height of the tree away from the fireplace or other flammable source (i.e. a 6' tall tree should be 9' away from the fireplace). This will help prevent an accidental tip-over, someone backing into the fireplace, or flying embers leading to someone being injured or your entire Christmas going up in smoke.
Stability: While it may be funny in a cartoon, having a Christmas tree fall over on someone (especially with glass ornaments) isn't. You want to make sure that your cats, dogs or kids cannot accidentally knock it over & have it fall on them or cause damage.
Lighting the tree: Let us all say it together now – Candles are a no-no. As we know, candles were replaced around the 30's when electric lights became more readily available to the public. Most Christmas tree fires are still caused by the lighting of the Christmas tree; some are still caused by candles, while the bulk are caused by bad wiring, overloaded circuits, or damaged strands. For more information on this topic – HTRC Articles: Ten Tips to quickly & safely install Christmas Lights & our Halloween article on having a shockingly good time)
Decorations: If you have small kids visiting or animals around the house, you may wish to forgo having any edible decorations or tinsel on the tree. Cats & Dogs can easily get sick by eating them, while the youngsters might give the trees "stability" a good run for its money while going after them. This does not include the cuts (from glass ornaments) and choking related issues (from small decorations) that may occur. If you do put edible or other potentially hazardous decorations on the tree, you may wish to put them higher up on the tree.
Tree – Specific:
Artificial Trees – make sure you fully check over any strands included in a pre-lit tree, read the manufacturer's directions & check to make sure it is not only UL listed for the lights but certified by the NSC or others as fire proof / retardant.
"Fresh-Cut" Trees – the biggest issue is the trees drying out, so make sure they are not placed near heat registers, where the sun will shine in on them (South & East facing windows), they are sprayed with an anti-desiccant to help keep moisture in, and consider using LED lights which produce less heat. These trees at max are only good for 4 weeks and should be recycled. Most cities offer this service & will sometimes pick up the trees for you turning them into mulch. Picking a fresh cut tree
Live Trees – just like the fresh cut trees above, drying out is an issue. However, our goal is not to recycle them, but to get them safely planted in the ground so we can enjoy them for years to come. With this in mind, the trees should only be kept indoors for a week to ten-days.  In the southern climates, we can generally get away with it longer but up north issues start arising due to the dramatic changes in temperature & the tree mistakenly thinking it is summer time & it starts growing.
Additional Info & Websites:
Tool Box Talk: OSHA & Workplace Fire Safety (Who, What & When)
The NFPA & Sparky – Family safety & planning in case the worst should happen
Cupboards Blog – Santa's from around the world – an interesting look at Christmas traditions & Santa's from around the world