I seriously could not believe my eyes – while waiting in line to return a few items there is a stand promoting "Energy Savings Tips" and yet as I raise my head just a little bit further…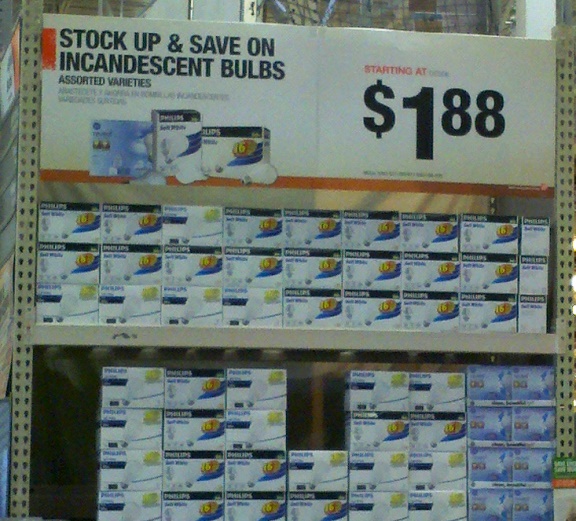 Yep, apparently it is the last hoorah of the incandescent light bulbs still in stock. As you may recall from the last presidential election, the dreaded government decided to take your ability away to use them via the "incandescent light bulb ban." Well no not really, it just raised the standard of light output required for certain bulbs, but hey, why split hairs?
EISA 2007:
EISA aka the Energy Independence and Security Act of 2007 was signed into law by President Bush and tips the scales at 310 pages. Much of it deals with items directly related to how the government uses & reduces their energy usage. As part of this… oh you will love this… many incandescent light manufacturers actually lobbied to require increased standards for their fixtures.

Say what? Well the ASE and others lobbied for this change for quite a few reasons, but as many will cynically point out it, it was to avoid the issues they were facing in other countries; namely having the States or other locals create their own efficiency standards. With this act, they were hoping to have a single nationwide standard & to also help level the playing field some.No, we are not really talking about individuals changing over to other types of bulbs but making the industry grow by requiring that so many lumens are produced at minimum per watt of energy used. If others were not compelled to change, the companies trying to make more efficient bulbs would be hampered in their efforts as they believe that people do not really buy based on efficiency, but rather cost.  Amazingly though, while I would tend to agree on this point, when it comes to light bulbs, I see the majority of homeowners tending to buy based on the results & actual savings. (Granted there are still a few die hards out there, but when isn't there?)
As it relates to light bulbs a 25% increase in efficiency was called out for utilizing the stats from an incandescent bulb. This was phased in over 3 years with 2012 essentially eliminating the manufacturer of 100 watt light bulbs, followed up by 75 watts in 2013 & as of January 1st, 2014 the 40 & 60 watt bulbs. In 2020 a second tier kicks in requiring all bulbs (except excluded ones) manufactured in 2020 (and beyond) produce at a minimum 45 lumens per watt (around a 200% increase in efficiency).

Oh my what about all the bulbs I bought, can I… Yes you can still use them; this act only applies to the manufacture of said bulbs. There are also numerous exclusions to this act like; Three-way bulbs, ones for appliances, Maritime lights, bulbs that produce less than 310 lumens (i.e. less than a 40 watt bulb) or more than 2600 lumens, black lights, grow lights, rough duty bulbs, and others… This also only applies to the standard screw-in base bulbs (A-Lamp) not candelabra style.Ahh, but wasn't DOE stripped of their funding to enforce this? Why yes it was but as you may recall from above, this was a moved pushed for by many in the industry. Even for those hoping it wouldn't come about they have retooled their lines & as another group says "the industry has moved on."
The Savings Myth:
Let's play you bought the ad above & bought 5 packs…
Overall cost: 5-4 pack's of 60 watt bulbs @ 1.88 = $9.40

A typical incandescent bulb lasts for 1 year (1560 hours / 4hrs per day)
A CFL bulb typically lasts 5.5 years (8000+ hours)
A 4 pack of CFL's from the same manufacturer at the same store = $3.98
So assuming you are only worried about 4 bulbs – you are out $5.42 to start with

Electric use: Assuming 4 sockets @ 5 years @ 11¢ per kwh

Typical bulb = 1872 kwh = $205.92
CFL = 405.6 kwh = $44.62
I think the math above does speaks for itself… (which doesn't even get into the LED specs) so how about all those dizzying arrays of choices & those new lighting labels? Well I think that piece will just have to wait a little longer, like maybe sometime next year?