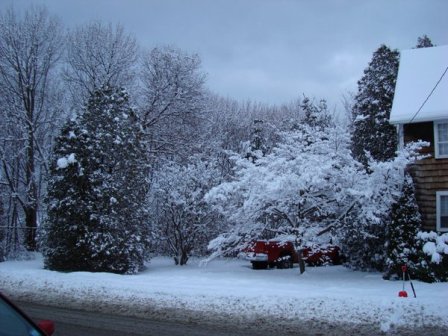 We are sorry to interrupt our regularly scheduled broadcast…
WINTER STORM WARNING: TRAVEL WILL DETERIORATE QUICKLY SUNDAY EVENING…WITH MANY ROADWAYS LIKELY BECOMING SNOW COVERED OVERNIGHT. TRAVEL ON MONDAY WILL LIKELY BE DIFFICULT AT BEST.
PRECAUTIONARY/PREPAREDNESS ACTIONS…
A WINTER STORM WARNING FOR HEAVY SNOW MEANS SEVERE WINTER WEATHER CONDITIONS ARE EXPECTED OR OCCURRING.  SIGNIFICANT AMOUNTS OF SNOW ARE FORECAST THAT WILL MAKE TRAVEL DANGEROUS. ONLY TRAVEL IN AN EMERGENCY. IF YOU MUST TRAVEL…KEEP AN EXTRA FLASHLIGHT…FOOD…AND WATER IN YOUR VEHICLE IN CASE OF AN EMERGENCY.
In that vein, I guess this would be a good time for a few safety tips on driving safely in these winter conditions (assuming this one is not overblown like some others where we barely get ½" of snow). Besides the most basic tenet of only going out if needed and wearing a seatbelt, we are going to assume or recommend you have a winter kit in your trunk, and your vehicle is ready for the winter weather. Quite honestly, snow doesn't bother me, it's the ice and particularly black ice. (Winter kit was designed for driving in South – adding Kitty Litter as pointed out by Jenny Roets of Wisconsin aka @Arch_Girl would be a good idea also – besides you can use it for picking up oil spills later)
Before leaving check & clean around your vehicle – Check to make sure there is no snow or ice in or blocking the muffler before starting it to warm up (Carbon Monoxide can get into the vehicle if this area is blocked). While you are warming up the vehicle, clear the snow and ice from all the windows, lights, your hood, roof & trunk before driving. (The last three are to help prevent a mini blizzard blocking your site, or someone who maybe behind you)
Leave plenty of room for stopping which includes not only you, but also any larger vehicles that you may pass. (General rule of thumb is a minimum of 200 feet at low speeds or using the 4 to 6 second rule at higher speeds)
Slow it down some, remember the posted speed limits are for dry pavement. With that said, if you are slowing down other traffic, or backing up 3 or more vehicles – let them pass. Not only will they help clear the road for you, but they can help you travel at a speed more conducive to not getting into an accident. (Beside's in most states, delaying 5 or more vehicles without pulling over can result in a ticket)
Brake smoothly, and let off the gas before you normally would. In snowy and icy conditions, it can sometimes double the amount of time and space you need to come safely to a stop.
Know your road conditions – bridges ice up first, while exit ramps & downhill sections generally cause more issues for drivers do to physics and less attention being paid to them by the road crews as the main streets. (Do we really need to mention that most County Roads receive no maintenance as compared to highways & city streets)
Making a turn – depending on conditions and if at all possible, consider making a complete stop before turning.
Steering & acceleration – light touches are your friend and help you keep the rubber side down with adequate traction. (Do we really have to mention that cruise control should also not be used)
Watch out for the snow piled up on the side of the road as you have no idea what is below it whether it is a ditch, fire hydrant, etc…
Snow chains – in case you forgot, the chains go on the "Drive" wheels. For most vehicles that will be the front wheels, not the rear wheels like many trucks. (If you really don't know if your car is front or rear wheel drive – check the user's manual) For 4WD & AWD vehicles, I recommend checking the user's manual for your vehicle.  
Oh Crap – I'm sliding… the first thing is to remain calm & don't slam on the brakes. Your next step depends on the vehicle you are in…

4 & All Wheel Drive: Just like the vehicles below your vehicle can also loose traction which is generally caused by over confidence & speed. In most cases the info given below for the Front-Wheel drive vehicles applies. In some older vehicles though you may find yourself practicing the Rear-Wheel drive directions. (For more good info on this –

Bill Burke of 4-Wheeling America

)
Front-Wheel Drive: Welcome to a new feeling called under-steer where your vehicle keeps going straight, even with the wheels turned. Keep your steering wheel pointed where you want to go, and gently use your brakes to help with the rear wheels while trying to find the proper RPM with your gas pedal so that your front wheels start driving forward again.  (For more good info on this – article by Pete Snidal)
Rear-Wheel Drive: While a front-wheel drive can suffer from under-steer, a rear wheel drive is susceptible to over-steer and unfortunately, an equally bad item called over-correcting. If you are going out and have issues with slippage, you might need to place some weight on the back end of your vehicle to help reduce that. That said, if you start sliding you should turn into the skid & don't slam on the brakes – an object in motion tends to stay in motion in the way it is headed – the catch is balancing some minor braking while trying to use the drive wheels to hopefully propel you in the direction you want to travel by reestablishing traction. If you are fortunate enough to get some traction and pull it out, don't compound the issues by stomping on the gas or cranking the wheel back over – remember the tips above on braking, accelerating and steering and slow it down.
Additional Info & Websites:
Picture credit to our good friend John D. Poole of Birmingham Point and his neighborhood – definetly worthy of a postcard