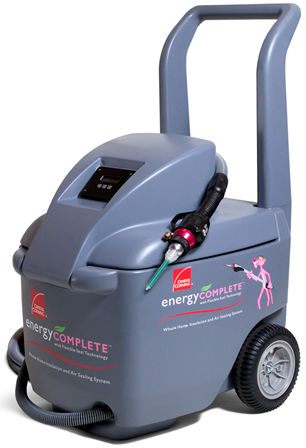 Recently I had time to chat for a little over an hour with Doug Walden, who is the product manager for Owens Corning newest air sealing product called Energy Complete. I got to say I have never seen the system in action and that was one of the reasons why I jumped at the opportunity to talk with him about it. So with that, here is our abridged version of the interview & my thoughts.
Tell me about the reason why it was developed:
Hmmm one has to wonder how often they get asked this question as it was one of the longest salesy answers about their "rich history", "being pioneers", and "seeing not only the importance on air sealing but a gap in the market." He briefly touched on the fact that foam is a "low rise, latex based formula" & the "gasket formed" will "remain soft & pliable indefinitely".  They have tested this using a "50 year accelerated aging – hot humid, UV, etc…" testing environment where it came out in the same condition as it was when applied.
Why / who would want to use fiberglass:
Not to be blunt, but I think this question is on many people's minds, especially when they see how many issues are caused by insulation contractors who seemingly an never install it properly. While he does not deal with the "fiberglass" side of the house, his answer was pretty much spot on – "Fiberglass is the best way to insulate a well-defined air barrier." In essence, if you have a well-sealed cavity, fiberglass is a great product, assuming there are not any other issues one has to deal with.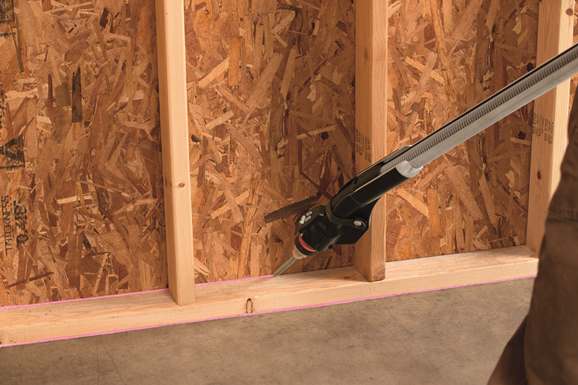 Why / How does this help performance:
Ahh, a semi trick question as he went to talk about "the performance question being equable with describe an average family, there can easily be a 100 different answers." As it relates to using the blower door, by "sealing 4 of the top 5 areas – the top plate to drywall  (most important), house to garage, duct boots, usb sheathing to top & bottom you will dramatically reduce air leakage as compared to normal methods." With that he also talked about it reducing thermal connectivity / bridging & improving Indoor Air Quality.
While I will give him the reduced air leakage as compared to not sealing & indoor air quality attributable to that, I got to say the reduced thermal bridiging is a red herring as the product is not applied everywhere. If it were applied to all studs faces they may have a solid case there, but with one only sealing the areas listed only those areas will be reduced.
Why this & not say the blue stuff:
As many know there are a few competing products on the market & the answer was pretty simple, they are "not a gasket type product as theirs dries rock hard" & more importantly to some the Energy Complete system is "less expensive." As for cost it adds say to a typical house, there was a lot of hemming & hawing on it which is fully understandable as they do not install it, each company sets their own prices, scopes vary, etc… With that he said for a typical house it added "$400 to $1500 depending on scope" to each house.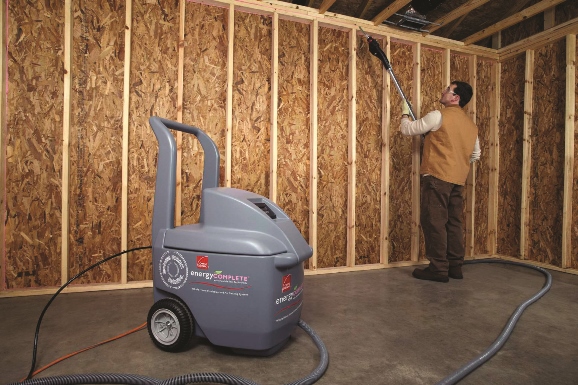 Is there any R-value or is it just designed to help with air-sealing:
Primarily the product is designed just for its air-sealing qualities, but it is rated at "R3 per inch" but as the gasket is only a ¼" and only applied in certain areas…
You say it forms a flexible gasket just how durable is it:
Using a robotic test it can handle "drywall being slid up against it 10-15 times before it starts peeling away"
Is it sticky / what about dust getting kicked at it, swept against it / how soon should one install drywall:
The product will "sticks to most common building components including metal studs, wood, foam, etc…" It becomes "tack free in approximately 10 minutess depending on humidity temps": and one should typically wait till the "24 hours or at least till the next day before drywall is installed." (i.e. if you install it around 3PM the day before the drywall crew shows up, you should be fine though technically you should wait 24 hours)
Can this work with cellulose or other insulation product:
"Yes it can & will continue as an air barrier"
Are there any temperature considerations:
It can be "installed anywhere from 20° to 110° ambient temperature for the surface but the foam should remain above 65° to be applied"
VOCS – amounts, ventilation required, safe to enter, etc…
There are "no VOCS or protective equip required resulting in no need to quarantine the area being worked on, allowing others to work nearby with no issues. This product has been tested by UL (Underwriters Laboratory) & is Green Guard Certified."
Cost of system:
If you wish to become an installer you are looking at spending "$5000 which includes training on site" Additional nozzles run around a dollar & the cost of materials is between the installer & the distributor.
Is this product limited to certified installers or can anyone purchase / rent equipment & buy materials:
"Certified installers only – if you wish to become one you can visit http://ocenergycomplete.com/. You can also set up an appointment with an Owens Corning representative by calling 1-800-GET-PINK or emailing energycomplete@owenscorning.com."
The following is one of their installation videos which the following questions were based on:
Ok, in this video they show one stuffing the holes with fiberglass which does not meet codes, is this then covered over by the product:
"That's correct; the large holes need to be filled to give the foam something to hold onto" which would then satisfy codes.
You mentioned a fire rating, is that just for a special blend or:
"No, there is only version & it qualifies per the ICCES report as fire block residential. We are still working on getting it rated for commercial."
I noticed the special mixing tip, how often do you have to replace it & how much:
"We actually do not make the tip but they are $1 a piece & will easily last for 2-3 jobs if flushed & handled properly" Interestingly in a follow up email they did send me a link to a video which shows that there is a little more to it than that…

I noticed you only mention doing the top & bottom plates / corner studs & around fenestration – does this cause issues with drywall installation & why not all like typical installations of drywall adhesive?
"Quite simply while we would love for people to do all the studs, it won't help any more & no, there are no issues with the drywall being installed." On this I do have to wonder some as the "gasket" is a ¼" thick & would think it would kick those areas out some possibly causing issues with the finish mudding.
I like the piece about doing around the duct boots & the advice to not spray to fast or overdo it, with that how hard is it to clean up when wet, dry?
"It rolls up clean if done after it dries & cleans right up with plastic squeegee when wet even if it were to get on granite (remodels), etc…" With that "it bonds well to cotton so any other spray that gets on your clothes… well I have part of a closet dedicated to stained clothes"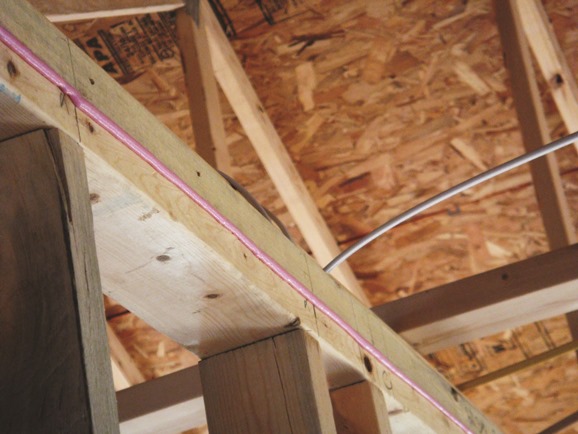 Are there any LEED / NGBS or other points available:
Due to its Green Guard certification one can use to help get "LEED, NGBS & other points, but the biggest selling point is the increased performance impacts for Passive House, ENERGY STAR, HERS, etc…" PDF of Points for NGBS / LEED
I realize you do not deal with fiberglass but ENERGY STAR requires Level 1 install or foam board exterior – got any tips for installers:
"Grade 1 insulation resources are available for certified installers" NEW – YouTube Video
HTRC – Interestingly while this system is part of Owens Corning & promoted when using their batts it is not a requirement to be used with their products & can be used with blow-in systems among others. It was interesting talking with him & once one gets past the initial sales pitches, I can see many benefits of using this system with many types of insulation products though I still have a few reservations as mentioned above.  With that I would like to thanks Owens Corning and Doug Walden for allowing us this opportunity to learn more about their system, the pictures used, and their time.