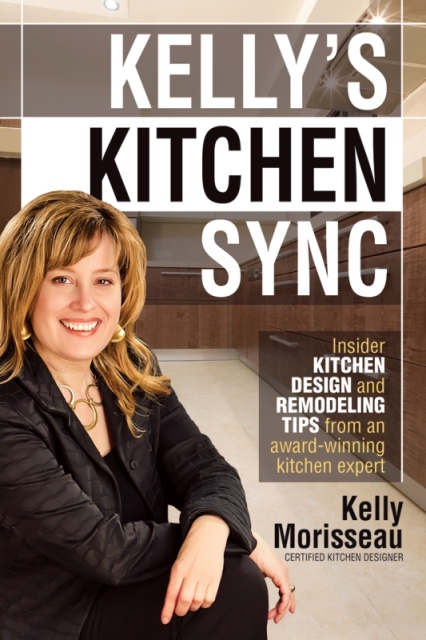 Talk about timing, I finally got the time to finish Kelly Morisseau's new book & was planning on writing up the review last Thursday when I got delayed. That night as I was sitting down to get it written, guess what pops across my Twitter feed, why this week's Let's Blog Off, asking what is your favorite book? Ahhh, timing is everything, and to top it off as it is a Let's Blog Off, I'm not even going to really review the book now… Welcome to the Let's Blog Off where the rules occasionally get thrown out the window.  As is our custom, we will be including a list of all the participants at the end of this article which we encourage you to check out.


The Who:
For those of you who have not met, chatted , followed Kelly on Twitter (@Kitchen_Sync) or at least checked out her blog (Kelly's Kitchen Sync), are missing out. Not only is she a Certified Master Kitchen and Bath Designer (CMKBD) & Certified Interior Designer (CID), but she is a great person that doesn't seem to mind helping people out, answering a quick question, or coming back at you with a quick quip. She has graciously done one guest post here "What matters the most to you – the fixtures or the foundation," and allowed us to use two designs & a rendering she did without a second thought or hesitation.
The What's:
When one thinks about all the kitchen design books out there, the first thing that comes to mind is a big picture book with some text thrown in, or just another reference book with debatable ideas on this is how you should layout your kitchen with lots of diagrams. Well you can throw both of those thoughts out, as this 210 page book covers the intangibles that are never seemingly covered; expectations & reality, what to watch out for, what does & doesn't work. While this book is primarily written for homeowners & has sections on when should I seek help, is the DIY route your best option; the tips, tricks, and lessons she includes has many contractors, salesmen, architects, and fellow designers bookmarking pages for future reference.
The Why's:
Why Kelly's Kitchen Sync? Umm, because it's the name of her blog & a great play on words? Oh you mean why did I choose it; well long story short – it started off with a review by Nick @Cupboard's, followed up by Arne Salvesen CKD @ Useful Spaces, Paul Anater @ Kitchen and Residential Design & finally Bob Borson @ Life of an Architect. After reading their reviews, I started to RT them on Twitter mentioning it climbing up my reading list with it finally ending up on top & me actually buying the book two days later.
Is it worth every cent and then some? I would definitely say yes & echo many of the fine points made by others. Besides anyone that can get away with using the word poppycock (pg. 22) along with others in a book & doing so correctly deserves some applause.
The Where & When:
The book is available on Amazon.com, Amazon.ca, or Barnes & Noble and should be bought if you are considering redoing your existing kitchen as it will help answer many of the questions that you need to be asking. If you are still wondering if the book is for you, here are some more traditional & not so traditional reviews – Aston Smith; Amazon Readers; Joe Freenor @CFT411; Andie Day Lifestyle; Details & Design; The Decorating Diva; Jamie Goldberg AKBD, CAPS @ Gold Notes; Sarah Lloyd @ Kitchen Clarity™; The Kitchen Designer
Speaking of some great reviews, don't forget to check out the rest of this week's Lets Blog Off participants – there truly are some gifted wordsmiths and they just might have a book or two you might want to add to your reading list.

.