It seems almost like a monthly occurrence; the water bills come out and someone asks something along the lines of – why did mine jump up so high? Do I have a leak? Did the water main break have something to do with it? Is my meter bad? Did anyone else's inexplicably double or triple? You combine that with "sewer" rates being tied into them & things can get pricey really quick. So let's run down the most common checks to make then cover some quick questions that may apply.
Check your meter: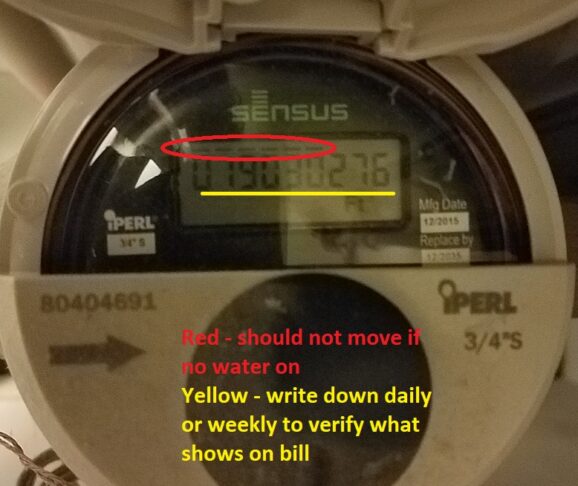 Does the number they have jive with what your meter says? If they have down 25030 & your meter shows the above (19030) then there is an issue. If there number is close but less than what they said, say 19002 then it isn't a bad reading. For manual meter readings they might have fat fingered something or swapped readings with someone else. For those that automatically report they could have the wrong meter listed as yours in the system. In either case a quick call should help fix the issue. How to read your water meter
Check your bill (Estimated):
This is one of the biggest culprits in our area as you could have been paying "estimated" usage amounts for months & they finally trued it up. As more utilities switch over to Wi-Fi enabled meters this issue is going away, but it can still pop up if there was a problem getting you reading, the sending apparatus goes on the fritz, or… For the old school styles were you have a physical meter reader either manually checking or scanning the RFID readings, they could have been out sick, roads to bad, etc… Most utilities will have an E or the initials Est. by the number so you know it is an estimated reading.
You have a leak:
This can suck, but it does happen – you have a leak somewhere. Maybe it is a toilet flapper, or a dripping faucet but that is all it takes and it can add up quickly. One of our most popular pieces on dealing with this is: Fix a Leak Week Reminder 
Yes, you used that much:
Lately many have noticed that their usage for all utilities has gone up which is because we are all pretty much stuck at home; so more lights, heating, cooling, washing clothes & dishes, etc… A few tips & tricks to cut down your usage: Blog Action Day 2010: Water
I just replaced my faucets & it seems like…
One common issue many have is they replace their faucets thinking they will save all this water & now it takes forever to get hot. This of course gets them wondering about all the water they are wasting as they wait over a minute or two for it to start getting hot. The issue is you were wasting the same amount of water before but in about a third of the time. The easiest fix is installing an on-demand system where you push a button that pumps hot water to the faucet before you turn it on. By code these are the only types of systems now allowed – timer based or always on recirculating pumps are no longer allowed & quite simply just waste money.
My shower never seems to heat up in the winter?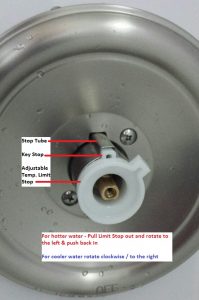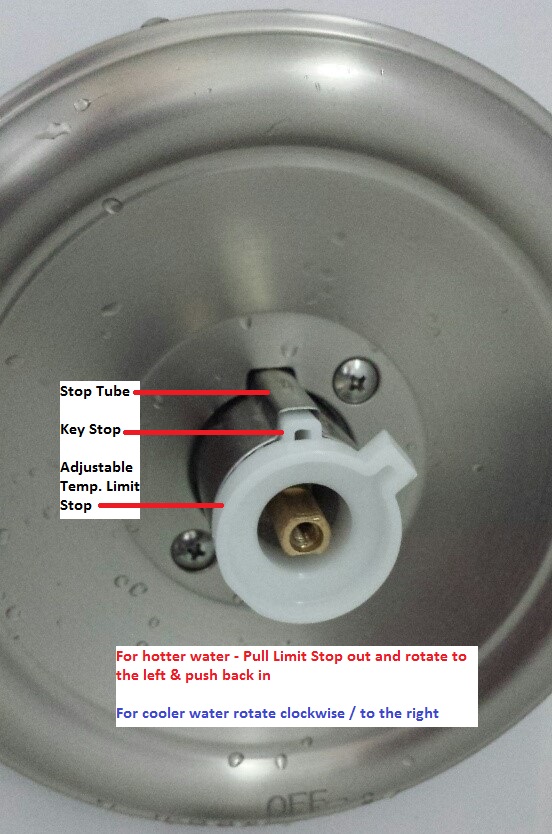 Bonus tip & reminder: you might have to reset your Temperature Limit Stop as it is now winter time & your stop was probably set during the summer months when the incoming "cold" water was a lot warmer than it is now. You may also have to reset it if you have turned down your water heaters temperature setting as a means to save energy. Don't want to mess with that setting on the valve, then you might bump the water heaters temperature up one setting – just making sure if it is on full hot it isn't above 115. Just don't forget to turn it down come summer time as the mixed water coming out will be that much hotter & can cause burns.
Did they just replace your meter?
Generally rare but yes some have seen their bills almost double when a "new, more accurate meter" is installed. Granted it could be because the meter is defective, but in most cases it is because the other one got gunked up so it was not showing your true usage. Even with the newer digital ones it can happen over time which is one reason why most have a "replace by" date on them. One easy test – get your meter reading and then run a bath tub full of water. Now recheck your meter – does it show it went up by 30 gallons or is it hundreds? If that is off, then I would check about having your meter tested by the water department. If not then yes, you are using that much.
How about the Water Main Issue?
For the most part a water main break is not going to cause your bill to jump up as long as it happened before your meter connection. In warmer climates where your meter is located at the street, the same applies – if it happens before your connection you are fine… if it happens between your house & the meter you are probably looking at a big jump. For those in colder climates where the meter is inside the house, it doesn't matter if it happens in the yard as the meter won't know about it. Now in some cases where the lines are drained, yes you are going to see a little more usage but that is going to minimal as there is only so much water in the lines.