You know it is late and I planned to let day 20 simply slide on by. I was hoping at least to get one email to clarify an issue with the "approved" test kits, but alas – no answer. Then @NHCC sends out a Press Release from the EPA: http://epa.gov/lead/pubs/lscp-press.htm. At first glance, the numbers appear do-able, but then by reading a little further into it, I could sense the Bravo Sierra emanating from it.
The simple truth is the EPA knows exactly how many people have been trained & it appears that they do not want to release the true numbers. How can I say that? Well it is actually in their regulations:
§ 745.225 14
(i) The training manager must provide EPA notification after the completion of any renovator, dust sampling technician, or lead-based paint activities course. This notice must be received by EPA no later than 10 business days following course completion.
(ii) The notification must include the following:
(D) The following information for each student who took the course:
( 1 ) Name.
( 2 ) Address.
( 3 ) Date of birth.
( 4 ) Course completion certificate number.
( 5 ) Course test score.
(6) For renovator or dust sampling technician courses only, a digital photograph of the student.
(E) Training manager's name and signature.
(iii) Notification must be accomplished using any of the following methods: Written notification, or electronically using the Agency's Central Data Exchange (CDX). Written notification following training courses can be accomplished by using either the sample form, entitled Post-Training Notification or a similar form containing the information required in paragraph (c)(14)(ii) of this section. All written notifications must be delivered by U.S. Postal Service, fax, commercial delivery service, or hand delivery (persons submitting notification by U.S. Postal Service are reminded that they should allow 3 additional business days for delivery in order to ensure that EPA receives the notification by the required date).
So in the simplest terms, the EPA should have at its disposal, the exact number as of 15 days ago, maybe 20 days ago (depending on how slow they are entering manual information). This does not include that all providers are required to notify the EPA of all training classes 7 days before they occur, so the exact number of training classes should be known as of today.
The next issue is that their map shows that classes began on 4.22.09, which is completely wrong. That is actually the first day that training providers could actually start applying to become certified to train. Classes were not allowed to be started until the end of October 2009.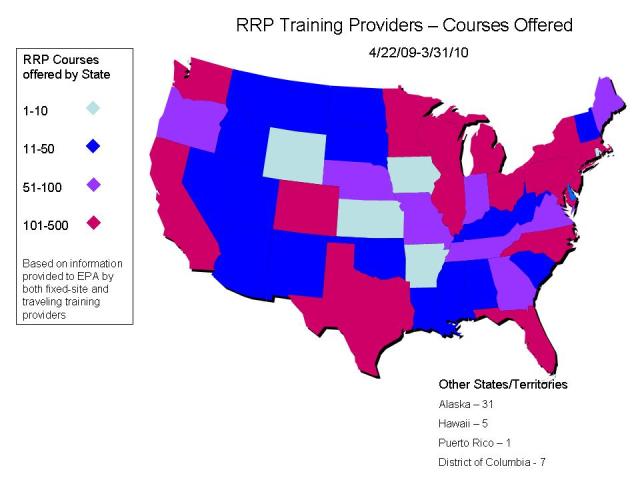 190 Certified Training Companies – really? Let's try a 154 with 5 of them located in state's running their own programs. Out of those 5, only 2 will travel to other states – so in all honesty you only have 151 trainers.
While you are lucky that the US Senate Committee on Environment & Public Works is mostly concerned with Certified Renovators, may I ask what you are going to tell them when it becomes painfully obvious that there are not enough Certified Firms out there? As of today, there are only 2,272 Certified Firms. 10 days ago, there were 2141, which means that you only certified 131 firms? Based on your numbers pointed out in other articles – you are short 40,000+ firms for all these renovators to actually work for.
Unfortunately, based on this Charlie Foxtrot and numerous other ones, it appears that this agency is only looking to grow and expand, instead of legitimately following its charter. This is not the only program where one can see them hiding the numbers, distorting the numbers, or quite simply ignoring the facts. All I can suggest is that you as an Agency need to clean up your act, before you face a political backlash that will decimate your agency and programs. Hiding behind "were out to protect" X will not be a help when you and your bogus numbers and science are thrown under a microscope. I can honestly see where the baby might get thrown out with the bathwater and you will have no one to blame but yourselves.