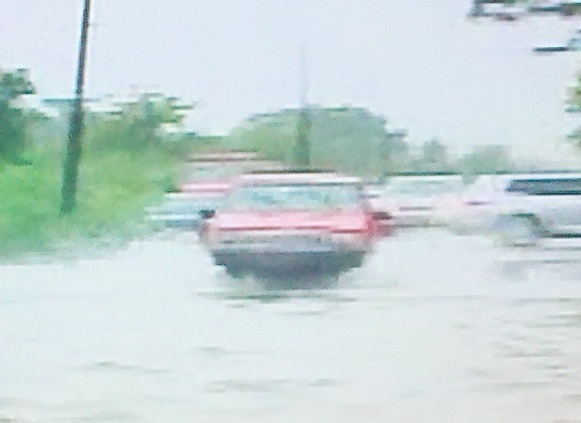 Ahhh Monday's, so there I am trying to get a wall dried in on a day it wasn't supposed to rain, and then trying to avoid getting creamed on the way home, what could be better? A little later on, and after participating in the following tweet stream "brendaslynn It is also #AlabamaLaw RT SLSconstruction RT ItsThePlumber: Remember to turn on your headlights on when it's raining. #OhioLaw" the idea for this Safety Sunday's post was born.
Turn on your lights: Seriously folks, it's not that hard – if it's raining, foggy, etc… just turn the knob & the lights on. Ahhh, but you have daytime running lights, so you're covered right – try NO. Most cars with daytime running lights only engage the headlights (sometimes these are even dimmed, or they use a special low power bulb), but not the rear lights making your car nearly invisible until someone comes knocking on your back door.
Match your speed to the conditions: Granted it takes longer to stop in wet weather but that doesn't mean you drop you're speed in half for a light sprinkling. In most cases 10 miles under the speed limit is more than adequate, where in extreme downpours pulling over and turning on your hazards is the best option. The best rule of thumb is to remember that you will need 50% more room to stop, so don't be driving faster than you can safely see & stop.
Avoid hydroplaning: First I would recommend getting All-Weather or Rainy weather tires, the difference is quite remarkable. No matter which tires you might have – If it is safe to do, avoid puddles / ponding water and try to stay to the high side of the road – on most highways it will be either the left or right lane, while the center lane generally is the driest on city streets.
Avoid hydroplaning #2: Drive in the tracks of the vehicle ahead of you, being careful to not follow to closely. Not only should you remember the increased stopping distance required, but to also avoid the spray that can reduce your vision.
Act like a trucker: While you will see them use their brakes, it is pretty rare as they will generally left off the gas before they need to slow down.  Along the same lines, they ease into all their lane changes and accelerate at a gentle yet steady speed.
Safe Travels
Additional Information & Websites: