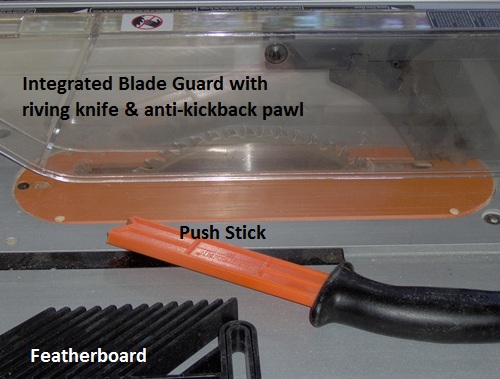 Ahhh the table saw; a woodworker's bread & butter, a carpenters best-friend (ok maybe 2nd), and a way for DIYers to show that they have made it and are serious… Ok I am slightly kidding on the last one, but one can't argue with how popular the tool is. Of course with such popularity, accidents do happen and when they do it isn't pretty. With that said, here are our top-ten table saw safety tips
Read the manual: Not only do they offer advice on how to use the tools safely, maintain & troubleshoot them, but tips & advice on getting the best performance out of them.
Wear the right gear (PPE): Anytime you are dealing with an item that cuts or has a motor in it, you should be wearing safety glasses & hearing protection. Gloves are also a good item to wear, followed up by a long sleeve shirt – I have known a few wood workers that can no longer enjoy their trade as they are now allergic to the sawdust. At no time should you wear loose fitting clothing, neckties, and / or jewelry that can get caught up in the table saw.
Cleanliness is next to godliness: Not only does this prevent slips and falls, but it helps provide a better cut and prevents kickbacks from built up sawdust pushing the wood away from the fence into the blade or a loose piece of wood flying back at you.
Check the wood: Carefully check the wood for any items that could become a projectile like knots, staples, & nails. Not only can these hurt you or someone else but they can also damage the blade.

Check & use the safety features:It used to be that the guards used to be one of the first items ripped off the equipment as they didn't work, and were a pain to use. Fortunately after a study was done by the CPSC & companies like Saw Stop started pushing their equipment, the manufacturers wised up & actually made a usable product that worked. Newer saws include an integrated riving blade (helps keep wood from binding up), an anti-kickback pawl, with a blade guard designed to prevent the most common forms of injury.
Always Disconnect the Power: before changing the blade, adjusting the height, checking the saw blade, etc… While the chances of you or someone accidentally turning the saw on are remote, it has been known to happen. The saw should also be unplugged anytime you will not be using it, even if you are just stepping out to grab a drink of sweet-tea.
Do Not Start the Saw with the Blade Engaged: When preparing to start the saw, nothing should be touching the blade & it should be allowed to reach full speed before beginning the cut.
Maintain a Safe Working Posture: When using the saw you should not reach over the blade at any time, or stand directly behind the piece you are feeding through the saw. Your feet should also be spread apart to shoulder width, which will give you a good solid base to help maintain your balance.
Use Proper Inserts & Accessories: Zero clearance blade inserts, out feed tables, miter gauges, push sticks, feather boards are all met to not only protect you, but to help insure your project comes out looking great.
Making the Cut: One would think this would go without saying, but you should never attempt a free-hand cut. There is a reason that the saw ships with a fence and a miter gauge, though the two of them should not be used together to prevent the wood from binding up.
Quick Tip: If you need to use the fence to get the proper width and the miter gauge to feed the wood through safely you can either buy a sled, or move the fence over the width of a small spacer block which you would put far enough away from the blade to prevent binding while ensuring the proper length.