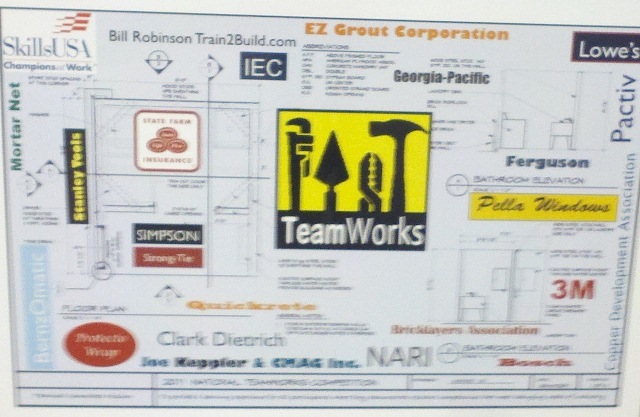 Today is the day where the rubber meets the road, not only for all the teams, but the logistics (State Farm), judges (NARI),  volunteers (Stanley), and for those on the Technical Committee that have spent the last 10 months working towards this day. A special shout out also has to be given to all the suppliers & sponsors that help bring this $100,000 Team Works championship to fruition.
Just some of the storage, logistics, & staging areas (Small dumpsters for trash – large for recycling)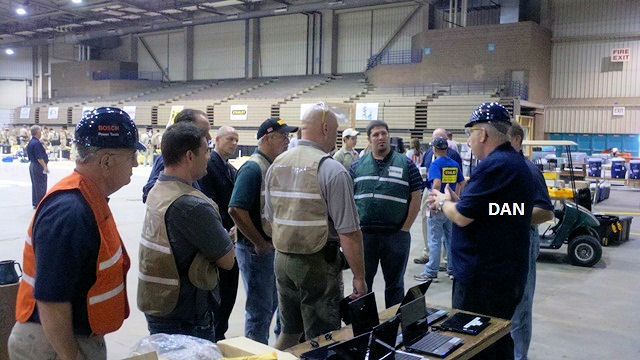 Team NARI's judges for the day (I should hopefully have a list & their associated websites later for them – but way to go to the local Kansas City Chapter for the great group you assembled, it was great working & meeting everyone). The different colored vests signified what each section was responsible for judging, which can get quite interesting as we were hopscotching all over the place as each team worked at a different pace. A special shout-out to Dan Taddei who is director of NARI's educational & certifications section who not only asked for what can be improved, but listened to all the suggestions, and even had a few implemented almost immediately. (In case anyone is wondering, today I was one of the dreaded Orange vest guys – i.e. Safety inspector)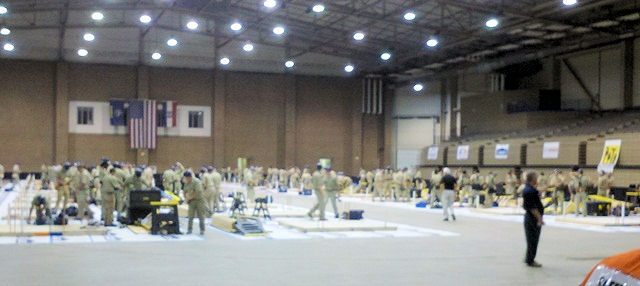 8 AM – time to back up the talk, the rubber officially meets the road after a brief safety briefing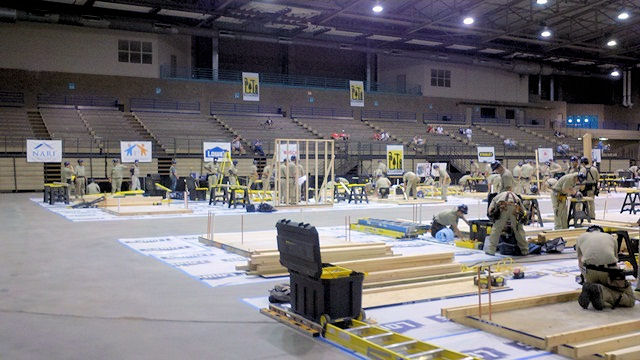 8:22 – the first wall is up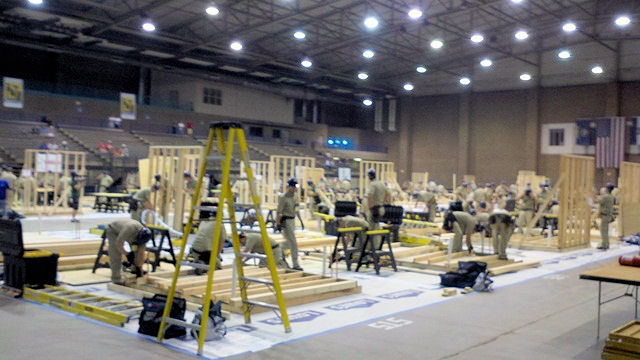 9 AM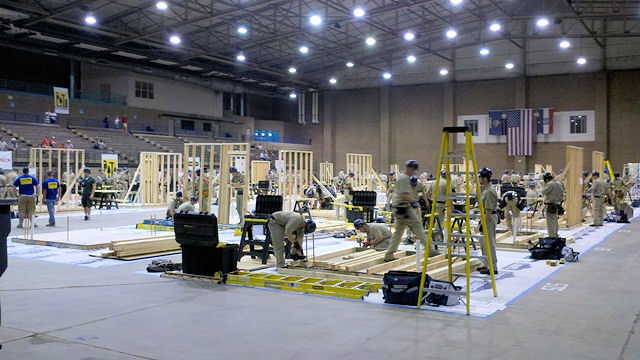 9:30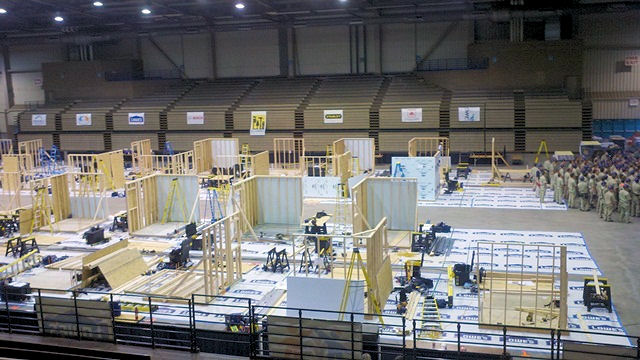 10:15 – mandatory break & clinic on installing windows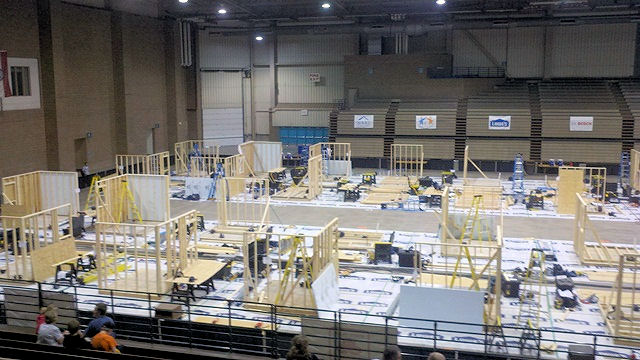 10:15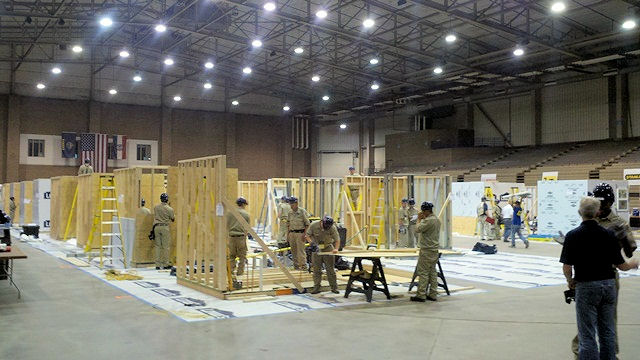 11:15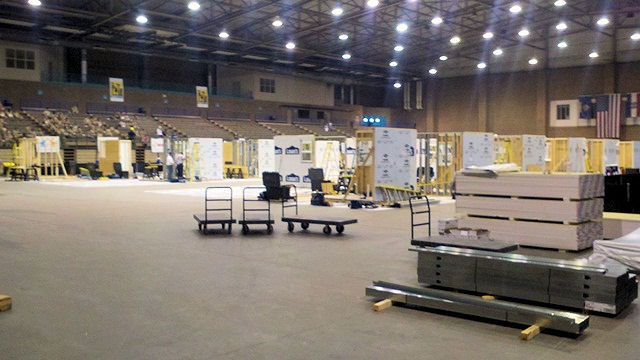 12:00 time for lunch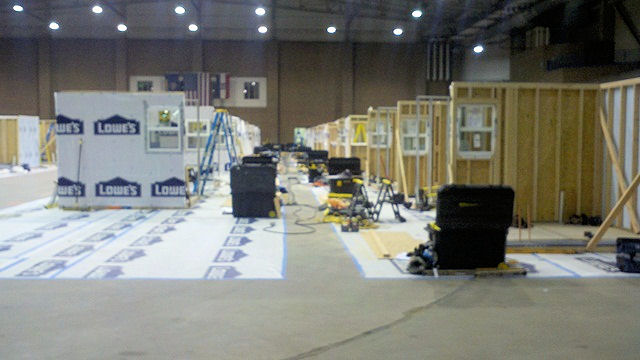 12:00 – scanning down row 1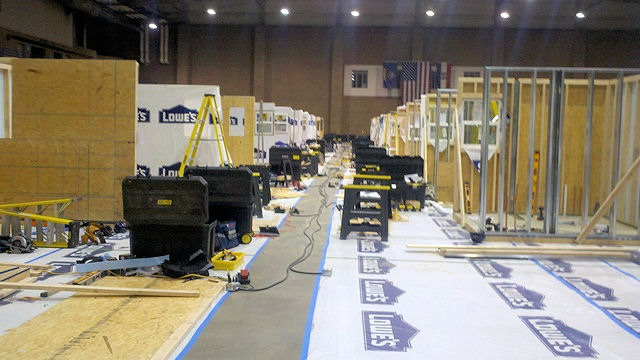 12:00 – scanning down row 2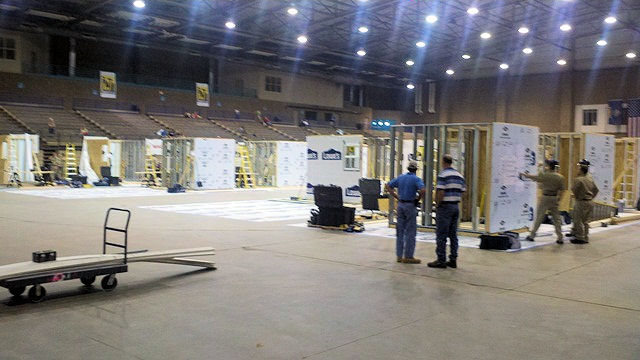 2 PM
3 PM – End of day 1 & 2 overview shots
4 PM: Fortunately as this competition ended today at 3PM I had a few minutes to sneak across the hall and check out the welding area. Let me apologize for the crappy pics as this camera does not bring any justice to the great work on display in the custom welding displays.  I ran into a welding "advisor" there and we talked for quite a bit about the work done – the one below with the binder open is an example he showed of not only a great job but a presentation package.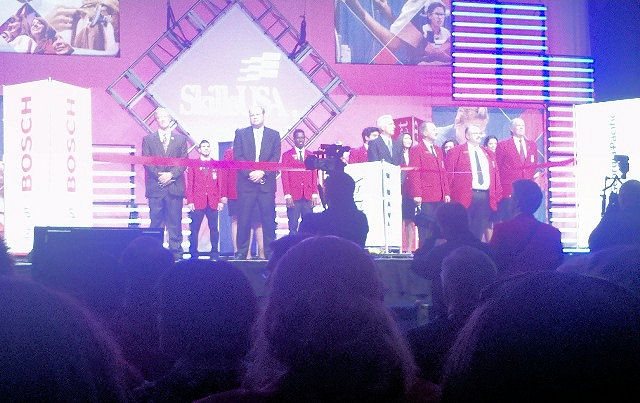 7 PM: In all seriousness, one would think that the opening ceremony & ribbon cutting would have happened 2 days before, but I am glad it was held after our first full day of competition so I could catch it. For anyone that worries about todays "youth" might have second thoughts after rubbing elbows with the 5400 competitors that are not only polite as all get out, but so well spoken.