While driving in, I really couldn't believe that this was it. Throughout the day & drive home it was hard not to think about just how life altering this program is not only for many of the competitors I spoke with, but for many of the volunteers & even just visitors. This is a video shot of last years "unofficial" mrW tradesmen get-together which sums this competition up probably better than I ever could.
In many ways I seriously have to thank Mike Rowe and his vision for bringing me here, because without his seeing a need & him reaching out to help fill it- I probably never would have known about this or shown up. So before I get to the last days pics & roundup, a big shout out & look at the man & programs he has started from his own pocket book & heart.
mikeroweWORKS:
Mike Rowe originally founded mikeroweWORKS as a resource center (tool box), where someone wishing to enter the trades or already in the trades could easily find the resources, links, or any other information they might need to succeed. In all fairness to Mike, I really can't describe it in words like he does, so without any further ado…
The original Mission Video
2011 Senate Hearing Opening Comments

mikeroweWORKS Foundation:
One item Mike did was to create a 501c3 Foundation to help promote the trades. This year between the mrW foundation & Lee Jeans, 20 travel scholarships were granted to help those that couldn't afford to attend. Great video of Tina White (mrW VP & Director of Operations) & Bob Medved (State Farm & a mrW Tradesmen) talking about the scholarships. Congrats to Josie Colonna of NJ  & Terri Haupt of FL for winning Silver, along with Scott Eckensberger of FL for winning Bronze in your respective competitions)
Trades Hub Daily:
Recently mrW has started a new site called the Trades Hub that is dedicated to bringing together blog content from those not only in, but from those that support the trades. Whether you are looking for or trying to keep up with the latest legal advice, marketing help, how to run a business, or even the latest news about your industry – you can find it all in one spot. Not only are we glad to support it (see the sidebar) but also to contribute to it.
The "official" 2011 mrW Tradesmen SkillsUSA get-together picture: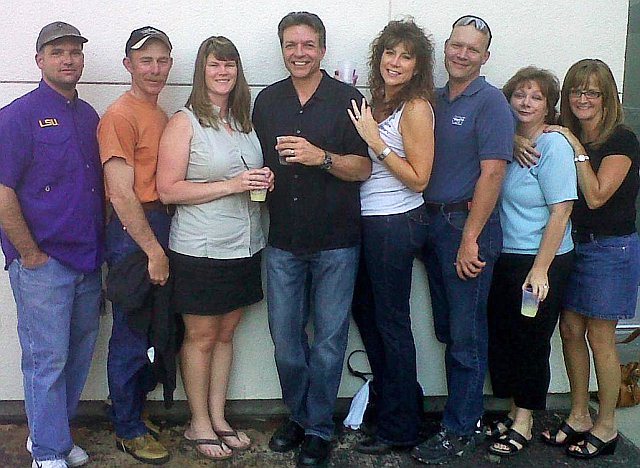 No doubt you might recognize some of the faces or names from the video(s) above – but in order; Joey aka "Authement", Albert & Melody aka "Villard Ranch", Bob aka "RAM", Tina (mrW VP), Me aka "SLS-Construction", Kathy aka "Alphalady61 aka Teach", and Sal aka "Dirty Sal"
What goes up – must come down: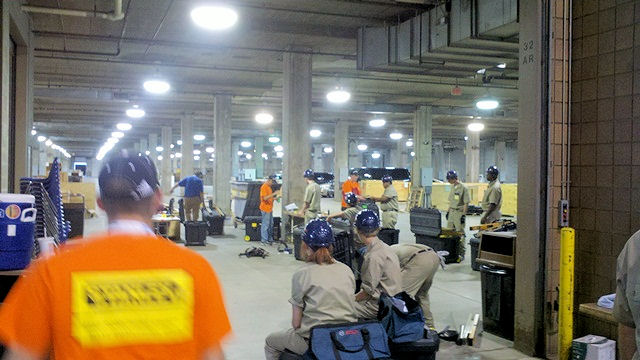 Checking in the tools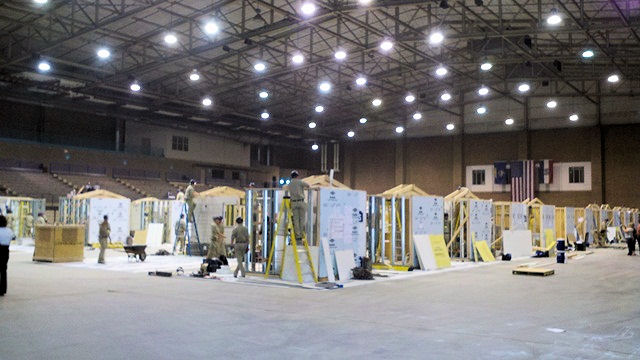 8:50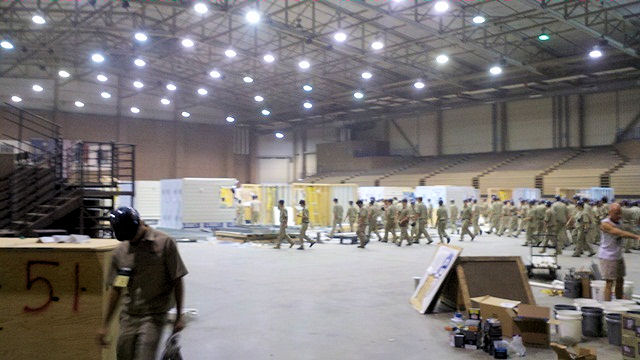 9:20 – returning from quick floor meeting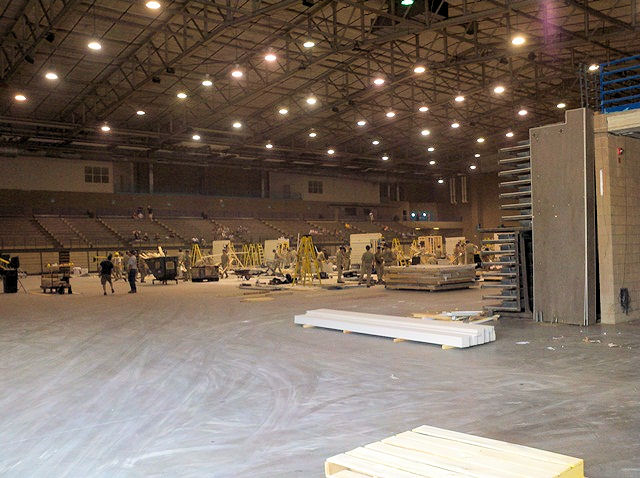 9:50 – almost there (hmm, maybe we need some dust masks next year)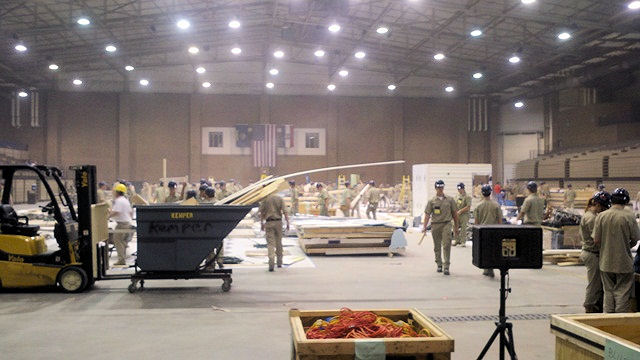 10:05 – one team's left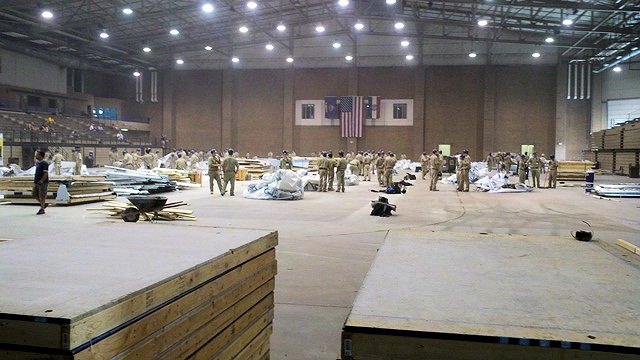 10:30 – turn out the lights, the party is over (well at least for the contestants – the Stanley volunteers & State Farm gang will be working for quite a few more hours)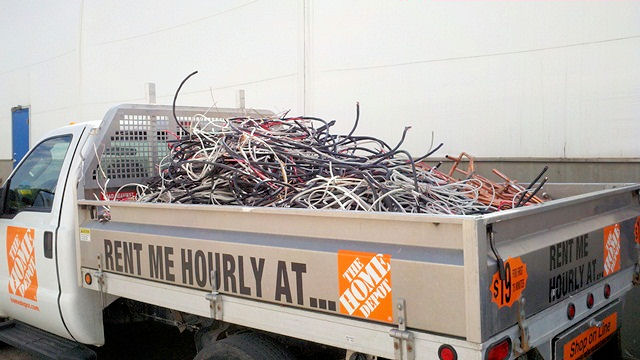 What can be recycled – is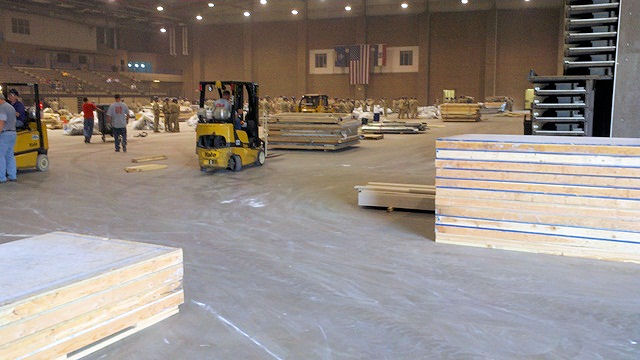 What can be re-used for next year or donated to Habitat for Humanity is
While I do not having any pictures, the swag bags were handed out, everyone enjoyed a hot lunch, and the debriefing began. This time it was the competitors & their advisors time to opine on how items were handled and changes they would like to see. It was then time for a few teams to head out (including me as I was beat), while the majority of the competitors was staying for the awards ceremony at 7PM.
While I believe (and based on what many said during the debriefing) everyone won something and were better off for competing, a big congrats to the following schools & associated competitors:
High School

Gold: Michael Kern, Travis Kohler, Tyler Miller, Nathan Schantz from Berks CTC – East Campus of Oley, PA
Silver: Max Hitchcock, James Grenier, Alan Bourgeois, Aaron Beals from Montachusett Regional Vo-Tech of Fitchburg, MA
Bronze: Bradley Tanner, Jeffrey Stith, Dylan King, Donald Mcfarland from Gordon Cooper Technology Center of Shawnee, OK

College/Post-Secondary

Gold: David Miller, Hugh Hostetter, James Wells, Tim Pickett from Wilkes Community College of Wilkesboro, NC
Silver: Michael Perez, Christopher S Cardinelle, Christopher C Lewis, Brett C Marshall from Salt Lake Community College of Salt Lake City, UT
Bronze: Victor Loera, Rudy Reyes, Ben Stevens, Brian Waskow from Iowa Central Community College of Fort Dodge, IA
Sorry folks, but I cannot tie the winners to a specific picture as we used a site number for judging, while they use a letter code for tracking & scoring purposes. If you are curious how you're state did, who won a specific competition, etc… the results can all be found here: http://www.skillsusa-register.org/Reports/EventMedalists.aspx
In closing, I really would like to thank Mike, the great group of Tradesmen I met, all the volunteers, advisors, sponsors, and competitors for a great week. I strongly encourage everyone to at least check out, if not get involved with your local schools, region, or state program – more great information can be found on the SkillsUSA site & I hope to see you in 2012.