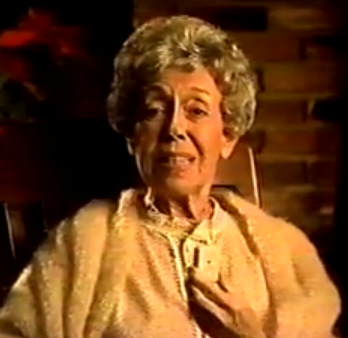 Wow, that picture sure does bring back some memories & even a few chuckles at some of the antics that the commercial garnered. While the jokes or the over the top re-enactments might be funny (to some) the reason that the company was founded & still continues to thrive today isn't. 121,113 is the total number of reported fatalities from 2000 – 2006 caused by slips & falls according to the CDC's database as shown below.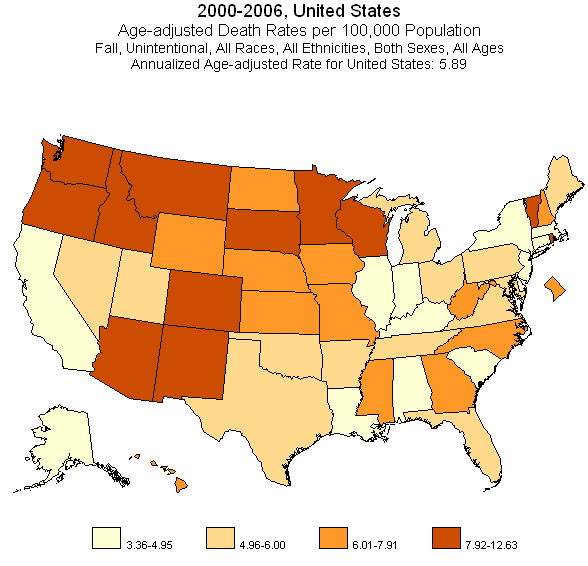 That 121,113 was just the fatalities and doesn't even start to include all those that required medical attention or toughed it out & nursed their wounds / pride. In many cases, the falls are caused by something easy to correct & yet overlooked or neglected. Hopefully after you are done reviewing the following checklist (and acting on it) you won't be one of those going, help I've fallen and I can't get up…
Walkways:
As you move through the rooms in your house, or from outside to the door – can you walk in a straight path, or do you have to maneuver around furniture, stacks of papers, books, etc…. 3' with a slight curve is good – 4 to 5 feet in a straight line is better
Are there other tripping hazards like phone cords, throw rugs, extension cords, etc… in the walkway?
Throw rugs should be removed from the area or at least secured in place with double sided tape, non-slip mats, etc…
While they make specialized housings to protect said cords, those are only meant to be temporary & should be relocated correctly
Does the level change between rooms, especially between a bedroom & bathroom or living room to kitchen?
Make sure you have the proper transition strip in place to help prevent someone from catching their foot
Consider installing a night-light in the bath room & possibly kitchen so that those areas are lit up.
If there is a step between rooms & the materials are similar, consider redoing the step with a different material or pattern so it is more discernible.
Toy's, shoe's, & books should never be left in walkways, on or by the stairways – if you think nothing beats stepping on a Lego during the middle of night with bare feet, wait till you step on one of those little trucks with exhaust stacks sticking up & it rolls
Kitchen table's, bar stool areas are another trouble spot – if possible add another foot to the walkway width so a chair left out doesn't leave someone doing the one footed dance
Stairways: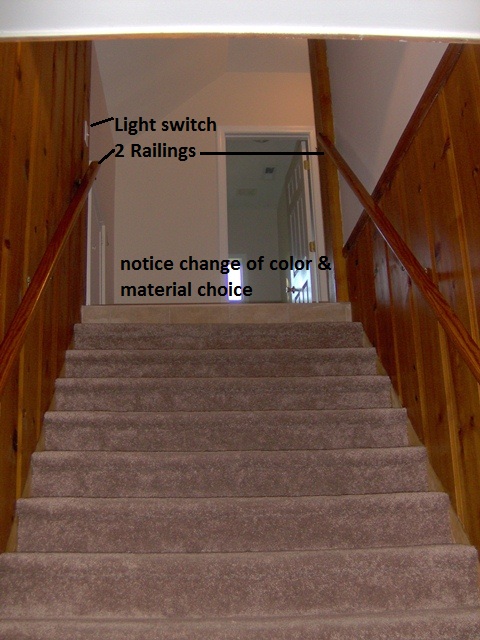 Runners & carpeting – are they in good shape with no runs, tears & secured properly
Railings – one railing is good, having one on each side is better. Along those lines, the railings should be able to handle a 200# impact, so if they feel wobbly or loose – you need to get them fixed
Lighting – most houses now have a light above the stairs (if you don't you should have one installed), does it work & light up the whole staircase? (Next time it burns out – consider installing an LED light so you hopefully never have to worry about it again)
Light Switches – inside the house there should be 2 light switches (one at the top of the stairs & one at the bottom) – if there isn't, no worries as they now have wireless systems that can be installed for a fraction of the cost to run a new switch leg
The Steps – all the steps should be level, at the same height & in good repair. If they are not they should be fixed ASAP
Balusters -these also must be able to withstand a 200# impact
Kitchen:
Item location – frequently used items should be kept at a level easily reached & not requiring one to use a step stool or to just stretch a little bit more…
Speaking of step-stools – make sure you use one that is in good shape & please don't use a chair or countertop to stand on
Dishwasher – make sure that the door is closed firmly when it is not being loaded or unloaded. If you are doing or considering a kitchen remodel, you might want to look at having the dishwasher raised off the ground some to make it easier to load & unload
Bathrooms: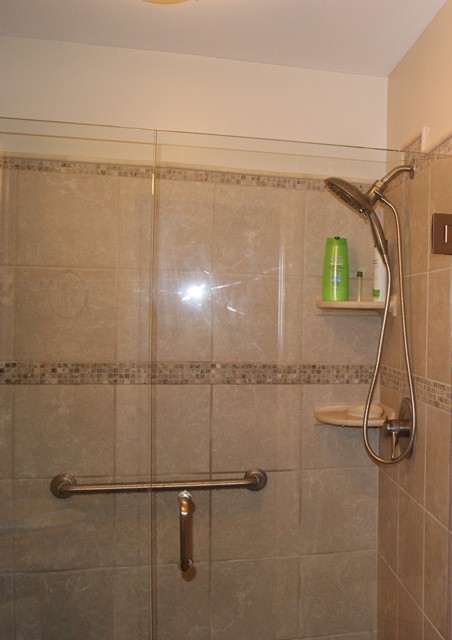 Is the bathtub or shower floor slippery –  add a non-slip rubber mat or self-stick strips to it
Consider adding in some grab bars – no worries they have some now that look like & double as towel bars (Sorry picture above shows a more modern version but not the "towel-bar" style)
Use a bath mat when you get out of the shower or bath to help prevent someone from slipping on a wet floor
If you are having your bath redone, many tiles choices can be purchased with a "non-slip" finish
Bedrooms:
Consider having a light by the bed so you can turn it in on before hoping out of bed in the middle of the night. One trick many designers are adding is a second light switch right by the headboard area
Kids rooms – make sure you keep the windows locked or find a way to keep younger ones away from an open window – the screen will not prevent them from falling out
Lighting:
As one gets older they generally require more foot candles & a brighter light to see like they used to – so you may wish to look into "cool" or "daylight" CFL or LED lights instead of the more "warm" (i.e. 4000 to 5000 kelvin instead of 2000 to 3500) — See "Losing Edison"
Outdoor Lighting: Motion sensor lights that only operate when it is dark outside not only save you money, but are great just in case you get home a little later than you were expecting
Even light that does not cast shadows is best in rooms
Misc. Tips & Advice:
Bike helmets work if worn & worn properly
Kids – play area's should not contain rocks & instead should utilize mulch, soft sand, or grass (If you are in an area with high lead content – I would opt for grass or mulch with no digging)
Consider wearing shoes inside & outside (one footed hop anyone)
Exercise regularly as a strong core can help your balance & coordination, and generally helps keep your mind sharp, and allow you to heal faster
Be careful of those prescriptions & how they may affect you
Exterior steps – consider painting or staining the top edge of each step a slightly different color & see "Stairways" above
Got 37 minutes & looking for more advice including what to do if you do fall? Here is a piece from USC Davis & The Fall Prevention Coalition — Los Angeles (FPC-LA)

Don't have time or looking for something specific – you can view them separately.
Introduction (2:53) – http://youtu.be/inWOLnOP56M The Ladder (7:28) – http://youtu.be/dN1EoRV-_Tc The Bus (7:31) – http://youtu.be/pB58ls_4OrE The Sidewalk (6:28) – http://youtu.be/r1MZ4Xi9x98 Scatter Rug (5:15) – http://youtu.be/mcZfiRuQy-4 Don't Ask (7:45) – http://youtu.be/uNAoAdk_vjM