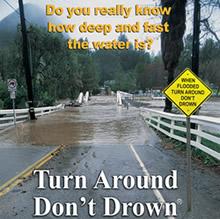 Continuing with this Alabama's Severe Weather Awareness week, we are now on Thursday which is dedicated to Flooding.  A Flood can take several hours to days to develop and can occur even where it hasn't been raining. Flash Floods used to be a major concern of mine when hiking in some of the back canyons in northern Arizona & Southern Utah. For the most part if we could see storm clouds in the horizon we choose a better day or moved to higher ground.
Interestingly the last three days of topics, which covered Tornado's, Severe Thunderstorms & Lightning we had never covered before. Flooding on the other hand we have covered twice in regards to travel; the first time was for Flood Safety Awareness week and the second time was after Irene pummeled the Eastern seaboard with our post aptly entitled "Don't be that guy." With that in mind, let's take a quick look at what the warnings mean, and what one should do if their house or business is located in a low lying area.
Watches:
A Flood Watch means that a flood is possible in your area
A Flood Warning means flooding is already occurring or will occur soon in your area
A Flash Flood Watch means that the conditions are favorable for flash floods though the occurrence is neither certain or imminent
A Flash Flood Warning means that flash flooding is already occurring or will occur soon in your area
Basic General Advice:
As mentioned above, flooding was an occasional concern of mine in specific areas. Living on top of a hill now I am not too concerned with flooding except for being able to drive home. With that in mind you need to know your area's flood risk & if uncertain contact your local Emergency Management Office.
If you are in or traveling through flood prone areas, be wary if it has been raining hard for several hours, or steadily raining for several days, be alert to the possibility of a flood.
Listen to local radio, TV stations,&/or NOAA radios for flood information.
Identify where you could go if you have to evacuate. It is best to have a few options; in case you're original choice falls through or is inaccessible. Some popular choices are a friend's home in another area, a motel or even an emergency shelter.
Make sure everyone in your family knows what the plans are & how to get in contact with each other if needed.
If you are in a flood plain, make sure you have Flood Insurance as your regular policy generally won't cover that.
When a Flood Watch is issued . . . .
While this is not generally an issue in Alabama as compared to Ohio, Mississippi, etc… which may require more travel, make sure your car gas tank is filled in case an evacuation notice is issued.
Move your furniture and valuables to higher floors of your home.
Place valuable photos & other items in a sealed waterproof container & either place it higher in the home or take it with you if you need to evacuate.
Listen to local radio and TV stations for information and advice. If told to evacuate, do so as soon as possible.
As a reminder, flood waves & especially flash flood waves move at incredible speeds with a lot of power. They have been known to move boulders, wash cars completely off the road, tear out trees, destroy buildings, bridges, and even scour out new channels.
Camping, Hiking & Travel Tips:
When a Flash Flood WATCH is issued be alert to signs of flash flooding and be ready to evacuate on a moment's notice. When a Flash Flood WARNING is issued for your area or the moment you first realize that a flash flood is imminent, act quickly as you may have only seconds.
Get to high ground immediately or areas subject to flooding – this includes dips, low spots, canyons, washes, etc.
Be careful trying to attempt flowing streams on foot. (2 to 3" of fast moving water can easily knock you off your feet)
Do not drive through flooded areas. Shallow, swiftly flowing water can wash a car from a roadway assuming the road is still there.
Be careful driving at night as it is harder to recognize flood dangers.
Do not camp or park your vehicle along streams and washes during threatening conditions.
Additional Websites & Information