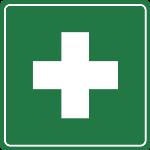 With the numerous disasters that have impacted many locations like Japan, Alabama, Mississippi, Louisiana, Memphis, Oklahoma… many business owners are looking around & wondering – What If, Am I Ready, Are We Ready? In reality I have to say, there is no way of knowing until after the dust settles, but with some foresight & planning your chances of staying in business and everyone safe are greatly increased.
As many business owners know, not only are we responsible for our families safety, but it's employees, customers, and in the case of a construction company like ours – the buildings we are working on and sometimes those around them. While we may have an evacuation & meet up plan for our family, how many small business owners have one for their employees, work locations, showrooms, etc…?
Instead of trying to cover every possible method or thing to think about (You may wish to review the HTRC article "Disaster Preparation for small business owners"), I want to quickly discuss what we could have done better (always better to learn from others, than do the same dumb things over).
Contacting people – B

Fortunately I had enough numbers on my cell to let a few people know we were fine & we were able to check on others, but if the cell phone was broken – I would have been sunk (thus having a printed list available)
Unfortunately with email being out, I was not able to inform some like my daughter in Afghanistan – fortunately someone had some foresight & shot her an email

Updating people – C-

When I had a chance I did update our main site, but that was almost a week later and I forgot to include our backup number as the land lines were down
Voicemail – fortunately while I have the voicemail service provided by the phone company (thus it is still up when the lines & power are down) I never once thought about changing the message
Should I have forwarded our phones to the cell phone – probably a good idea but we will never know how many callers called, but never left a message

Assuming – ah assumptions are the mother of all…. Just a heads up for all AT&T customers, if you don't call & tell them the lines are down then you're service is fine (no I am not kidding).
While I would say we did pretty good job adapting to no phones, power, internet, etc… I wish I would have decided to get the smart phone with web access earlier (sorry folks -I still don't get or send texts). It would have helped out tremendously on the contacting & updating area's. Fortunately as mentioned we did have the voicemail service from the phone company so the only calls we lost were those that did not leave a message. If you happen to be in a rural area, or even in a city, you might want to consider how you can adapt to no power for 10 days & what you will do if your land lines & internet access is down for a month or more. (Hopefully we get ours back up & running by late next week…)
Additional Resources, Articles, and Conversations:
HTRC article: Disaster Preparation for small business owners
Red Cross: Red Cross Rating Essentials Program
Ready.Gov: Business Resources /// PDF Business Emergency Plan
Remodel Crazy site: Can your business weather a storm? (Must be a registered contractor)