There are many tools contractors use in their business & many challenges they face. One of the biggest challenges for many is accurately estimating a project with many looking for a perfect solution or magic bullet. While I will be the first to say there is no magic bullet or perfect solution one of my favorite tools to handle this is made by a company called XactWare.
XactWare is one of three main companies that provide software solutions to insurance companies and adjusters to quickly generate insurance claims. The main program used for this is Xactimate, which contains over 10,000 different line items from cleaning glass to removing and replacing a four stop commercial elevator.
Ok I know what most of you are thinking, that sounds great for them, but there quotes are always low & besides how does this help us? Well, as for the "Low Balling Insurance Quote" we will get to that a little later. Did you know that XactWare makes two products made specifically for Remodelers, Renovators & Insurance Restoration Contractors called XactRemodel & Xactimate?
Sketch:
One of the biggest selling points is their sketch tool which allows one to simply drop in or create rooms that automatically will calculate out the square footage, how much base or crown molding is required, etc… This tool also allows for multiple sketches, importing of pictures, tracing blue prints into this sketch tool, but also imports directly from Eagle View. This program also has a 3D & walk through tool.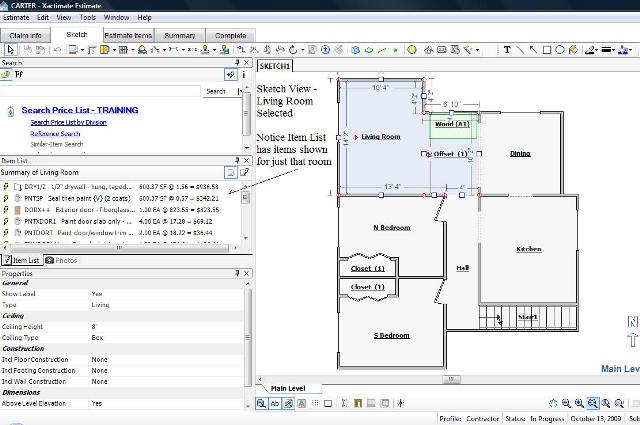 Item Search & Description:
Ok, how am I supposed to find the one item I need out of 10,000 items quickly & how do I know what it includes? There are five different ways to find it & just about the same amount of ways to add it. They have a simple search feature (i.e. drywall 1/2 tape & textured); you can look it up by Category (i.e. Dry – short for drywall); you can search by Division (i.e. Finishes – Gypsum Board Systems); you can click on an item & choose Similar Item Search; and then finally for those new estimators / adjusters you can do a Reference Search which uses Pictures.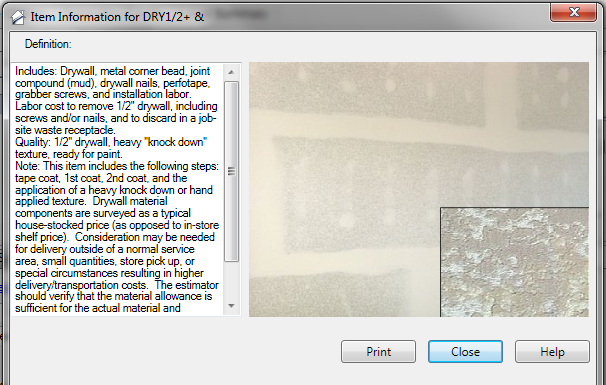 Price Lists:
Both products use the same pricing list based on the location you are at, though XactRemodel has a smaller list as it does not include cleaning / restoring items. Unlike other companies that simply use a base price (say San Francisco) & mark off or add a global percentage across the board – they actually check on local prices & develop each list separately. As an FYI – the insurance companies have no say on what price is listed, but can provide feedback just like the contractors can.
6 Points to remember (avoiding the dreaded "low ball"):
Base Service Charges: Don't fall prey to the "we don't pay Base Service Charges (BSC)."  Base Service Charges are used to cover "trip charges, mobilization and planning costs." The BSC is supposed to be used along with the regular price listed – period.

For those insurance companies that will not, whatsoever allow BSC's – you can easily select the "Factor Into Unit Pricing" & it is now added in and doesn't show up as separate line charge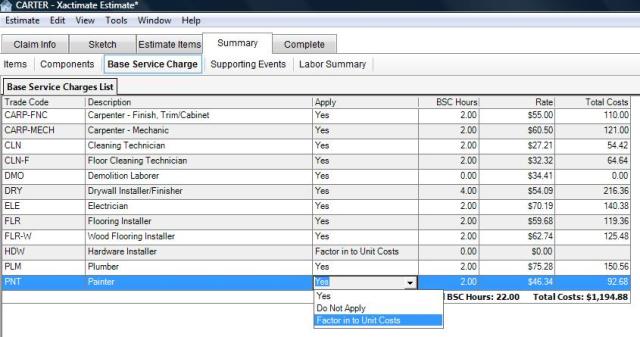 Minimum charges: In some cases, the work to be completed is so small that it would be nearly impossible to get even an unlicensed contractor to do it for the price listed.  In these cases there is
Let's look at one quick example — replace 16 SF (hung, taped, floated using figures above) of ½" drywall would only pay out $26.24. Ouch, not good – but wait let's add in the Base Service Charge of $201.64 which equates to "The base service charge for the Drywall Installer/Finisher is inclusive of three trip charges, mobilization and planning costs." So now we are up to $227.88 – can you honestly find a reputable installer to do that repair for that price? I know around here most people wouldn't touch a job like that for less than $500. Ah here we go – strip out the replace 16 SF & replace it with the Drywall Minimum Charge of $325 which "Includes: One 4'x 8′ sheet of gypsum board, 10lbs of joint compound, 50′ of perfotape, and 6 hours labor. Note: Minimum charge for drywall repair. 6 hour labor cost is based on a 3 hour initial trip, and two 1.5 hour return trips." Now we are sitting at $526.64, which is more like it.*** Quick note – please notice how the BSC & Minimum Charge tie in together, the BSC takes care of the tech driving there, while the Minimum Charge deals with the actual labor portion when they are on site.
Select all applicable items and pay attention to descriptions: Sticking with drywall, do you have high ceilings or walls, extremely cut up areas, bull nose, resilient channel, need to mask areas off or paint it? There are line items for all that so don't forget to check the Related / Similar link as it will pull up items related to that item.
Don't forget Carpet, Vinyl & Roofing's waste factors: Every pricing line item in the program accounts for waste with the exception of carpeting, vinyl & roofing. Why don't those three? It is actually quite simple – there is no simple formula that applies.

Roofing is easy, the standard is 15% right? As any roofer can easily point out – it depends on how cut up a roof is. The amount of waste (i.e. starter strips, ridge shingles, weaving in a valley) will vary dramatically between a ranch house and a Victorian. Carpet comes in 12', 13'6 & 15' wide widths and in some cases, you might need a 5% waste factor while at other times it could easily be around the 35% mark. While they do include an automatic layout tool, it is not the greatest when it comes down to where seams should be located & is only setup for 12' wide rolls. Vinyl comes in a 12' wide roll generally and in a small bath the waste factor can easily be over a 100%
Watch out for Homeowner vs. Contractor pricing: the program does have pricing for Home Owners that might want to do the work themselves. Needless to say the HO's rate is less than the Contractor's rate as they do not include direct hours or associated Labor Burden costs (SS, Medicare, UI, Workman's Comp, etc…). For example using the drywall listed above again, a contractor would get a $1.44 a SF, while a Home Owner would only receive 0.73 per SF.  Generally that is not an issue if you are starting a new estimate but if you pull in an adjusters estimate where they thought a homeowner might be completing the work…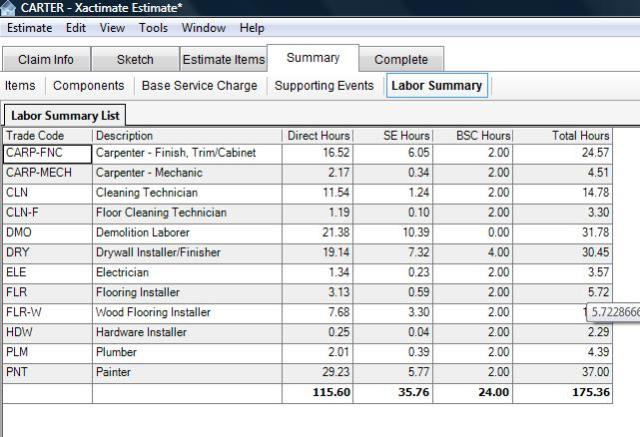 Always review the Summary Report & adjust prices properly before finalizing it

While one cannot change how much of an item the program says you are going to use, you can change the cost to reflect what it will cost to buy. For example while you may only need ½ a quart of stain, you may need to purchase a full quart – make sure that you change the price accordingly. Another great example is a bathroom vanity – the one you are planning on runs $400 but the program only has $250 allocated.
Misc. Items & Thoughts:
Don't forget to add in your required OH&P in to Xactimate or Margin in XactRemodel as those figures (except for labor related items) are not calculated in the regular prices
You can easily add in custom furniture pieces, line items not included in the program, trade partners quotes, etc… by simply adding in a Misc. or Special Line Item which allows you to collect needed taxes & overhead.
Additional Resources & Information: