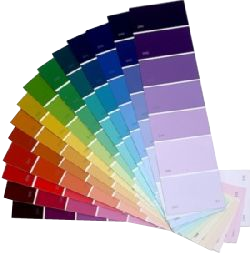 All right, I admit it; I almost skipped this week's Let's Blog Off. While the question is simple (What is your favorite color? – no seriously, that is the question), I could easily answer it on Twitter using only 5 of the 140 characters required. I had an epiphany or two on what I could write about, but the desire just wasn't there. But alas, one of my favorite architects came to the rescue – Bob Borson in Life of an Architect. Besides laughing my way through his post, one of his remarks flipped the proverbial light switch for me, "I know it's not very exciting and I fall into the stereotypical dress uniform of most aesthetically and color challenged architects but c'mon!" Cha-ching – thank you Bob…
Oh wait, you seriously want to know what my favorite color is…
Yes indeed, my favorite color is green & was not used solely as a marketing ploy (even though it doesn't hurt sometimes). With that said, that is the last color I would recommend for your bedroom walls (A house we bought had some Deep Teal (see Bob's article above) wall color on the Master Bedroom walls originally which I couldn't wait to paints over), or even for a vehicle when you live in the desert (loved my Jeep, but you quickly remembered, one should not lean or put there hand on it in a desert – Phoenix).
The general rule:
Do not ask your painter, architect, or contractor "what color should I paint…" or "what color should XY or Z be?" But, why not – you all design or work on all these great places, surely you can read my mind, see what the future holds & know what shade I will love…. Uh no, sorry we don't as no customers are ever the same. For example, while many of us we have also worked on some "great places", we have simply cringed & maybe even argued against what colors a customer choose or even what a designer had cooked up. If & when we have been over-ruled, we have sometimes been pleasantly surprised at the outcome, while at other times, we are just glad the customer is happy.  
Ok, ok, I guess I can understand that, how about asking for ideas? That is not a bad idea at all, but not everyone may feel comfortable answering that question for any number of reasons. I know plenty of painters that do great work but completely shy away even from that line of questioning. Best case you may get some great ideas that you will love, while in the worst case you are still stuck looking at the color wheels, swatches, or maybe even hiring a specialist. Along those lines, you may wish to check out a prior Let's Blog Off article on creativity.
Speaking of creativity, color, designers & architects, we highly recommend you check out the rest of the great Blog Off posts below for some great insights, on What is your favorite Color?