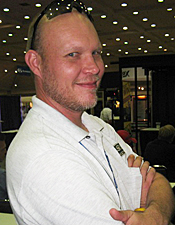 How does the saying go, life can come at you fast? A little over 3 months ago I couldn't imagine all the changes that were in store & would have laughed at you & wondered what were you smoking… With that, I wouldn't change the where, the who, or even the why it all happened. So with what here is a quick overview of some major changes & what it all means…
First a quick apology, as this should have been posted over a week ago, but sometimes one has pick & choose…
Bye Bye Alabama – I have officially closed up shop & am now currently residing in Naperville, IL while I look to find work for another company where my skillset can be a factor.
SLS Construction & Building Solutions – as you can imagine is officially closed for business in Alabama though I am still doing consulting work & infrared thermography scans (and you never know when it may rise again like the Phoenix)
SLS Construction.com – the site has been repointed to the blog & I will be placing a services tab in shortly for the Infrared & Consulting portions
The HTRC – it will be around for many years to come, not only do I own the current SLS site for another 7 years, I bought TheHTRC.com for a period of 10 years & will be moving things over shortly (for those with links pointing to pieces – no worries as I know how to do 301 redirects)
The HTRC – needless to say things have been pretty hectic due to moving, looking for work, etc… but new pieces will be forthcoming soon. With that we are always looking for great articles & even pictures for the Wacky Wednesday series.
Dream job, where are you:
First I would like to thank many of my good friends like; Amy Good, David Meiland, Michael Anschel, Todd Vendituoli, Angus, John Poole, Sal Langer, Dan Tadei and a host of others out for there help. With that I am still actively looking to work for a great company where I can actually make a difference. With my varied background & knowledge I could easily see working for a production builder, commercial builder, Data Center company, building department, non profit, and many others. While I am currently in Illinois, that does not mean we are locked into this state or WI. As we have been looking at the Carolinas, Arizona & other places back in the South & West.
The official line from Linked In & my resume: Innovative, solutions-driven 3rd generation, General Contractor with over 20 years' experience in the construction & project management arena. Solid expertise in the remodeling and building industry not only using but training and promoting the use of Common Sense Building Principles. Developed using the best "green", efficient, durable, universal design, and lean building techniques.Certified RESNET HERS RATER, Infrared Thermographer L2, ENERGY STAR Verifier, AEE CEA Challenge America Partner & Verifier /// Proud member of NARI, NADRA, & USGBC /// Xactimate L3
 Come See me @ The Remodeling & Deck Expo
If you are in Chicago in October for the Remodeling Show don't forget to check out my two presentations on the 16th (the day before the exhibit floor opens) – the first is an Energy Audit 101 course on not only what they are but is it worthwhile to incorporate them into your business. The second one is entitled Taking the BS out of Building Science.
If you haven't made plans, it is a good show to check out as it can help you immeasurably in your business & I think you will enjoy not only my presentations but many of the others as well. (For More on prior years reviews on the HTRC)