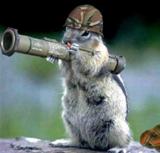 I have to admit, I was originally confused by some of the attitudes or opinions given about those in the Energy Efficiency fields. I grant you that there are quite a few individuals in the green community that are five cans shy of a six pack, but the following quotes come from some of the "respected" experts. One of my favorite quotes is, "What an awesome presentation! I called Energy Efficiency fanatics "the Sith Lords of Green building"!"  Another one is, "The Future of Energy is Conservation."Last but definitely not least is one that went along the lines of; Builders need to concentrate on Conservation instead of Efficiency. Really??? You are kidding, right?
One of my first thoughts after I heard that was – while a builder or remodeler can talk about, show, and educate homeowners about turning off lights, turning thermostats down during the winter, up during the summer, etc… we cannot control what the occupants do with the property after we leave. Do you really want us to concentrate on this aspect solely, instead of selling or installing items that will give them those energy or water savings results without them having to do anything? I can guarantee you that I could do more for "the planet" in one year, by helping numerous homeowners, than you could do in one year concentrating on "conservation" in one or two major renovations.
While I was trying to find the exact last quote on Conservation versus Efficiency, I stumbled upon an interesting article that seems to back up a theory I have been working on for awhile. It appears that this issue closely follows another issue we discussed earlier; namely, "what exactly is green building?" Yes folks, it appears to be an issue on how one defines what conservation is and what efficiency means. Fortunately, this problem seems to be centered around the great white north and the State of Minnesota. Quite possibly, there is an apparent shortage of dictionaries up there.  I am just surmising here, but they might have burnt them during a cold winter snap and have just never got around to replacing them…
Ok, all joking aside, let's first take a look at the actual definitions, and then an excerpt from the article on "The Future of Energy is Conservation" located on Do It Green! Minnesota's web site that seems to highlight the issue.
Conservation; The act or process of conserving / The protection of natural resources
Conserve; To protect from loss or harm; preserve / To use carefully or sparingly, avoiding waste
Efficiency;

Competence: the ability to do something well or achieve a desired result without wasted energy or effort
Productive use of resources: the degree to which something is done well or without wasted energy
Web Site Article: There are two ways to conserve: lifestyle changes and technology. Lifestyle changes are easy to make, and include such strategies as walking rather than driving, building smaller homes that are easier to heat and cool, turning off unused appliances, and traveling via air less often. Technological innovation conserves by delivering the same product performance more efficiently.
Technology = Conservation?
Sorry folks, but this does not fly. Efficiency is the ability of a physical item to use less energy, water or other resource to perform the same function. Conservation on the other hand is a behavior that results in the use of less energy, water or gas. For example – Turning the lights off when you leave the room, turning the water off while brushing your teeth, turning down the thermostat during winter, turning your car off when you run into the store for just a minute, etc… is conserving a resource.
A mechanical object cannot conserve; it is simply built to use energy or other resource required more efficiently. For example – A light bulb cannot conserve electricity; it is either on or it is off, it is up to a human being to turn it off when it is not in use. A toilet does not conserve water; they have just been designed to remove waste more efficiently with less water. A CFL or LED bulb that uses less energy than an incandescent bulb is an example of an energy efficient item. Adding insulation, air sealing, duct sealing work, etc… is simply increasing the efficiency of a structure to help reduce the cooling and heating loads, it does not conserve anything.
In closing, I would like to leave you with the following simple chart; in it, I used a simple example of the lights in a Living Room. I based the example on a family that starts getting home at 3 PM and goes to bed around 11 PM. Normally the first person that comes in, turns on the lights & the last person to bed turns them off so they are generally on for 8 hours (Base). The second line shows this same family started conserving electricity by turning them on only when they were needed – so we will say they are now on only for 3 hours. The third line goes back to our base example, but someone changed out the incandescent bulbs with slightly smaller CFL's. The last line shows what happens when you combine the best of both examples and I will let you draw your own conclusions.
| | | | |
| --- | --- | --- | --- |
| Item | Description | Watts Used | Difference |
| Base | 8 hours – 4 x 100 | 3200 | 0 |
| Conserve | 3 hour – 4 x 100 | 1200 | -2000 |
| Efficient | 8 hours – 4 x 18 | 576 | -2624 |
| BOTH | 3 hour – 4 x 18 | 216 | -2984 |