I have seen a lot of things in my time, but seeing a gutter downspout in the attic, which was being used as a dryer vent was definitely worth a double take. As you can tell from the pics, there wasn't too much lint that ever made it out of the "vent."  Now as for the wall cavity and under the tub…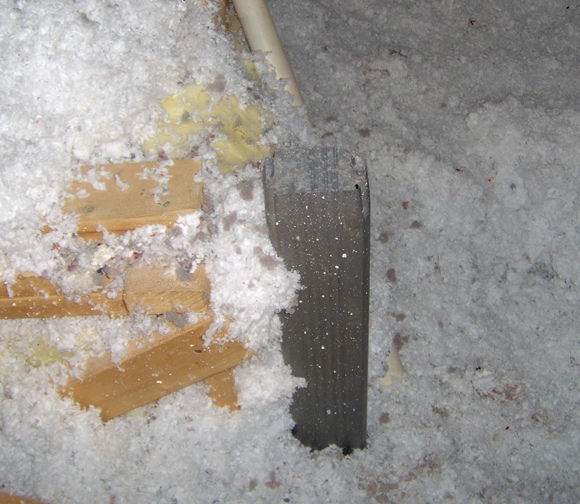 Not only do issues like this kill an appliances efficiency, but it can literally kill someone.  "40 firefighters battled… 24 firefighters were called… 5 firefighters were injured… 3 dead… 8 pets… 2 cats… total loss… $10,000 damage… $100,000… $300,000 in damage… heavy smoke damage…" these are just a few items pulled from over 150 web scrapings of 2011 dryer fires.

Today's building codes have gotten more stringent on this issue due to this issue.  Sections M1502 (mechanical) & G2439 (Fuel Gas) of the IRC deal specifically with dryer venting.  While the I-Codes are essentially drag & drop there is one small difference where G2439.5.5.1 calls for a maximum length of 35' while M1502.4.4.1 calls for 25'. The other notable difference you may have noticed in the numbers- in the case of the fuel gas code .4 is a requirement to provide make up air.
The Codes:
If you would like to read M1502 in its entirety, it is available here.  For a Clif Note's version with some notes;
2.1 – You need to read the manufacturer's directions as said dryer is to be exhausted "in accordance with"
2.2 – With the exception of "condensing" dryers all units must be independently vented outdoors
2.3 – Ducts must terminate outside at least 3' from any building opening and be equipped with a back-draft damper – no insect screens may be installed
Two of the most popular recommendations for dampers that really work & keep bugs out are Seiho's vent caps & Heartland Dryer Vent Closure
2.4 – Dryer Ducts must comply with the next 6 sections

2.4.1 – The duct must be 4" wide and a minimum of .4mm thick metal with a smooth interior
Why not Schedule 40 PVC, or??? PVC is actually a better product for reducing the chances of lint built up, issues with connections, etc… The only catch is that the main concern is lint buildup & fires – so thus one must use metal as it will theoretically resist fire better
2.4.2 – the metal ducting must be supported every 4', the "insert end" must be inserted into the next piece allowing the air to flow smoothly & NO SCREWS or other types of fasteners that might interfere with the airflow must be used
Amazingly there is no mention that tape must be used, but one would be foolish not to. Per our Duct tape is not meant for ducts article & the codes a 181 A-H for heat-sensitive tape should be used on all seams & joints
2.4.3 – the transition duct must not be longer than 8' and must be listed to comply with UL 2158A
The transition duct does not need to be made of flex if things line up properly – in this case a transition duct was made from ducting where the 90 slides directly onto the dryers connection which was designed for just this purpose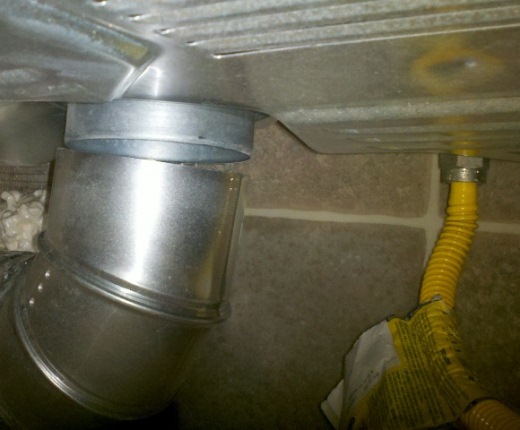 2.4.4 – the maximum allowable duct length shall be determined by one of the two following methods

2.4.4.1 – the maximum length shall be 25' from the connection point to the exhaust with any 90's or 45's used calculated per the table
If you refer to the link to the actual code at the beginning of the article, it comes from a company called dryer-ell which makes 10" radius 90°'s (see below). As you can see from the chart at the bottom of the page, this type of 90 only adds 1.5' to the total length as compared to the standard 90 which adds 5' to the total run. (Remember it is all about airflow & keeping that lint moving out)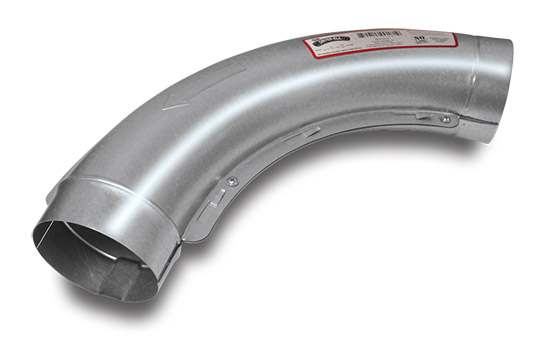 Think of the venting and airflow like one driving a car on any road or the autobahn – you can drive really fast on a straight road, but you must slow down when you get to a sharp corner. Now on the autobahns they eliminate those sharp turns & instead provide a wider & a far more sweeping curve allowing for one still go around the corner at speed
2.4.4.2 – the size & maximum length of the venting may be altered only if the manufacturer's installation instructions specifically allow for it. A copy of said installation instructions must be handed to the inspector to verify
2.4.5 – a placard must be placed within 6' of the dryers connection point with the length listed like this rxample from DryerPlacard.com.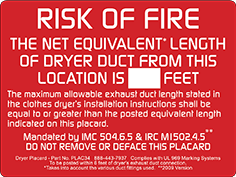 2.4.6 – if a space is provided for a dryer (i.e. you mark a laundry area on the plans or install wiring / gas for one) the venting must be installed, capped & marked "for future use". The only exception to this is if you install a condensing style system prior to occupancy
Amen – not only does this prevent the let's throw this in the middle of the house & let the homeowners deal with it, but it hopefully will also ensure that they are a little more careful with their placement. It is one thing to know the dryer will exhaust out on the front porch because you can see the vent, than not figuring it out until you bought the place & need to get it installed.
2.5 – protective metal plates must be placed over any stud where there is less than 1.25" of space from the vent to the stud face and shall extend 2" above & below any top or bottom plates drilled.
A few other quick tips & notes:
In order to get past the dreaded bottom plate listed in 2.5 and eliminate crushed flex lines (i.e. transition ducts) is either by design or by using a product like a Dryer Box (see above) which moves the transition piece into an interior wall framing cavity. This is not a product I would recommend on an exterior wall as you lose the insulation there.
Assisted Dryer Fans were all the rage for quite a while & still bandied about for super long runs. As you can see these are not allowed per codes anymore unless one or two conditions are met; the first is if the dryer's installation manual provides for it &/or secondly if your local inspection department will allow for their use based on the specs.