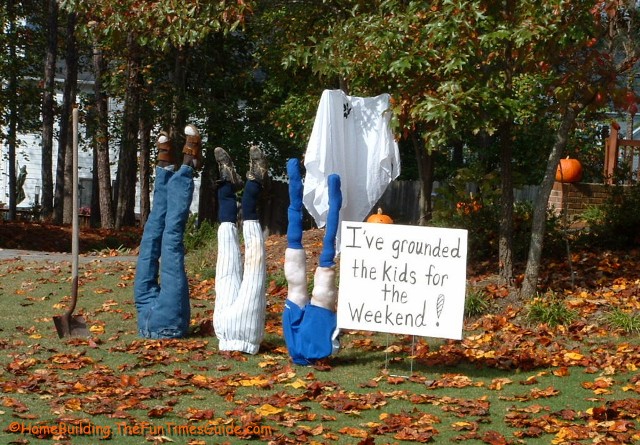 Ahhh Halloween, with all the trick and treaters, haunted houses, costume parties and balls; easily turns a regular night into and oh so fun night. Quite a few of my friends actually spend more time planning for Halloween & decorating than they do for Christmas & it appears that this idea has been spreading.  Instead of houses with the typical jack-o-lanterns and a few spooky decorations, we are now entering into the realm of fog machines, black lights, strobe lights and even full-blown animatronics being setup, not in just haunted houses, but in one's own front yard.
 How to be shocking without shocking your guests:
Do not run extension cords from inside the house to items outside

They are easily damaged by the windows and doors being closed on them
Interior outlets are generally run off a smaller breaker (15 amp) than exterior outlets (20 amp)
There are generally 10 or more outlets on one breaker, while the exterior ones may have one to 3 outlets

Make sure all equipment is UL listed & listed for "Outdoor Use"
Most houses built recently, or those recently remodeled have exterior GFCI circuits (which you should check), if yours does not make sure you use a portable GFCI Surge Strip.
Make sure all pathways are clear of any cords or cables & there is no possibility of a youngster reaching in and shocking, burning or getting their costume caught
Read the manufacturer's directions to avoid overloading the circuit and / or extension cords
In case you need more power than you have available, there are 3 main options

Utilizing a generator – be careful of CO Poisoning and making sure it is grounded properly
Have a licensed electrician run temporary line(s)
Have a licensed contractor and electrician run new permanent outlets

For hanging lights whether inside or outside  – you might want to review our 10 tips to safely & quickly hang Christmas Lights
Last but not least, make sure your turn off and disconnect the equipment before you turn in for the night (do we really need to mention that goes for any candles to?)
Additional Info, Websites & the Picture:
Tool Box Talk courtesy of OSHA: Electrical Safety from the Jobsite Handbook
This is another topic where there isn't a single topic or regulation that applies. IMHO, I would utilize this week's Homeowner advice section in with the applicable OSHA section for this weeks Tool Box Tip, so everyone gets to enjoy this year's Trick or Treats.
19 Interesting Facts About Halloween – from my good friend Nick @ Cupboards Kitchen and Bath located in Sylacauga, Alabama
The picture comes to us courtesy of The Fun Times Guide to Home Building, which even has a few more versions that are worth checking out. To top it off they even threw in the directions to accomplish this in your own front yard.